The Consortium of Green Fashion 2016 was held in Vadodara over September 30-October 1, 2016. This year's theme was 'Empowering Khadi and Handlooms through Design Intervention', and a number of sessions and contests dealt with the interplay between khadi/handlooms and sustainable fashion. Meher Castelino reports.
Seminars and conferences on sustainable fashion, khadi and handlooms have been taking place not only in India, but around the world for several years now. There are constant debates in India on how khadi, handlooms or banarasi brocades can be improved and promoted so that the life of the weavers improve and they are not compelled to take up other professions. Designers too have been constantly urged to use more handlooms. While a few designers have made it their mission to promote only khadi and handlooms, the movement is still in a nascent stage.
But in spite of all the discussions, why are khadi and handlooms still visible only on Gandhi's birthday and not throughout the year? What is missing in the efforts to provide an impetus to this movement? Is there too much talk and too little action? Has textiles minister Smriti Irani's initiative to encourage people to post their photos in a handloom khadi sari helped the industry? There are several things that seriously need to be considered to bring handlooms/khadi on to the centrestage.
<![if !vml]>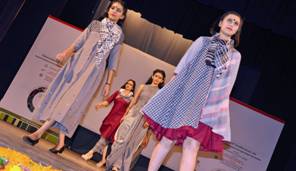 <![endif]>Consortium of Green Fashion 2016
The fourth edition of the Consortium of Green Fashion 2016 (CGF), held in Vadodara from September 30 to October 1, 2016, was an enlightening experience in sustainable fashion. The theme 'Empowering Khadi and Handlooms Through Design Intervention' was an initiative of the School of Fashion Technology (SOFT), Maharishi Karve Stree Shikshan Samstha of Pune in association with the department of clothing and textiles, faculty of Family and Community Science (F&CS) of the Maharaja Sayajirao University (MSU) of Vadodara. Nearly 600 fashion students from different institutes in India participated in the two-day event.
The inauguration was dominated by distinguished personalities. Uma Iyer, dean of the faculty of F&CS at MSU emphasised on the need to bring farmers into the weaving and spinning industry and push for khadi. Manju Hundekar, secretary CGF and principal SOFT, outlined the need for green fashion. Anjali Karolia, head of the department of clothing and textiles at MSU felt that handloom was competing with powerloom. Parimal Vyas, MSU vice-chancellor, hoped that while khadi meant freedom, non-violence and self-dignity, it had to be taken to the next level not only nationally but globally and make promotions a collective initiative.
Promod Gorhe, chairman and ND Patil, vice-chairman of MKSS, Pune felt going green starts with a shift in consciousness. Mohana Kadam, CGF president, felt the need to reduce, recycle and reuse. Edric Ong, chief guest and Malaysia's top designer who started World Eco-Fibre and Textile (WEFT) declared that rebranding was good for business but rethinking was needed more. He added that green meant sustainability and going back to simple life.