Despite being one of the major quality issues in any garment, there are only limited ways to calculate and asses the pucker level in any seam says Rahul Bhardwaj.
Seam puckering; a phenomenon which is shown by a stitched seam when it is under an unbalanced force; this force can either be due to excessive sewing thread tension, or due to the tension produced by the displacement of warp and weft yarns of the fabric or by the unbalanced feeding of the plies of the fabric.
Many of the methods are based on the visual perception and hence are prone to misjudgment. Other quantitative methods which has been evolved through series of experiments conducted around the globe. Due to use of highly sophisticated 3D picture mapping methods it is quite difficult to adopt these systems where it is needed. Hence through indigenously developed equipment and with a simpler method of shape analysis of seam, it can not only quantify pucker level but it can also predict the level of puckering at very early stages making it even easier to check, predict and control.
It becomes even more important in case of denim where sometimes puckering is desired effect rather than defect and considered to be part of design element. The amount of pucker which is required can be predetermined and can be communicated in numerical terms.
Methodology:
Based on theoretical analysis of seam puckering we can derive the conclusions which were confirmed by means of experiments under controlled environment. Pucker length is defined as the length of a single ripple (Measuring quantity mm) Pucker Sharpness (PS) is defined as the ratio of pucker height and pucker length (Being a ratio it has no unit). The pucker sharpness will be a measurable quantity of puckering.
For each experiment a fabric swatch (14"X3") was stitched in middle in a straight line. Correlation between PS and other influencing parameters were calculated.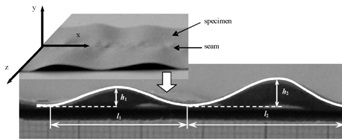 Figure 1: This is a representative diagram of puckering parameters which were calculated in this experiment.
With the help of high definition digital camera picture were taken from a distance of 30 cm away from specimen which was laid flat on the edge of the table.
With the help of precise digital scale (Photoshop PS2) pucker height (h), pucker length (l) and pucker sharpness (h/l) were measured. And hence a graph was plotted between changing variable and the PS. considering the amorphous behavior of the fabric all possible variables were listed as mentioned below.