A double Automation is no longer knocking at the doorstep; it's already here. But more than being an eventuality, the migration towards automation is the cumulative result of a number of factors: from the compulsions of cut-throat competition and need to boost efficiencies to the obvious benefits from big data and the fluency of operations brought about by technology. But in a country like India, where the textiles and apparel sector is one of the largest avenues for direct employment and indirect livelihood, the inevitable move towards automation needs to be handled sensitively, and with tact, writes Subir Ghosh
In September this year, leading fabric and fashion retailer Raymond decided to truncate its workforce by a third. The company decided to replace 10,000 of its employees with robots. And this was a company that employed roughly 30,000 people across 16 manufacturing units across the country.
Raymond CEO Sanjay Behl told a newspaper on the occasion, "Roughly 2,000 work in each plant. Through technological intervention we are looking to scale down the number of jobs to 20,000, through multiple initiatives in technology. One robot could replace around 100 workers. While it is happening in China at present, it will also happen in India." The numbers were too big to be ignored.
<![if !vml]>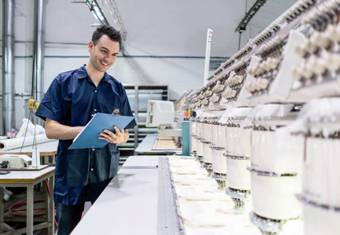 <![endif]>The move by Raymond was the first by a big company towards a direction that industry experts have been talking about for a while, in fact since the very beginning of the post-quota regime. What was at that time dismissed either as speculative science fiction or simply as mumbo-jumbo, is now becoming an ensuing reality. The reasons behind the Raymond decision were simple: a need to cut costs and an equal need to increase efficiency. The decision certainly showed financial results immediately for the company: share prices jumped nearly 10 per cent over that particular September weekend.
The beginning of the trend, of course, will not be unique to the textiles and apparel industry alone. Earlier this year, the World Economic Forum (WEF) in its report titled The Future of Jobs had predicted that the world is standing at the cusp of the 4th Industrial Revolution, and that advancements in technology will destroy over 5 million jobs by 2020. The fields that were said to be the drivers were automation, artificial intelligence, robotics and biotechnology. The WEF report had cracked down on the numbers, ".. Current trends could lead to a net employment impact of more than 5.1 million jobs lost to disruptive labour market changes over the period 2015-2020, with a total loss of 7.1 million jobs.."