The colourant industry is growing at an average rate of about three per cent per annum and is expected to reach 11 million Metric Tonne by 2018, says
Dr. Ashok Athalye.
The global market for colourants comprising dyestuffs, pigments and dye intermediates is estimated at US$ 35 billion. The Asia-Pacific region is the market that accounts for the largest share. China and India registered highest growth in recent years owing to the rapidly expanding manufacturing base.
Over the last few decades, the major production centres of colourants have shifted from east. The global colourant manufacturing industry originally dominated by suppliers from Europe has shifted to Asia, primarily due to lower costs of production and the growing prominence of the end user industry.
The Indian colourant industry is valued at Rs 4,500 crore and covers about 20 per cent of the global market. It accounts for about 14 per cent of total exports and nine per cent of total imports. It has consistently contributed towards the set growth targets for the nation.
The major driving factors for the colourant market are the growth in end-use industries, increase in per capita consumption of textiles, enhanced standards of living and rising demand for environment-friendly products. However, factors like raw material price volatility, global over-capacity, currency fluctuations and environmental concerns could restrain growth.
The colourant market is segmented on the basis of dyes (acid, basic, direct, disperse, reactive, sulphur and vat), organic pigments (azo, phthalocyanine) and inorganic pigments (titanium dioxide, iron oxide, carbon black). Traditionally, the major consumer of colourants used to be textile, leather, paper, ink, plastic, paint and coatings, food and beverages, soap and cosmetics and personal care industries. Now, usage of colourants is growing in novel applications such as ceramics, electronics and medicine. These are termed functional (high technology) as they are not just included in the product for aesthetic reasons but for a specific purpose.
Functional colourants are the subject of much research and are being developed for a variety of purposes. Some of these are:
(i) Ink jet printing: A non-impact technique to produce images by directing small droplets of ink in rapid succession onto textile. This led to development of specific dyes and unique fluid systems. This technology is greatly impacting value added printing.
(ii) Laser dyes: These exhibit light amplification by stimulated emission of radiation at a few selected wavelengths and in very narrow bands. Application of such dye lasers covers communication technology and microsurgery.
(iii) Liquid crystal display: Use of dichromatic dyes increases contrast changes orientation of the liquid crystal molecules and enhance intensity of colour.
(iv) Photodynamic therapy: Treatment uses a combination of laser light, a photosensitising dye and molecular oxygen. The dye is administered to the patient intravenously which enters the cancerous cells, the laser interacts with the dye and promotes it to its excited state. The irradiation with laser light results in destruction of cancerous cells.
Changes in production processes of dyes during the 19th century heralded the modern scientific chemical industry. Manufacture of synthetic dyestuffs starts from basic chemicals like benzene, naphthalene, anthracene and aniline. It is generally carried out by batch processes involving many intermediate stages. For vat dyes, such intermediate stages may involve up to 10 to 12 separate processes. Further, various unit operations like diazotisation, sulphonation, halogenation etc. are involved depending on the class of dyestuffs manufactured. The processes are carried out in various media such as organic solvents, oleum and caustic soda. Finally, the synthesised dye passes through number of physical characterisation processes like milling, spray drying, pulverisation, centrifuging, solvent extraction, filtration, scrubbing, reverse osmosis, blending, etc. before submission to the end user.
Colourants are standardised in terms of shade, strength, physical properties like powder, bead, flake, paste, liquid etc. and performance properties like solubility, acid/alkali stability, dispersion behaviour and migration phenomenon to suit requirements of end user modes of application.
Colourants occupy a prominent position all day in day-to-day human activities starting from the use in attractively coloured toothpaste to going to bed on decorative bed linen for comfortable sleep. The amazing colouring components add vibrancy and life to a variety of products around us. The appeal of textiles lies in their colours and the way they are used to create patterned effects. The dye market largely depends upon fortunes of its principal end-user, textiles, which accounts for about 70 per cent of total demand.
Various segments in textiles include apparel (intimate, causal, formal, partywear, workwear etc), home furnishings (towels, table cloths, curtains, upholstery, carpets and technical textiles) includes various novel applications including automotive and sportswear.
Various fibres, natural and man-made, are used in textile processing. Cotton and polyester occupy a prominent share of about 80 per cent of total fibres used. The colouration or dyeing and printing of these fibres is predominantly done with reactive and disperse dyes and the demand for these two dye classes is consistently growing. India has taken the lead in production of both these growing segments owing to the backward integration in most of these dye intermediates.
<![if !vml]>

<![endif]>
India has become a major player in the colourant and dye intermediates area. However, it is yet to build world-scale capacities in many basic chemicals such as benzene, phenol, acetic acid etc. Downstream chemicals based on these need to be developed. Further, in the last few years, strict pollution control norms imposed by regulatory authorities and eco-sustainability measures initiated by various global brands and retailers, has created wide price fluctuations and non-availability of key intermediates. Thus the major challenge faced by the colourant industry and its end-user is availability of feedstock and environmental impacts.
The following diagram highlights how the colourant industry is interconnected with various other facets of the industrial setup:
<![if !vml]>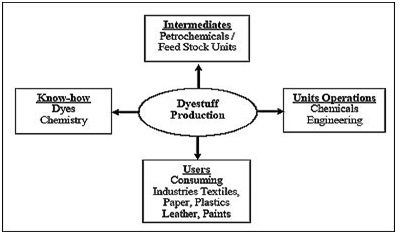 <![endif]>
The requirements and expectations of the end user industry are increasing, throwing up challenges to adapt and meet increasing performance and environmental standards. Also, there is need for backward integration into intermediates which is the key to success in the dyes and pigment industry. Regular interaction and timely coordination between research institutes and industry as well as increasing investment in R&D activities for new eco-friendly sustainable products and processes will drive future growth.
Some major factors which need to be considered and addressed appropriately for sustainability of colourants are:
1. Over-capacity and falling price: Rapid industrial growth in Asia especially in China and India after the shift of the manufacturing base from the European Union to Asia, and huge capacity build-up in select chemical segments has impacted product pricing resulting in overall viability and profitability of ventures.
2. Cost of utility and interest: Can impact investment in R&D which is at the core of product and service innovations. Also, high energy cost is adversely impacting end-user industry.
3. Fierce competition: Shift of manufacturing resulting in concentration in the Asian region has created intense competition amongst colourant and end-user manufacturers.
4. Research & Development: The market demands newer, novel dye molecules, water-less applications, extreme durability and stringent fastness levels. To meet these expectations, thrust on R&D spend for innovative products and processes is necessary. New basic research in colour chemistry is taking place in natural and synthetic dyes produced for non-textile markets. We need new application technology pertaining to dyes for digital printing and photography. Dyes for food, drug and cosmetic applications, dyes for biomedical applications and molecular recognition need to be developed. Emphasis is necessary on applications in the biological sciences, including sensory materials and artificial receptors, laser dyes and dye-based functional materials and multifunctional dyes.
5. Support of government and trade associations: Industry needs back-end support of the government as well as of trade associations. This helps allocation of investments and other support. These associations actively promote technology from institutes that do research
6. On-Time-In-Full (OTIF) delivery: Due to demand and supply gaps in raw material, intermediates and wide fluctuations in price, timely and regular supply of dyes and pigments is affected impacting consumption pattern as well as costing the end-user.
7. Availability of world class infrastructure: Road, rail and sea ports are primary sources of transport. Emphasis on timely clearance of goods at a quicker rate would facilitate trade.
8. Exchange of ideas and knowledge: Debating future trends, research and analysis in dyestuff manufacturing for high performance functional colourants, process intensification, legislation, effluent control, focus on Green Chemistry etc. need to ensure that knowledge is shared with all participants and economical solutions are quickly implemented.
9. Synchronisation with emerging technologies: There is need to evolve and design products in sync with changing requirements for new and emerging technologies, advanced application methods, sophisticated machinery and enhanced capacity utilisation. These will drive growth.
10. Sustainability & eco concerns: Consumer awareness, directions from regulatory authorities, and insistence from global brands and retailers towards environment-friendly dyes is growing. The industry can sustain only if dyes are not hazardous. The textile industry is the largest user of dyestuffs and it has many demands in terms of presence of metals, halides, banned amines, substances of high concern etc. which have been codified in terms like RSL (Restricted Substances List), REACH etc. The industry has to be quick to learn these trade barriers and improve standards.
Reference:
1. marketsandmarkets.com
2. Dyes-pigments.com
About the author:
Dr. Ashok Athalye is General Manager - Technical Service at Atul Ltd (Colors Division), Valsad, Gujarat, India