In August 2016, Fibre2Fashion carried a 23-page cover feature on the state of fashion education in India. That was, naturally, only one side of the story. In this issue, we look at human resources (HR) issues facing the textiles and apparel industry. Subir Ghosh explores the challenges and possible solutions through the perspective of a number of HR professionals across the chain in the industry.
The fashion industry, across the chain from fibre to retail, is an extremely dynamic one. Most aspects of the industry often make for stimulating debates. But usually lost in these battles of ideas and predictions are the most crucial element that make each of these links in the long and fragile chain: the people.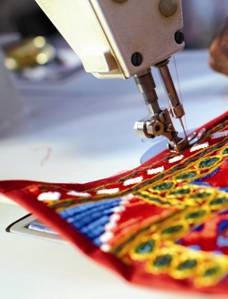 There is a need to look at the people factor too. The industry is no longer what it was at the beginning of the globalisation era. The world has changed, and so has the fashion ecosystem-drastically, for some even overwhelmingly. What is needed is an industry-sponsored study to ascertain whether the fashion education system is delivering the right kind of people, or whether there are enough such people in industry.
What you will read in the following pages are the findings of a dip-stick survey. You will not find enough numbers-credible or otherwise-to come to a sureshot conclusion. But the indicators are all there. Of course, there are problems with generalisations, as there are with minuscule sample sizes. This, therefore, is not a study by any yardstick; but it does offer snapshots, quite a few of them.
Talent gap, and the challenges
Most human resources (HR) professionals in the industry seem to be of the opinion that the fresh talent that troops into the industry every year are fine in themselves, but there's scope for considerable improvement. Yet, what they do not say in as many words is that there is indeed a gap somewhere.
The vibrancy, nevertheless, is palpable.
Sachin Maheshwari, senior manager - HR (South Asia) at VF Corporation India, says, "Things are getting challenging, and now with many groups like millennials around, things are becoming challenging and interesting as well at the same time." C Subramaniam, president (HR) at Siyaram's, says, "We hire almost 180 employees annually. As compared to recruitment five years ago, the new recruits today are more techno-savvy. The recruits are quick learners and they enjoy a comfort factor with the latest technology."
YR Wilson, president (HR) at the Himatsingka Group, does believe that today's new recruits are high in energy, and technologically adept at the job as well. Wilson looks beyond and sees an opportunity here, "Their aggression, if channelled correctly, can be harnessed for greater accomplishments. At the same time, they also come with their own set of expectations that need to be moderated appropriately."
Gokul S, HR manager with Hidesign, points out, "The enthusiasm and interests in taking up new assignments among the fresh graduates have improved these days. Most of them exhibit confidence in performing well in the new job, and do have both industrial and practical exposure when compared to (the recruits of) five years ago. Today's recruits are well updated about current trends and technology.
"The role of social media in the recruitment process has shown a tremendous rise over the past few years especially as it helps recruiters check the cultural fit of the candidates-based on their interests, activities, engagements, etc. New employees are more active on professional and social networking sites."
<![if !vml]>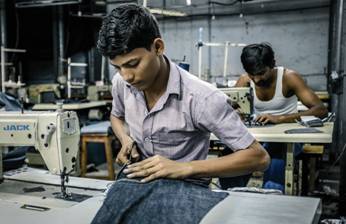 <![endif]>But are fashion institutes able to meet the specific requirements of industry? Maheshwari does not bat an eyelid, "Yes, definitely fashion institutes contribute a lot for our talent requirements." Subramaniam too feels that fashion institutes do help in honing the design skills of an individual. "These skills are further effectively utilised in the organisation for creating fresh designs, trends and patterns."
The requirements of the Himatsingka Group, which specialises in home textiles, are different from the apparel sector, but Wilson does see gaps, "For institutes offering fashion/textile courses in general, immediate employability of their graduates is a concern. The competitive business reality (of today) demands that creative minds be commercially-oriented and be aware of market dynamics."
So, what should fashion institutes do to ensure they keep pace with the requirements? Maheswari points out, "They can look at the market trends and keep on reviewing the course curriculum on a regular basis. They can also look at corporate connects to get first-hand experiences. For this, on our part, we run intern programmes so that students can come and see what's going on in the real industry. What happens in the bargain is that we too get completely new perspectives from the young talents." Subramaniam suggests, "The institutes should encourage regular internships for their students with industry organisations for much longer durations. They should encourage students to undertake live projects with corporations, which will eventually help them not just to understand the industry, but sharpen their skills as well."
More suggestions come from Wilson, "A two-way exchange programme between institutes offering courses in the fashion/textile arena and industry can address the mismatch. Industry experts should visit related institutes to mentor students. And, the internship programmes of the institutes need to be a lot more in-depth and exhaustive in the various aspects. A high-level industry-academia engagement is crucial too."
Says Gokul, "Institutes should inculcate creativity to yield results. Students should use their creativity and relate to the international fashion industry. Institutes should update students about happenings in international fashion. Students should be more updated about trends and technology. Customers are more aware about fashion and brands. So, to meet customer expectations, students should also be updated on this. Management skills should be given priority in curriculum, which will help them grow in the profession."
Yes, as Gokul contends in no uncertain terms, "It is difficult to find designers with 'out of the box' thinking. Most of the designers lack fresh ideas and creativity. The usual trend seen is that they just make minor tweaks to the already existing style, which is not likely to make a breakthrough."
Wilson goes much deeper, "The textiles industry, particularly home textile industries (within the overall textile industry) in India, has been largely left unaddressed. For example, take a look at our premier education institutions such as the IITs, which have textile engineering in their curriculum. This has resulted in bright textile talents diminishing from the talent pipeline for the textile industry. Ironically, this value chain is one of the largest foreign exchange earners, apart from providing largescale employment.
<![if !vml]>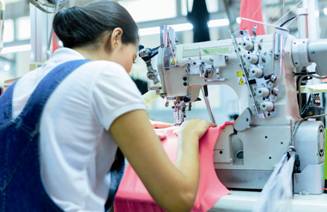 <![endif]>"The ministry of textiles, academia and industry should come forward to address this lacunae. Or else, the textile industry will witness a shortage of quality leadership in the future. The role of HR in all is critical. There is a need to build strong HR systems, processes and engagement modules so as to ensure that the future of the industry is kept vibrant and attracts top quality talent. I call upon HR professionals to come forward to set up a forum exclusively that would address these burning issues of the textiles industry." In fact, there is no HR professionals' forum for the fashion industry that one knows of.
Yes, candidates are fine in themselves; there are few in the industry who allege that fresh fashion graduates are found to be lacking. But that does not mean that there are no challenges. In fact, there are far too many questions that need to be answered, far too many issues that need to be resolved.
Rajesh Kumar Nayak, HR manager with Hemant & Nandita, puts it bluntly, "The infrastructure of the setups in this industry is not strong, especially when we look at the luxury designer labels. Hiring the best talent and retaining has been a challenge.
Moreover, fresh candidates are in a habit of joining and leaving early." This is a bother that most HR professionals in the industry are rueful about.
Marazban F Velati, vice-president, Corporate HR at Sutlej Textiles & Industries limited, delves slightly deeper, "Surprising it may sound, although the textiles industry is full of iconic personalities, challenge for the right talent has always existed. The foremost issue is of bridging the skill gap between the skillsets offered and that desired of the position i.e. person-position fitment. Frequently, companies end up hiring skillsets which they may not use to fullest potential, 'It's not a part of the job description!' That's a loss to the company as well as the candidate. Further, textile technology is changing fast, moving towards more complex automation and every industry is trying to upgrade their hardware. Technical obsolescence is rapidly becoming a major stumble block. This narrows down the talent availability in the markets."
Yes, organisations continue hiring and managing talent, but as Krishnanand Tripathi, GM-HR at Textrade International Ltd, contends, "Most corporate recruitment and talent functions are reactive and rarely are future focused. These functions aren't aligned to their organisation's business strategy, aren't part of a formal organisational talent strategy, and in fact seldom even communicate with each other. Organisations must be self-aware and understand their functional capabilities in recruitment and talent management."
Talent hunt, and the solutions
In this backdrop, it becomes interesting to see how companies hire new talent.
H&M India believes in fair and equal opportunity. The recruitment process focusses on hiring people who share its values, as also its passion for fashion. Ritu Singh Bhatiani, head - Human Resources, says, "All positions are advertised on our career page at hm.com. We aim to respond to all applicants. We invest in internal trainings for our recruiters to ensure that we hire colleagues who are right for us. The selection process involves multiple interactions to give us and the candidate an opportunity to know each other and make an objective decision. Assessment tools vary for different roles and can include interviews, aptitude evaluations, our unique company designed assessment centres, etc. We recruit internally when possible."
Bhatiani continues, "At H&M, we are tenure-agonistic. Experience is not a criteria in recruitment, and we have employees of completely different experience levels in stores. We prioritise culture fit, right attitude over experience, and technical fit. Our challenge is to find the talent who are open-minded to work in different roles rather than be specialists, who see growth in all directions and not just vertically, are comfortable to work in highly matrix organisation which is flat, who value responsibilities over role titles. We encourage colleagues to be open to opportunities in different locations within and outside India."
The recruitment process in Siyaram's starts with manpower planning. The requisitions and budgets are collated from the business head at the beginning of the financial year itself. Once the plan is approved by the management, it is forwarded to the talent acquisition team. Subramaniam elaborates on his company's process, "The talent acquisition team explores various recruitment tools like job portals, recruitment consultants, social networking sites, databases, etc, for sourcing the relevant candidates. The initial telephonic round of the shortlisted candidates is conducted by the HR department after which they are called in for the departmental round of interviews with the line manager and business heads. The finalisation of the candidate is done by president-HR. After this, the selected candidates go through the negotiation phase, following which the selected candidate is issued an offer letter." As simple as that.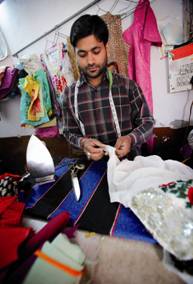 At the Himatsingka Group too, recruitment is done in stages, but here HR steps in at a much later stage. Shares Wilson, "The first stage aims at eliminating unsuitable candidates for the businesses. In the second stage, our selection process focuses on placing the right candidate for the right job. We deploy scientific tools to assess the aptitude and other various attributes such as intelligence, emotion, creative spectrum, etc. In the third stage, the reporting manager evaluates domain knowledge. The HR interview takes place only in the fourth stage, where the candidates who have been shortlisted by the reporting manager are interviewed. Subsequently, an offer is made to the selected candidates. For senior leadership roles, there is a fifth stage that is included, wherein it is the managing director who assesses the fit."
Usually-for all good reason- companies are reticent in giving out details, but Gokul is fairly elaborate and candid. At Hidesign, "for candidates with experience, once the opening is identified, we have an already developed position brief (job description and specific skillsets details). Then we proceed." Gokul outlines:
Option A: We will check for internal resources; if we are not able to find resources internally, we proceed to Option B.
Option B: We get the resource externally: Search process: Employee referrals and advertisements: Company website, social media sites, job portals, company-owned resume database.
Shortlisting process: Resumes are shortlisted by the recruiter and handed over to the manager concerned for further shortlisting.

Interview process: Preliminary discussions with recruiter, first round of interviews with reporting manager and HR manager; final round with the President and the panel.

Reference checks: Selected candidates go through reference checks.

Offer process: Selected candidates are offered the job and the position is closed.

Closure process: Intimate the non-selected candidates through email about the closure.
For freshers, it is only option B. The only addition is the feature of walk-ins.
Not everyone falls back on external headhunters. Says Gokul, "We get good response through social media. We use both Facebook and LinkedIn for recruitment. During the last five years, we have used consultants / headhunters only thrice. Our talent acquisition team does all the hiring through sources mentioned earlier."
Hemant & Nandita, on the other hand, depend on headhunters quite a lot. Nayak says, "We depend 80 per cent on headhunters for recruitment. But, it is also very necessary for them to completely understand and absorb the requirement of the company to be able to filter the right people and to figure out the perfect fit for the positions." Deepak Girish Bhatnagar, group head (HR) at Sangam India Limited, sees things from another angle. He argues, "We depend very much on headhunters as no partiality is done that way."
So does Mafatlal Industries Limited. Suresh Kumar, senior vice-president for Human Resources, explains, "Headhunters often have access to candidates who usually are not willing to contact the company directly even after knowing about vacancies, and this of course is due to varied reasons. Therefore, dependence on headhunters for recruitment will always be there. Every textile or retail niche has a different model of business and operations. The challenge for headhunters is to identify the candidate with right fit for these businesses and that is seemingly becoming difficult."
Velati wants to address this differently, and he says this out of experience. He believes, "Talent acquisition is not as organised in textiles as others. Textile individuals, based on their reputations, have engaged themselves to this service. Not that they have not been doing a fair job; but my personal experiences say there is a success rate of 5 per cent, not more. For the loosely defined, individualistic model, from the company's perspective, means handling multiple headhunters and their related complexities. On the other hand, restricting to a few numbers means a loss of access to potential candidates. So there needs to be a trade-off on the dependency for hiring through headhunters. Head hunters need to exert more in locating talent rather than depending upon the database they already have with them. Often candidates (they select for industry) do not meet the job role fits. So, there is an onslaught of prospective candidates, who eventually get rejected either due to the above reasons, or due to cultural fitment of the candidate."
<![if !vml]>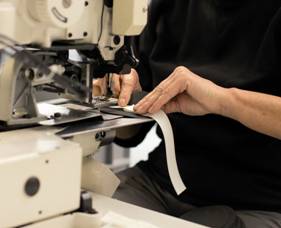 <![endif]>Wilson has another way of looking at things, particularly from the perspective of problems. He argues, "New recruits are the products of an educational system which unfortunately focuses more on exams rather than real time learning suited for today's world. The inputs on values, culture and broad personality development seem to have been overlooked by the educational system in our country. As a result, the potential recruits are high on IQ, but not competent enough to deliver on key attributes such as emotion, creativity, and so on. This brings about an imbalance in a fresher's all-round personality and creates distress in the person's ability to manage people and relationships at the workplace.
Converting the new recruits to cope with the requirements of emotional and creative challenges is one of the critical tasks of HR."
Additionally, Hidesign looks for a cultural connect. "The new recruit's ability to relate to the organisation's culture is very important. People who fit well into the company express greater job satisfaction, perform better, and are more likely to remain for a longer period of time. Candidates can be taught to do a particular job, but they should also be able to gel with the ways a company operates-therein lies the success of a candidate. During the interview process, it is not sufficient to ask candidates if they will fit into the company culture because a smart candidate will know what you want to hear and give you the right answer."
All HR heads easily cut the long story short when asked about what specifics they look for in candidates. Gokul summarises them best as a list that cuts across companies: cultural fit, ability to work in a team, leadership qualities, enthusiasm and passion, putting skills to action, ability to handle independent assignments, responsiveness, long-term potential, willingness to take responsibilities and challenges.
Talent retention and the future
In a scenario where there is a discernible gap between what students learn in fashion institutes and what they confront in the real world-though many insist that it is not that yawning, it becomes imperative for companies in the textiles-apparel industry not just to retain talent, but to keep them trendy as well.
Bhatiani speaks for H&M India, "Learning and constant improvement is part of our culture. In addition to on-the-job training, updated information, training content in different formats- written, videos, etc, are available and accessible to colleagues on the global online learning portal that we refer to as GROW. We have H&M trained trainers to facilitate the training sessions." You might call that standard procedure.
Hidesign tries its best to ensure that employees stay abreast of what is happening in the industry. Gokul reveals, "We offer employee development programmes with clear objectives, besides regular and constant mentoring. We also have regular monthly training modules. Besides these, there is a lot of internal communication within the organisation. Newsletters and articles on current market trends, fashion, lifestyle, retail, business, etc, are shared with employees. Print and online magazines too are made accessible to employees on all relevant subjects- business, fashion, lifestyle, retail, technology, etc"
At Siyaram's, employees are constantly updated about the new trends and practices in the textiles sector through the HR intranet portal. Besides, employees are also nominated for different trade fairs, seminars, conferences, training programmes. "We also subscribe to various fashion magazines and other publications, which in the long run help in knowledge upgradation of our existing workforce," says Subramaniam.
Ensuring that employees remain up-to-date is one thing, and building an employer value proposition (EVP) is quite another. H&M is very clear about how it looks at the future, and how it brands itself for its own employees. Bhatiani paints the bigger picture, "As one of the world's largest fashion retailers, H&M offers endless career opportunities, a fast-paced, buzzing environment with great diversity. Our success is based on our people, and each employee is valued, team-work is a way of working. H&M is in India for the long term and believes in investing in its people to grow the local talent."
<![if !vml]>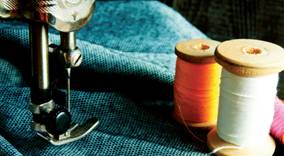 <![endif]>She continues, "H&M provides internal training on every level. We want colleagues to feel they are valued, and are given the chance to develop. This is achieved through both internal job rotation and promotion possibilities, as well as by offering international opportunities. For example, during the country launch sales advisors were sent to the United Kingdom (UK) for a month for training. We encourage colleagues to dress their personality. To support this, our sales advisors can select garments from the store as their work attire every quarter for a defined amount." For many employees, it adds to the feelgood factor in employment.
As Bhatiani says, "At H&M, work is a part of your life. We believe in a work-life balance; everyone in the company from the office teams to the front-end sales advisors get two days off a week (first retail brand to start that in India). H&M encourages diversity, be it cultures, socio-economic backgrounds, language skills or gender. At stores, compensation decisions at recruitment/ annual reviews are gender-neutral. Women and men have equal opportunity to apply and grow to other positions." It hardly gets better than this.
Hidesign invests heavily in HR initiatives. To start with, it has a mentorship programme for young leaders. "We employ a lot of youngsters in junior and middle management positions. We work towards ensuring a career growth for young talents with proper planning and guidance. Cross-functional training and job rotations help employees to equip themselves for faster growth," says Gokul. There is an internship programme for design and management students too. "We follow the same employee recruitment process for hiring interns as well. Best performers will be absorbed after completion of the internship period. We prefer long-term internships (minimum four months) so that they get sufficient time to learn and perform."
The keywords for Hidesign's EVP are: constant employee feedback, employee opinion surveys, new hire surveys, informal employee meetings, exit interviews (changes and improvements are made based on these points); rewards and recognition; employee engagement activities; open door policy; and transparency.
Employees, needless to say, have to perform to benchmarks. At Hemant & Nandita, "Being in the industry which is in a constant hunt for fresh and creative ideas, neither quality nor quantity can be compromised. Designers prefer to work with small, trustworthy teams and as the teams go small, working hours and the commitment increases so only the right kind of people and the passionate people work best for us."
But, in today's world, it is not just a question about skills; the operative word is multi-skilling. As Wilson says, "Multi-skilling is no more an option. It is a reality given our new paradigm shift in the workplace of today." At Hidesign, multi-skilling is not a policy, it is a practice. Says Gokul, "We train most of our factory employees in multiple skillsets. This helps in job rotation and growth. Management employees are also put through cross-functional training with every department giving them an opportunity to shed light in their blind spot." Siyaram's does not have a formal policy on multi-skilling in the organisation, but as Subramaniam says, "multi-skilling is encouraged in the organisation. We ensure the employees across the board have hands-on experience in all functions within or outside his or her department. Depending on the employee initiatives and competencies, he or she gets exposure in various other functions."
Need for more research
A dip-stick survey like this has its obvious limitations, though it does bring forth a number of indicators and trends. One factor that clearly emerged from the feedback from over 20 HR professionals from the industry was this: full-fledged and exhaustive surveys/studies are a must for the fashion/apparel/textiles industry. This becomes all the more crucial since this industry is not only heavily dependent on people (though, as we had remarked earlier: a dependency that is hugely underplayed), it is also a sector that is by far one of the largest employers in this country. There is certainly a need to know more about the people.