The six-day India International Textile Machinery Exhibition (India ITME) 2016, which was held in Mumbai from December 3, hosted about 1050 exhibitors from 38 countries. The show, which focuses on innovation and modernisation in the textiles industry, saw the emergence of a clear trend: that India is emerging as a new destination of textile machinery, reports Hiral Oza
Ever since words trickled out of China that all is not well with the textiles industry there, speculation has been rife as to whether India can grab that space, and emerge as the new global leader. But if the buzz at India ITME 2016 is anything to by, grounds for such speculation is not misplaced.
The six-day India International Textile Machinery Exhibition 2016 (India ITME), held at the Bombay Convention & Exhibition Centre in December, hosted textile machinery exhibitors from over 30 countries. India's biggest textile event of its kind exhibited the latest in machinery across all textile verticals, but what caught one's attention was the "India" word that kept buzzing around. Growing cost of production in China had most worried, and they all saw India as a financially viable alternative.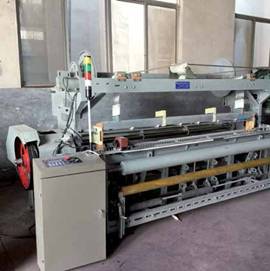 The 10th edition of the India ITME saw over 20 product launches. The fair was spread across eight large halls and showcased machines for the spinning, knitting, weaving, garmenting, processing & finishing, technical textiles, environmental solutions, home textiles and denim industries. The event was supported by the department of heavy industry, the textiles ministry, and the government of Maharashtra as state partner. India ITME 2016 saw about 1050 exhibitors, 13 delegations and over 1,40,000 visitors. However, it still remains small compared to ITMAs elsewhere-as of now.
Realising the India potential
Interactions with international exhibitors at the fair clearly indicated that India is being seen as a strong market, and in the future can well beat China. As things stand, the demand for textile machines has risen in the country as a result of the growing domestic demand for textiles and increasing exports.
Speaking about the spinning market in India, Francesco Gozio, head of marketing at Marzoli, told this magazine, "India is the second largest market in the world for spinning machinery. A recent report of the International Textile Manufacturers Federation (ITMF) says that over 40 million spindles have been installed. Obviously, in such a big market there will be a lot of opportunities. There are always spinning mills that want to renovate their technical assets."