The six-day India International Textile Machinery Exhibition (India ITME) 2016, which was held in Mumbai from December 3, hosted about 1050 exhibitors from 38 countries. The show, which focuses on innovation and modernisation in the textiles industry, saw the emergence of a clear trend: that India is emerging as a new destination of textile machinery, reports Hiral Oza
Ever since words trickled out of China that all is not well with the textiles industry there, speculation has been rife as to whether India can grab that space, and emerge as the new global leader. But if the buzz at India ITME 2016 is anything to by, grounds for such speculation is not misplaced.
The six-day India International Textile Machinery Exhibition 2016 (India ITME), held at the Bombay Convention & Exhibition Centre in December, hosted textile machinery exhibitors from over 30 countries. India's biggest textile event of its kind exhibited the latest in machinery across all textile verticals, but what caught one's attention was the "India" word that kept buzzing around. Growing cost of production in China had most worried, and they all saw India as a financially viable alternative.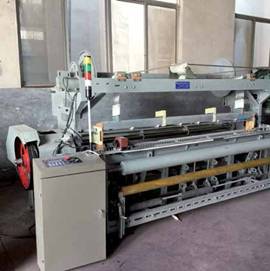 The 10th edition of the India ITME saw over 20 product launches. The fair was spread across eight large halls and showcased machines for the spinning, knitting, weaving, garmenting, processing & finishing, technical textiles, environmental solutions, home textiles and denim industries. The event was supported by the department of heavy industry, the textiles ministry, and the government of Maharashtra as state partner. India ITME 2016 saw about 1050 exhibitors, 13 delegations and over 1,40,000 visitors. However, it still remains small compared to ITMAs elsewhere-as of now.
Realising the India potential
Interactions with international exhibitors at the fair clearly indicated that India is being seen as a strong market, and in the future can well beat China. As things stand, the demand for textile machines has risen in the country as a result of the growing domestic demand for textiles and increasing exports.
Speaking about the spinning market in India, Francesco Gozio, head of marketing at Marzoli, told this magazine, "India is the second largest market in the world for spinning machinery. A recent report of the International Textile Manufacturers Federation (ITMF) says that over 40 million spindles have been installed. Obviously, in such a big market there will be a lot of opportunities. There are always spinning mills that want to renovate their technical assets."
Gozio continued, "In India, Marzoli has installed machines in several spinning mills, many of whom are well-known opinion leaders of the industry. The FT6E and FT7E series confirms Marzoli's intention to provide the Indian spinning sector with the most modern technology for roving production. Besides offering the most advanced European technology, we also aim at supporting the industry through our Indian branch which can provide spare parts and technical assistance."
Stefano Galluci, Group CEO of the Santex Rimar Group, emphasised during a talk at the event, "The Indian textiles-apparel and technical textiles markets are projected to grow at a CAGR (compound annual growth rate) of 9 per cent and 8 per cent respectively from 2013 to 2023. India is the second largest market for us after China. China is still moving, but India is growing faster."
For Swiss manufacturer SSM, India is important. SSM chairman Ernesto A Maurer said, "I am convinced that India is a very important market for all of us. We expect to reinforce our close contacts with the Indian textile industry, as we always have. It was important for us to come to India ITME, specially this year, since ITMA Asia did not witness many Indians. Virtually nobody from India went to ITMA Asia due to the close temporal vicinity, of course. If there are two shows that are just six weeks apart and if you have one in your own country, that's primarily why the turnout was less at ITMA Asia. Second, the recent situation in China has not been very easy. We wanted to pick up what we weren't able to in Shanghai and this was fulfilled (here at India ITME 2016)."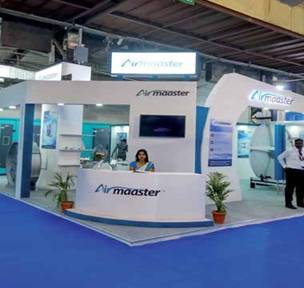 The response was better than expectations for Voltas vice-president C Kamatchisundaram said, "The huge turnout of quality visitors proved that the industry is always looking out for new products and solutions not only to manage current needs and overcome current challenges, but also from the long-term perspective. Our team members were on their toes throughout the exhibition, attending to diverse visitors from across the country in the stalls of our principals in spinning, knitting, weaving, processing, finishing, digital printing, nonwoven and technical textiles."
Textile commissioner Kavita Gupta also underlined India's potential to be the next textile manufacturing hub in an address to textile engineers at Sasmira. Gupta assured of a favourable business environment and asserted, "Research and development (R&D) will be the key to this growth. The government has made R&D investments in textile machinery manufacturing. There is no reason why India cannot overtake China in the near future. We are already more competitive than China in labour, power and manufacturing costs for the textiles industry."
Leaders of the Indian textiles industry made the most of the event discussing strategies to make India a dominant player in the global textiles industry. Faster technology upgradation, better policy framework, focus on quality, marketing innovation and enhancing production capacities were by and large recognised as factors that can boost the Indian textiles and apparel industry. Use of sustainable technologies was also one of the key points discussed at the conference.
The latest machines
Many companies unveiled their latest and newest technological innovations at the event. In fact, India ITME 2016, inaugurated by Sanjiv Lathia, chairman of the India ITME Society, kicked off with a host of product launches and important announcements.
Murata Machinery Limited celebrated the installation of 100,000th Drum of QPRO Series supplied in India, while LMW launched its new products in a number of subsystems-card sliver system, combing system and ring spinning system with automation and energy efficient spinning solutions. Among other major launches were high-efficiency energy-saving motors by Kirloskar Toyota.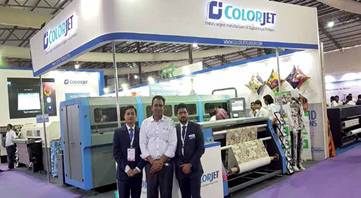 Switzerland-based SSM Scharer Schweiter Mettler AG, the inventor of the electronic yarn traverse system, exhibited eight new product launches for dye package/rewinding, assembly winding, air texturing and sewing thread finish winding. One of the most interesting applications was the introduction of the DIGICONE 2 winding algorithm, enabling a 10 to 20 per cent increase on dye package density with same dyeing recipe, which is only available on the SSM XENO-platform. On the other hand, the SSM X-series are the most economised winding solution, reduced to the max yet maintaining highest flexibility for any cost-efficient winding application.
Karl Mayer, Germany's leading textile machinery company, received positive feedback and attracted a huge number of visitors at the event. The tricot machines on show were sold at the fair itself. For producing warp knits, Karl Mayer showcased the fourth generation of its high-speed HKS 3-M, with a modern design, and the HKS 4-M EL machine, which is as versatile as it is productive. The four-bar, high-speed tricot machine was demonstrating the advantages of its EL control facility. Karl Mayer wrapped up the presentation of its sought-after machines and products by showcasing its 360o technical support service. By utilising the latest components of online communication, this comprehensive service concept provides even more user benefits and machine efficiencies than ever before.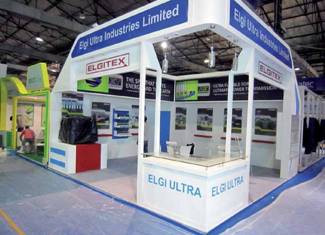 French textile machinery manufacturers exhibited state-of-the-art machinery and services in long fibre spinning, yarn twisting and control, heat setting, carpet systems, nonwovens, dyeing and finishing, air and recycling processes. SUPERBA's Hubert Tretsch, who is also president of the French Machinery Association's promotion committee, said that their focus was, "on the very effective networks which have been set up by each company to offer the best service to the most remote customers' locations, service and spare parts. These are very important to get the best use of the machines, and in the end, the best bottomlines for our customers." German, Swiss, Italian, French and Chinese companies dominated the halls across all the machinery and spare parts segments at the show.
The Santex Rimar Group did not showcase anything new. Galucci said, "We did not display machines, but we had several new enhancements that we are presenting to the Indian markets. There is the fact that we are taking back Smit-the looms brand-to India. It's for India. This brand had stopped several years ago, but we bought over the company and have restarted it. This has been welcomed by Indian customers. A lot of them had come here to talk about it, and understood how to get the looms. Then, we had technical textiles, and many requests for nonwoven machinery."
The blues and woes
There was some pessimism and scepticism in the run-up to the fair as result of the demonetisation announced by the Indian government that was initiated about a month prior to the event. But that appeared to be short-lived. Amol Bhagwati, Managing Director of InspirOn Engineering Private Limited (IEPL), remarked, "Despite demonetisation, we saw a good turnout on the first and second days of the fair. That was really encouraging. People who are important and really matter came and understood the products well."
The first two days of India ITME 2016 saw few footfalls, but then on the show picked up pace. Many exhibitors said that the number of visitors was far less in comparison to India ITME 2012; nevertheless, many exhibitors said that they did meet genuine buyers and investors during the show.
Martin Basset, sales manager for Zimmer Austria, said, "It (the event) has been a good one for us. A little bit of quiet one, primarily due to the demonetisation drive in India but a very productive one nonetheless. We have met less, but serious customers."
While discussing the challenges they faced while dealing with their Indian clients, one of the participants, Andreas von Bismarck, managing partner at Terrot, said, "Banking issues and bureaucracy are some of the challenges that remain. Some projects take longer to complete, and that is a sheer disadvantage because the world is moving so fast today."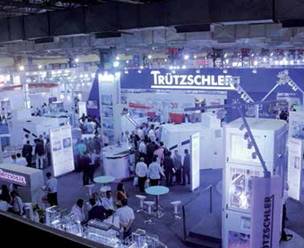 India ITME 2016 was well-organised though there were a few voices of dissent. Some exhibitors expressed concern about the venue and its infrastructure. While some exhibitors could not exhibit their technologies due to the dearth of adequate space, some others suggested that technologies and solutions could be better displayed category-wise for the ease of visitors. Still others felt that logistics were a bit cumbersome. Ernesto A Maurer, chairman of SSM, spoke of the need for truncating the six-day affair, "A four-day event is perfect. I think the show would gain from such a measure. That way you can also make senior executives stay for the entire duration of four days."
Since India ITME is an international event, it becomes a galvanising opportunity for many important collaborations and joint ventures. The fair attracts foreign and domestic business leaders, academicians, research scholars and government officials from across the globe. Expectations, naturally, run high.
Ending on a fair note
Even though the fair had its share of lows, most international exhibitors unanimously agreed on India being a strong market for their products, and that Indian manufacturers are willing to move towards automation and more ecological and economical alternatives.
International exhibitors also felt that India's textile landscape is going to change soon. With rising productions costs in China, many global buyers have been trying to explore the possibility of India being the next sourcing destination. Sanjiv Lathia said at a press event, "The size of India's textile machinery industry is poised to double itself to ₹45,000 crore in the next seven years from the present ₹22,000 crore in light of new projects that are coming up and the emphasis being laid on the setting up of textile parks. The textile machinery manufacturing segment is one of the important ones of the machinery manufacturing industry in India."