Coarsewool is underutilised in India. A braiding machine converts the group of yarnsinto a tubular fabric form of small circumference; say P M Suman, N Shanmugam, Sekhar Das, S M K Naqvi.
With 46.7 million kg of woolproduced annually, India is the tenth-largest producer of the fibre. More than50 per cent of this is coarse wool like Deccani, Marwari, Malpura, Patanwari,and Sonadi. Sheep rearers are not getting the value of coarse wool. Mostattempts so far focused on older methods blending coarse with fine wool andspinning using the charkha. The traditional ways of producing products fromcoarse wool are on their way out due to product quality and high cost. Also,coarse wool products feel rough and shed fibre as they are used. So, an attemptis being made to use braiding to produce various quality products using coarsewool.
SalientFeatures of braiding machine
A braiding machine weaves strandsof yarns to form rope, reinforced hose, covered power cords and some types oflaces. Generally, cotton, polyester and nylon yarns are used for producingthese products. In our country, horn gear braiding machine is widely used andit is vertically oriented. The braided thread is taken up above the machine andthe height and diameter of a guide ring determines the characteristics of thebraided products to some extent.
In a horn gear braiding machine,there are even number of spindles. Each consists of two verticle columns andone peg adjoined at the lower end. One column of spindle holds a bobbin ofthread while the other column guides the thread to the guide ring maintainingproper tension with the help of an iron weight.
Plastic spindles are moved ontracks shaped like a sinusoid by horn gears through a peg. The horn gearconsists of a spur gear and a notched disk. The spur gear is connected to anotched disk at the bottom with a hollow shaft. These horn gears are coveredwith the track plate. In each horn gear, two or more plastic spindles aremounted.
Bobbins have a serrated surface atthe top with a guide to move in a stop-start fashion so that it can prevent thethread becoming too loose while unwinding. All threads are braided due to thesinusoidal motions of the bobbins and taken up slowly by the winding rollerarranged atthe top of the machine. An even number of bobbins and horn gears arealways used in horn gear braiding machine. There are many types of horn gearbraiding machines: 8 spindles, 16 spindles, 24 spindles and 32 spindle,depending upon the number of bobbins in the braiding machine. The machine usedin this study has 16 spindles.
The mechanism of horn gearbraiding machine is simple and robust, but the production speed is limited.Now, automatic high speed braiding machines equipped with Programmable LogicControl (PLC) are available.
<![if !vml]>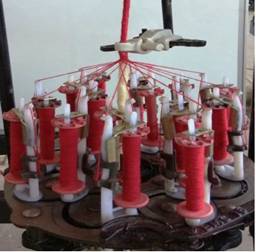 <![endif]>
16 Spindle gear horn gear braiding machine
Materials and method
Scoured Malpura wool was opened in small tufts using willowing machine and mixed properly, sparyed with emulsified solution of 5-10 per cent water and 0.5 per cent Lubestat LV-45, an antistatic agent. The material was left for two hour at least to condition the wool. The conditioned wool was fed into the slow speed cotton carding machine uniformly and the sliver was collected in a bin.
Bobbins filled with filament polyester yarn/woollen yarn were arranged on braiding machine and the braiding machine was started for a while. Then, the sliver was fed as core among polyester strands/woolen yarn through the braiding machine to prepare braided rope.
Using this rope, elliptical doormat was prepared by handstitching directly and picnic mat (6ft x 2.5ft) was prepared using the rope as weft in cotton yarn as warp inhandloom. The core sliver used was having a hank of 0.128 Nm.30 Nm polyester filament yarn / 4 Nm woollen yarn was used as sheath material. In the loom, 3.5 Nm cotton yarn was used in warp direction for preparing picnic mat.
Products developed
<![if !vml]>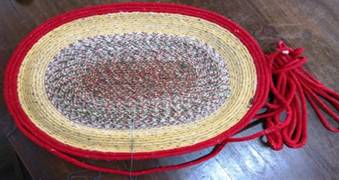 <![endif]>
Doormat made of coarse wool braided rope
<![if !vml]>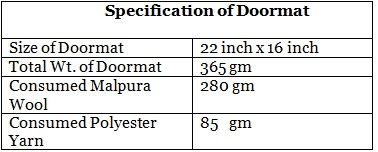 <![endif]>
<![if !vml]>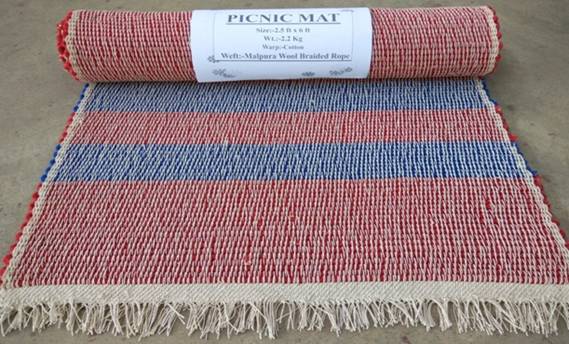 <![endif]>
Picnic mat of coarse wool braided rope
<![if !vml]>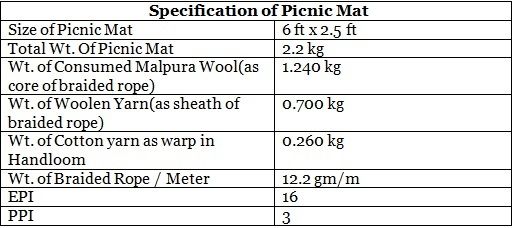 <![endif]>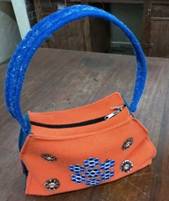 Handle of ladies bag made of coarse wool braided rope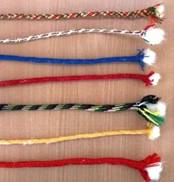 Braided rope of different colours and thickness
After preparing braided rope, making a doormat does not require any machinery. However, a picnic mat needs equipment like handloom to be made. Different value added quality products can be prepared from coarse wool braided rope. This is a new initiative to bring additional income for sheep rearers and wool stakeholders. This initiation can be part of a Central Government campaign of StartUp India. It will be characterised by easy process, low capital, cheap raw material and attractive products. Productivity can be increased by adopting automisation like automatic braiding machine and rope sewing machine.
Reference:-
1. VP Singh, PC Patni, JP Mathur & S Parthasarathy, Physical Characteristics of wool of native and crossbred sheep, Indian J. Text. Res. Vol5. June 1980
2. Karim SA (2009) Wool production in India, Wool technology edited by Karim SA, Shakyawar DB and Joshi A, 11-18
3. Idrees Khan, top 10 largest wool producing countries in the world, World Knowing, July5, 2015
4. Wikipedia
About the author:
1. SMK Naqvi is presently working as a director at Central Sheep & Wool Research Institute, Avikanagar, Jaipur.
2. PM Suman is working as a technical officer, TMTC division at Central Sheep & Wool Research Institute, Avikanagar, Jaipur.
3. N Shanmugam is working as a principal scientist and I/C, TMTC division at Central Sheep & Wool Research Institute, Avikanagar, Jaipur.
4. Sekhar Das is working as a scientist at Central Institute for Research on Cotton Technology (CIRCOT).