Textiles were once about covering the body. New inventions and innovations, however, indicate that the interplay between textiles and the human body could soon be the stuff that sci-fi films are made of, reports Jozef De Coster from Belgium.
In India and other Asian countries, textile professionals tend to believe that the European textiles and garment industry is nearly dead. This may be true, in most European countries, for the home textiles and apparel manufacturing sectors, but not at all for technical textiles. This year again, this fact will be demonstrated at the bi-annual Techtextil Trade Fair (Frankfurt; May 9-12, 2017) that technical textiles is a very dynamic and steadily growing sector in which European companies are playing a leading role. New developments in the subsector 'textiles for healthcare' were discussed at the Second European Congress on Innovations in Textiles for Healthcare, organised by Belgian organisations Centexbel and Fedustria on February 7 and 8 in the textile city of Ghent.
There's no doubt that the production and consumption of textiles for healthcare will continue growing in the next decades. But it's impossible to predict what will be the impact of innovations. Will innovations lead to a step-by-step improvement of such textiles? Or, will there be some dramatic breakthrough as suggested in Ghent by Serbian textile researcher Lena Milivojevic? She reminded the audience that the human body is itself a fibre manufacturer and produces various kinds of fibres to protect our health. She believes that by 2050 the communication between nanofibres in a cell (DNA) and nanofibres in clothes will be possible. Her ideas tally with those of Tesla and SpaceX founder Elon Musk, who recently argued that we must all become cyborgs if we are to survive the inevitable competition with robots endowed with artificial intelligence.
Starting from artificial uterus
The range of textiles for healthcare is impressively diverse. At the European Innovations Congress in Ghent, several dozens of textile researchers presented healthcare products in various stages of development, covering human needs literally from birth to death. Some researchers focused on textile products for babies, others on products for the sick and elderly people, many on products for people in full activity, doing sports or working in hospitals or care centres. The famous German Hohenstein Institute for Textile Innovation presented a new technical fabric called Artus (Artificial Uterus), which acts as a physiotherapeutic artificial uterus for preemies. In Germany alone, around 50,000 babies are born premature every year. They have to stay in specialised incubators at neonatal intensive care units for weeks or even for months. Their situation is worse than that of prisoners. It often leads to severe motoric and sensory developmental deficits later in childhood. Maybe inspired by the famous experiments (1958) of American psychologist Harry Harlows with infant rhesus monkeys who formed an affectional bond with soft, cloth surrogate mothers, the Hohenstein Institute has developed a special textile-based artificial uterus for neonatal-incubators, which mimics the specific sensory impulses of the uterus (swing motions, mother's voice and heartbeat, moisture/ heat management,..). A prototype is already available for clinical observations, and will now have to prove its use as a medical device. Other textiles that focus on newborns and babies are mattresses responding to sleeping apnoeas. Sudden Infant Death Syndrome is the biggest cause of death of newborns and premature babies. This syndrome unexpectedly causes infants to die in their sleep without any evidence of accidental asphyxia, injuries or organic diseases. Belgian textile research organisation Centexbel has now joined forces with paediatricians and mattress manufacturers to develop a smart monitoring mattress that detects sleep apnoea in real-time and restores the baby's breathing while recording data on the Sudden Infant Death Syndrome.

Until the end of life
Even people who enjoy robust health during childhood and adulthood may need specialised health care during the last days of their life. An increasing number of people attain a high age, and form a vast potential market e.g. for continuous health monitoring materials or incontinence products.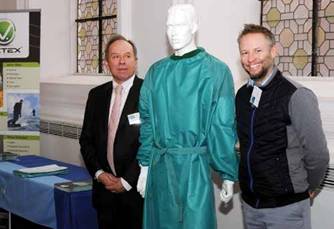 Swiss company Empa has developed a range of so-called 'smart' textile materials that react or adapt to physical stimuli. They are intended for the continuous monitoring of elderly people and chronic patients. The range includes a textile electrocardiogram sensor which is able to measure the electrocardiogram over long time periods and even on dry skin. Another development of Empa is that of textiles incorporating polymer optical fibres to be used for the prevention of decubitus ulcers. Empa has also developed a smart wound pad containing biosensors for wound healing monitoring based on fluorescent textiles. The Swiss company says it's always doing its best to develop affordable textile materials.
Current incontinence care systems for elderly people bring along many burdens for patients and care givers. Therefore, several European textile and nonwoven companies work on new systems developed with state-of-the-art technology which guarantees more privacy and comfort to the patient and at the same time reduces the ecological footprint of the products used. Their research and development efforts are not restricted to diapers for the sick or elderly people. They also cover fabrics for patients' and staff clothing, bed linen, drapes, etc. An example is the new ecofriendly wash permanent flameproof finishing of cotton and cotton/polyester blends developed by Czech company Inotex. The healthcare textiles treated with the newly developed finishings of Inotex (Texaflam DFR system) are said to combine three advantages: they are flame retarding and wash permanent; they are free of harmful substances; and they ensure a high wearing comfort.
The Hohenstein Institute and the William-Kuster Institute believe that many of the antimicrobial treatment substances available on the market today are very effective on cotton, polyester, polyamide and mixtures of these fibres, but not on wool and mixed fibres containing wool. This is apity because normally woollen articles are less frequently washed than cotton ones. Therefore, the German research institutes have for the first time developed a treatment based on colloidal complexes specifically for wool and wool and PET fibre blends. By applying colloidal layers of the SA/ TSA complex (in a 1:2 ratio), together with a colloidal zincpyrithione formulation over the sol-gel coating, a strong antimicrobial effect was achieved which lasted even after 25 wash cycles.
Low pressure plasma technology
Plasma is considered to be the 4th state of matter. It interacts with all exposed surfaces of the material, including the inner surfaces of open cell materials. Over the years, plasma technology has been further developed to achieve specific functionalities on textile materials such as hydrophilic, super-hydrophilic or super-oleo phobic. In health care, a new trend is coalescing which will replace disposable products (also called single use products) by products and articles that can be reused. Examples of such materials are surgical apparel and woven polyester-based garments.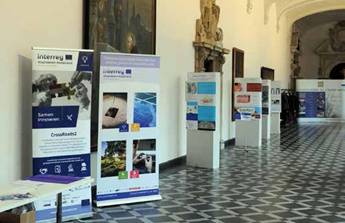 Low pressure plasma coatings of these products offer an environment friendly alternative of the traditional durable liquid repellent coatings typically deposited via pad-dry-cure processes where huge amounts of water, chemicals and energy are used. A recent study on plasma treated textiles showed a substantial reduction in use of chemicals and energy combined with zero water consumption. Euro plasma, a Belgium-based nanocoating specialist, contends that contrary to what many people think, low pressure plasma technology is also very cost effective. Euro plasma expects that environmental legislations will drive more textile producers from wet chemical processing to a dry and clean technology such as plasma.
Researchers from the Ghent University have announced that they in cooperation with other European specialists in the context of the European research project 'Plasma-Tex' have tested a plasma assisted route to engineer polymer films and nonwoven fabrics with antimicrobial nano-composite coatings. The cytotoxicity of the coatings and materials was investigated for different deposition conditions of nano-composites and analysed in terms of possible medical applications.
Healthcare textiles without toxins
Currently, many hospitals and care centres use antimicrobial chemicals and metals to kill microbes on surfaces. But, now there is a trend emerging that removes these toxins from healthcare to provide healthier environments both for healthcare workers and patients. Florida-based biotech company Sharklet Technologies has developed a patented microtexture inspired by the texture of shark skin. The unique texture and pattern of shark skin naturally slows the growth of barnacles and algae.
According to a study on antimicrobial resistance and infection control, the shark skin microtexture, when applied to high-touch surfaces, reduces surface contamination by as much as 94-97 per cent. Leading producer of release papers Sappi North America has partnered with Sharklet Technologies to develop a new technology to impart the Sharklet microtexture onto its release paper. Manufacturers using Sappi's new release paper Neoterix ST can now transfer the Sharklet micropattern and its microbial resistance properties onto new product surfaces. By the way, Speedo's super-fast LZR Racer swimsuit was shark-skin inspired. It gave swimmers like Michael Phelps such an edge that in 2009 it was banned from international swimming competitions.
Companies in search of innovations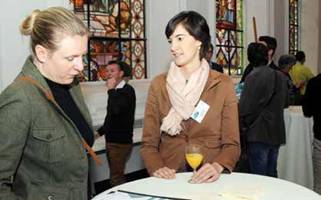 The organisers of the European Congress in Ghent encouraged companies and research institutes to participate in 'partner meetings'. This was not an Europeans-only encounter programme since companies like Welspun (India), Sappi (US) and a series of South Korean companies presented themselves as being in search of innovative technologies in the field of healthcare textiles.
Welspun India Ltd presented itself as one of India's fastest growing business houses, with a turnover of nearly $3.5 billion and with over 24,000 skilled workers. Welspun also boasted being the largest company in the terry towel business globally. Dayal Mehta, manager (innovation and marketing) of Welspun, mentioned on the profile page for the partnering meetings that Welspun was looking for possible partners in the fields of bedding/sleeping, wound care, hygiene and auxiliaries.
But, what were the 11 participating South Korean companies looking for? An example. Good Uniform, from Korea's largest textile city Daegu, presented itself as a producer of highclass functional textiles at reasonable prices destined to create uniforms such as nurses' wear, doctors' gowns, surgery uniforms and patients' gowns. The company boasted that its online shopping mall was growing at a high speed. It said it was looking for an innovative technology for manufacturing medical uniforms.
The Koreans hoped to find partner who was able to develop uniforms on which the propagation of bacteria would be impossible, even after washing the uniform 50 times at 75-100 oC. Probably, several European companies that were present at the Ghent Conference were able to respond to the requirements of Good Uniform. Take for example Vetex, a Belgium-based specialist of performant textile and tapes, who said that its surgical gowns, drapes and covers were 10 times stronger than the required standard, that its materials for multiple use were protecting doctors, nurses and patients 100 per cent against contamination and infection, and that its materials were composed of membranes that exceeded the waterproof six times.