Polyester is the most used and most preferred fibre in the textiles industry due to its better physical properties, lower price, versatility, and recyclability, which offer a completely unique set of benefits unmatched by any other natural or synthetic fibres. Globally, the polyester fibre market accounts for around 50 per cent of the total manmade and natural fibre market. As far as end use of polyester fibre is concerned, it has been segmented into apparel, home furnishing, automotive, construction, filtration, and personal care and hygiene applications. The production of apparel was around 50 per cent of the total polyester fibre end-uses in 2016. Home furnishings constituted the second-largest end-use sector, accounting for about 25 percent of the total global polyester volumes produced.
Global consumption and demand of polyester
Since 2000, the global demand for polyester fibres has increased at a sustained average rate of about 5 per cent per year, owing to its lower cost, versatility, and relatively large areas of applications (from consumer apparel to heavy industrial applications).
The global demand for polyester fibres was dominated by polyester yarn, in 2016, which accounted for about 68 per cent of overall consumption. Currently, Asia is the largest consuming region globally, where the fast-growing textile Industries (weaving, garment manufacturing, dyeing and finishing) have been consuming increasing amounts of polyester fibres. By far, China holds major proportion of overall polyester consumption in Asia region, followed by India and Southeast Asia.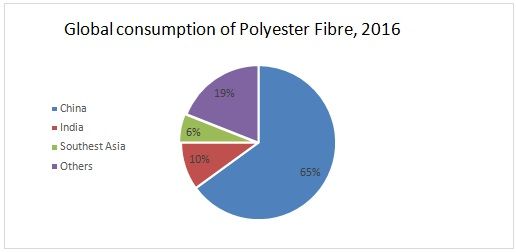 Source: Secondary Research
The worldwide marketplace of polyester staple fibre as an important candidate of the group of manmade fibres seems to have taken command of the textiles industry lately. It is expected to expand at a healthy pace in the next few years. It is estimated that the global polyester staple fibre market, which was valued around US$ 23,400 million in 2015 is expected to reach US$ 42,400 million by 2024. In terms of volume, the market for polyester staple fibre is expected to increase at a CAGR of 4.0 per cent over the same period.
The factors that will influence the global polyester market:
The disposable income of consumers will increase as an immediate after-effect of low energy pricing.

Fibre growth will be driven by higher population and GDP; and for the polyester fibre demand is relatively inelastic, which sees little inter-product competitive threat.

PET growth is driven with the aid of rising living standards, urbanization and growth of retail segment, particularly in Asia, Middle East and Africa.

Innovation in niche markets for fibre and packaging driving value-added growth for polyester.
Indian polyester market
On the back of strong domestic consumption and export demand, the Indian textiles industry is growing fast. Readymade garments already contribute the largest share of the total textiles and clothing exported from India, and the textiles sector has witnessed a spurt in investment in the last five years. The Indian textiles industry still is cotton-oriented; however, polyester fibre consumption is increasing due to factors like cotton price fluctuations, extended presence and sourcing by global brands where polyester fibre is dominantly used, growth of value retails, and growth of womenswear. The Indian spinning industry is globally competitive, and India is not only self-sufficient in manufacturing polyester fibre and filament yarn, but also exports to other textile manufacturing countries.
The overall production and consumption of polyester staple fibre has grown consistently over the last few years. Staple fibre production has grown from 830 million kg in FY2012 to 894 million kg in FY2016. The consumption of this fibre increased steadily during FY 2012-2016, and has risen from level of 704 million kg to 808 million kg. While the import of polyester staple fibre increased from 45 million kg to 100 million kg during the period 2012-2016, its export increased from 176 million kg to 182 million kg during the same period.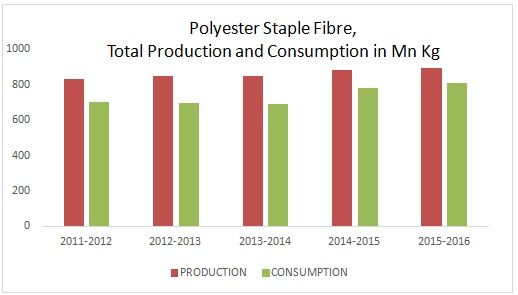 Source: Office of Textile Commissioner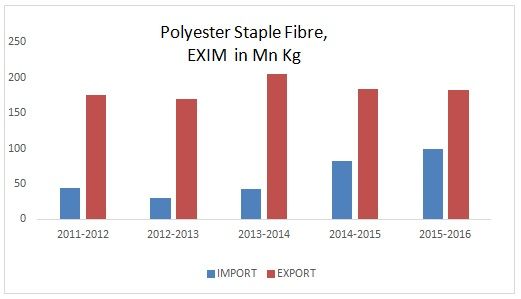 Source: Office of Textile Commissioner
The production of polyester filament yarn fell slightly in the last few years. It decreased from 1,380 million kg in FY2012 to 1069 million kg in FY2016, even as consumption decreased from 1,106 million kg to 571 million kg over the same period.
In India, the production of polyester filament yarn has always been much higher than domestic consumption, which has led to substantial growth in exports. The export of polyester filament yarn increased largely from 297 million kg in FY2012 to 516 million kg in FY2016, whereas import contracted from 24 million kg to 17 million kg during the same period.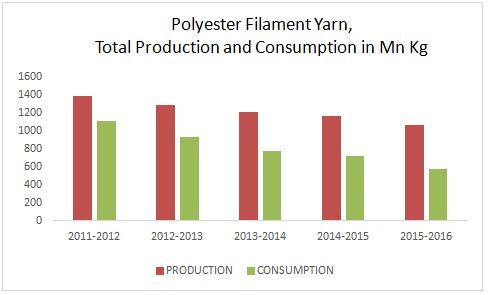 Source: Office of Textile Commissioner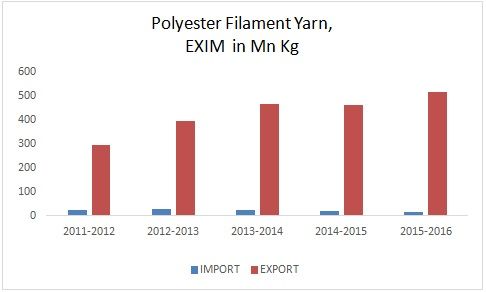 Source: Office of Textile Commissioner
Future prospect of polyester in India
The demand for polyester is expected to enhance in India on the back of steady purchases made by fabric and apparel manufacturers in the coming years. Imposition of antidumping duty on polyester yarn originating from supplier countries at cheap prices is expected to keep a check on imports. The 'Make in India' policy is attracting investments both from domestic and foreign fabric and apparel manufacturers. The goods & services tax (GST) Bill is probably going to boost the synthetic filaments and fibres industry. Implementation of the GST will reduce the impact of input taxes as it is based on the final consumption. Currently, manmade fibres attract an excise duty of 12 per cent, while cotton draws none.
Other factors that will influence consumption of polyester-based end-products in the Indian market with high export potential are increasing awareness towards textiles used in fitness, health and safety-related applications and other technical textiles areas.
Instability and an upward trend of cotton fibre prices have already pushed the fibre blend in favour of polyester for major clothing and home textile products. To secure maximum benefit of the future scenario, India needs to concentrate on manufacturing of polyester-based textile products and as per recent research studies, the Indian textiles industry will consume more volume of polyester compared to cotton in the next five years.