A number of trends are today shaping up the global textiles and apparel industry, and sustainability and automation figure more in discussions over other trends. One trend, arguably not any less in import than those two, is digital textile printing. What makes it an extremely crucial factor, apart from its well-known advantages such as mass customisation and cost-effectiveness, is that the technology has a bearing on both sustainability and automation. Subir Ghosh looks at the bigger picture.
Sometime in January this year, a group of 20-odd people had gathered at a textiles facility in the Peenya Industrial Area on the outskirts of Bengaluru. The occasion was the inauguration of two state-of-the art printing machines that Fashion Matrix Overseas (FMO) had just installed. The sleek new machines had been purchased from Israel-based industry giant Kornit Digital and officials of both Kornit and FMO were visibly animated about the event, and what it would do to their respective businesses.
It could have been just another mundane factory event, had one not looked out for the specifics that lay hidden under the palpable excitement. Here was export house FMO going digital big time with some heavy duty investment, not to speak of Kornit Digital being a giant of a brand in itself. In less than two weeks, the machines had been installed and the staff trained. There wasn't a speck of dust anywhere, or any kind of waste for that matter. FMO was all set to roll, and steal a march ahead of rivals.
There was, of course, more to the event. Kornit Digital has been in India for only two years now, but already has 20-plus high-profile customers. Mind you, Kornit's direct to- garment and roll-to-roll machines belong to the higher end of the printing spectrum, and its success so far can be seen only as the proverbial tip of the iceberg. And the iceberg in question is digital textile printing.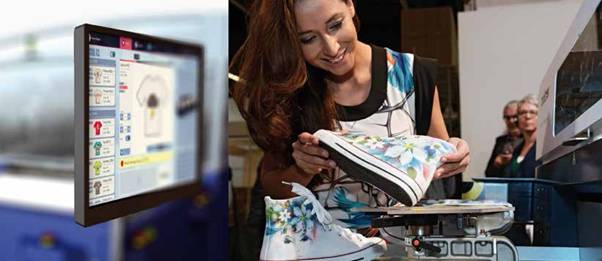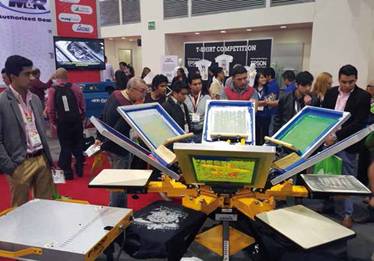 Trends to watch out for
Overall changes are obviously the first that one keeps an eye open for. But changes in the digital textile printing arena too are important to lose track of. So, in which segment of digital textile printing do experts foresee the maximum changes in the next 3-5 years: machineries, inks, software, or any other?
Both Bansal and Shah predict changes in them all, but Jariwala prefers to be elaborate, "The graphic arts sector, signage and packaging sectors are examples of industries which adopted digital printing technologies alongside traditional printing. Yet, some sectors are very slow to adapt to digital despite the obvious advantages. These industries are likely to be high-volume printing industries such as paper, industrial surfaces of all kinds and textiles. In the current situation, to print on different types of textiles, whether analogue or digital, you would need different types of inks. Each ink is suitable for specific types of fabric. On top of the printing quality, the printer too must also ensure the stability of the ink on the fabric including wash and rub resistance as well as non-fading qualities essential for long term use.
"The inks used for printing on textiles are divided into two types: dye or pigmented and all are based on water as its main carrier. With dye inks there needs to be a distinct affinity between the fabric type and the ink that is used for the print, because different inks do not adhere to specific fabric types. Cotton and silk fabrics require reactive dye inks while silk and nylon require acid dye inks. Polyester requires disperse dyes such as used in sublimation printing. This type of ink specification limits the industry's ability to provide effective printing solutions and limits the ability to print on blended fabrics."
The cutting edge
As globalisation surfs through one crisis after another and countries continue to reel under the slowdown, textiles-apparel companies will need to be lean and mean. Digital textile printing provides that cutting edge.

"Even after printing, given the technologies they have, they have to do steaming and washing after the printing has been done, so as to consolidate the ink, the sharpness, the brightness of the colours, and to wash out the chemicals off the fabric. For this, they need to use a lot of electricity as well as water. In our roll-to-roll machine (i.e. the Kornit Allegro), there is no need for separate pre-treatment, which is done online. When you give the print command, it goes for automatic pre-treatment, together with the (waterbased) ink. Moreover, you don't need to steam or wash the fabric after the printing."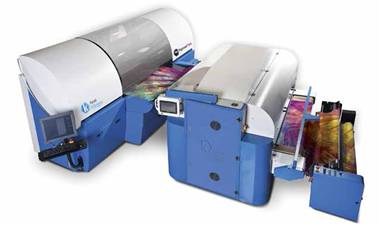 "Apart from the commercial points of view, digital textile printing uses less water in comparison to traditional printing. For instance, digital textile printing using pigment inks consumes less than 1/20th of the water used in traditional printing. Further, digital textile printing uses water-based inks which are made of azo-free dyes and thus are far less polluting as compared to the dyestuff used in the traditional printing," reiterates Bansal.

Jariwala pronounces, "Digital textile printing is any inkjet-based method of printing colourants onto fabric. Most notably, digital textile printing is referred to when identifying either printing smaller designs onto garments and printing larger designs onto large format rolls of textiles. As well as material concerns and application issues, economics too come into play. Where the traditional printing industry is accustomed to mass production with long-runs, the digital inkjet business mostly produces short-run non-textile products. This approach to digital textile printing is very different, and so is the expectation. Additionally, the impact on business by legislation and requests from customers with regard to environment-friendly products, are increasingly becoming a factor to reckon with."

A flurry of digital activities

The "prospects" of digital textile printing is already yesterday's prognosis; digital textile printing is very much in. There are many who saw the writing on the wall well in time, and have made the traditional-to digital jump; they now hold the first mover advantage. This assertion is borne by trends in international expos that one will be seeing in the coming days: if the discussion is about printing, then the focus is all about digital. With digital textile printing being a new technology that appeared only in the 1980s, and the first digital printing machine being introduced as recently as in 1991, the traditional form of textile printing may soon be rendered obsolete.

That's what many would be discussing during Texprocess 2017 at Frankfurt in May. 'Colour and function: digital textile printing' will be one of the focal-point themes at this leading international trade fair for the international garment manufacturing and textile processing industry. For the first time, the World Textile Information Network (WTiN) will be holding its European Digital Textile Conference here. There would be a separate lecture block on digital printing at the Texprocess Forum. One of this year's highlights would be the Digital Textile Microfactory which will showcase a textile production chain in action-from design, via digital printing and cutting, to making up. Among the subjects that would be covered in the lectures include direct yarn colouring in embroidery lants, plasma pre-treatment for textiles before digital printing, and chemical finishing for textiles using inkjet printing technology.

"Especially when it comes to fast fashion, micro factories offer the opportunity to put ideas into practice immediately and to try out new business models, based on specific customer requirements. They facilitate a type of production that is responsive to the market and, as an additional bonus, ensure optimised use of material, so as to contribute to greater levels of sustainability in textile processing," said Olaf Schmidt, vice president Textiles and Textile Technologies at Messe Frankfurt, during the event announcement earlier this year. Messe Frankfurt is the organiser of the event.

"The demand for individualised products necessitates making the entire production process more flexible. Serial production with-at the same time-smaller and smaller batches, right down to batches of just one, is only possible with industrially manufactured individual products. These fully automated and networked processes can now be implemented through the use of digitalisation," commented Elgar Straub, general manager of the VDMA's Textile Care, Fabric and Leather Technologies Division.

The story is going to be the same back home at Gartex 2017, the exhibition for garment and textiles machinery, fabrics, accessories and allied industries. This time, a special section on digital textile printing - titled Digitex -will showcase the latest developments in textile printing machinery, inks, software and services. One simply needs to go through the websites of upcoming expos to see the unmistakable trend for oneself.

Yet, what experts and analysts differ about is only the rate of growth and the potential market size Fibre2Fashion report Global Digital Textile Printing Market Outlook predicts that the market share of digital textile printing is expected to occupy more than 5 per cent by 2020 growing at a significant rate of 30.5 per cent in terms of value during 2015-2020, as compared to 2.5 per cent of the overall textiles printing industry during the same period. The report states: "Increasing penetration of the digital textile printing technology in the textiles printing industry is primarily driven by several advantages such as short printing cycles, low energy consumption, reduced chemical waste, printing flexibility and availability of variety of creative design options as compared to traditional analog printing technology."

The global digital textile printing market, according to another industry report, was valued at $1.245 billion in 2015, and is projected to reach $3.943 billion by 2022, growing at a CAGR of 17.9 per cent from 2016 to 2022. The report provides an explanation: "The market has witnessed significant growth opportunities globally, owing to increase in demand for printed textiles, growth in demand for advanced technologies and better quality products. Furthermore, rise in per capita disposable income, overall economic growth, increase in population, rapid change in fashion trends, rise in purchasing capability, and upsurge in the concept of advertising through printed garments are further anticipated to boost the market growth during the forecast period. Moreover, rise in demand for apparel, clothing, home furnishings, and automotive decor is expected to boost the market growth. However, volatile prices of raw materials and hazardous effects of digital printing inks are expected to hamper this growth."

Driving trends, defining industry

By and large, the driving factors are the same worldwide. Yet, it was interesting to note the observations of Buck Kim, Kornit's president for Asia-Pacific, when he was in Bengaluru: "We have been in India for two years now. It is now that we see a change in India, especially in the textiles and garments industry. This is because of fashion... less quantity and more variety in designs." And the reason for this change? "I would say it has been because of consumer needs. People like to dress differently from others. People like to have their own designs. Because of booming e-commerce, people can get customisations of fabrics, garments, etc. This is really the driving force for the industry," was what Kim maintained.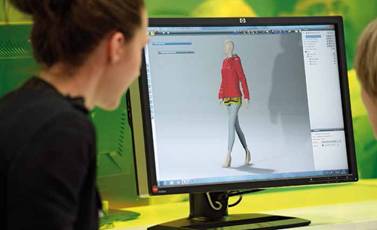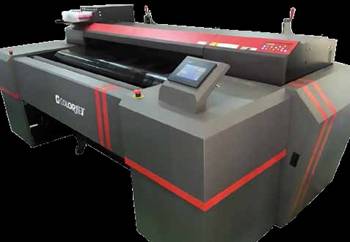 So, is digital textile printing defining the industry right now?
Smarth Bansal, senior product manager at Colorjet India Ltd responds with an emphatic, "Yes, the basic reason is the demand for a unique design proposition, be it for fashion or for furnishing. Today, when more than half the Indian population is below the age of 35, the taste for design is changing, and when it comes to complex or modular designs and more importantly changing fashion trends, only digital textile printing is the solution. Also, the industry has to now shorten the time to print. With digital machines, fabrics can be printed in a span of 2-4 days, which in comparison to traditional printing is much less."
Another perception is provided by Dhawal Shah, director of Dura Colour. He believes, "The textile industry is at a juncture where consumers, end-users and manufacturers are all at a cross-road where an inevitable transition has to be made by all stakeholders. The lifespan of every fabric or design is getting shorter every day. Every penny saved is a penny earned, and that's driving production houses today."
Honey Jariwala of Stalmec Eng Pvt Ltd argues, "The digital printing process is an essential part of design and fabrication today. In the textiles industry, a majority of printing is done by traditional analogue methods, but there is a growing interest for digital printing on textiles. The advantage that digital textile printing commands is immense and can have a phenomenal impact on the textiles market as a whole. Today, a major drawback for mass textile printing is the design. Digital printing enables higher colour definition with short designing time which is not possible with traditional printing. Furthermore, printingcan be done in short runs at low investment cost both in capital equipment and in materials; fabrics and inks.
"Another advantage of textile digital printing, which is receiving higher profile attention from manufacturers, consumers and environmentalists is the substantial lower cost of production in terms of power and water consumption. In 2015, the industry was valued at approximately $7.5 billion globally. The worldwide digital textile printing market for garment, home decor and industrial applications will be experiencing a strong growth of around 34 per cent CAGR till 2019."
All that sounds fine; but is the industry responding adequately? Bansal does not think it is. "Till date, only 2 per cent of printing is being done digitally and this leaves a lot of scope for digital printer penetration," he says. Shah too does not think the industry is keeping pace, "But slowly, I am seeing the growth, especially in womenswear. One of the reasons is that they (women) are bigger consumers and they like to stay up-to-date with styles. So, I see a transition towards more female fashion fabrics."
Jariwala comes up with an elaborate overview, "The fashion industry is becoming more and more demanding and looking for creative and unique opportunities. In order to persevere and meet consumer demands, the need for more diversity has led to shorter print runs. The same process occurred previously in the signage and graphic arts industries, and slowly trickled into textiles and apparel. For most textile applications, the initial driving market force towards digital adoption has been the ease and speed of new design introduction, but we have found that while this change is dramatic, there are other benefits from digital technology that are only now being realised as having a significant impact.
"A key advantage of digital textile printing is the ability to print finely detailed designs with vibrant colours. It is clear that apparel production will be rapidly moving to digital over the next three years, with a slower, but still significant take-up from other adjacent markets. We expect this adoption to accelerate as benefits are realised in other markets, and where the required technology is developed."
Yes, all said and done, machines are one thing, and people quite another. But, is industry geared up fully to take the digital leap in terms of human resources? Bansal certainly believes so. He argues, "With increasing penetration of digital textile printing machines in the Indian market, we are seeing that the required and skilled workforce is also being developed on a large scale, since this segment is bringing more opportunities. We at Colorjet stress a lot on executing operator trainings across our industry."
Shah, however, is averse to making sweeping statements. He submits, "As a human being, all I can say is that we are reluctant to any change. But once a change is bestowed upon us or accepted successfully by one peer group or other, and if profitability and efficiency are established and highlighted, then that change suddenly becomes the new norm. I do feel that stage will come in another 3-4 years when the transition to digital will be compulsory to survive in a fast-paced, low-margin market."
Jariwala contends that there is no way out, and in fact goes on to underline, "Designers, textile manufacturers and digital textile printer manufacturers all have a lot to look forward to since they will be entering a new era in textile printing that could shake the textile industry to the core."
Towards an era of mass customisation
In January this year, Kornit Digital had announced that it had been selected to deliver a large number of on-demand textile production systems to Amazon in support of the company's Merch by Amazon programme. Through the agreement, Kornit would deliver the company's flagship high-productivity system, the Avalanche 1000, to support Amazon's expansion of production capacity for the company's Merch by Amazon service. A self-service programme for developers, Merch by Amazon is a simple way for content creators to increase revenue through the sale of t-shirts.
"Customer demand for graphic t-shirts offered through Merch by Amazon continues to grow rapidly, and more developers and content creators join the service every day," said Miguel Roque, director, Merch by Amazon. "Kornit's ability to deliver solutions and support that meet our high quality and high volume manufacturing requirements will help us to continue expanding programme capacity to meet customer requests." Interestingly, what neither company dwelt upon is what is being seen as a major benefit of digital textile printing: the ability to mass-customise garments.
Customisation just of garments (in terms of fits, sizes, etc) has been happening in a lot of places. And now one sees customisation of printing on garments. The question that naturally arises is this: will the two converge sometime in the future? Kim had affirmed, "The business models are changing. Today a manufacturer might give you a small order comprising 100 styles. How are you going to deal with such a possibility? The other thing is that today companies are trying to reduce their inventory. So, when you manufacture a big amount of garments or fabric, you cannot be so sure that you can sell them out within a particular timeframe. Inventory itself costs a lot. Therefore, people try to reduce their inventory to an optimum. That's another reason to go in for customisation. For focusing on many designs within a short span of time, you can reduce the inventory as also costs and time, and give it to the customer immediately. This is how the business model is changing: less inventory, faster response time, different designs." Incidentally, the Kornit tie-up with Amazon is only for the US market.
Kim, nevertheless, was in a position to comment on whether manufacturers could possibly be caught in a bind over the Hobson's choice between customisation and mass production. He explained, "Yes, but if you look at things from the demand point of view, the demand for mass production still remains. There is no doubt that as far as mass production is concerned, India remains big. But the market is also about demand. If you look at Zara or H&M, each design is probably there for only one week. They no longer produce for a whole season. You see a product in a shop today, and the next time you visit, it would be gone. This is what is happening in the fashion world. As we visit India, a country known for mass production, seeing people going in for a different way of production is amazing. He (as an exporter) can assemble ten samples within a very short time for his own customers (importers) to select from."
Bansal thinks consumer demand can be translated to industry compulsions. "Since demographic values are now changing rapidly, so are printing methods. Mass customisation refers to an industry's ability to efficiently mass produce products that meet individual consumer wants and needs, and as I said earlier, this is the need of hour, and the industry is transforming towards the same."
It is a case of both for Shah. "Mass customisation is because we are increasingly becoming fast in terms of food, decisions and news consumption. The shelf life of style/fashion is shrinking. Style is defined more by latest trends, but demand is generated instantly and has to be fulfilled instantly as well. If you miss the bus, the consumer will move on to the next appealing style based on the new trend. Industry compulsion is a factor too because labour is getting costly day-by-day. Moreover, investments and involvements in traditional printing are huge, and everyone is worried about the planet."
Jariwala delves deep into the subject and points out, "Textiles and clothing have always been a part of human culture. One of the main advantages of digital printing is its flexibility. The specialisation is justified though because the benefits of digital printing are significant. In the printing world, consumer demand calls for an increase in the colour and image complexity, image quality, and variety of prints. Digital printing supports these customer demands by allowing for small production runs, shorter lead times and improved design aesthetics such as increased number of colours, fine line detail, gradients and photographic type imagery. The print-on-demand production ability of digital printing supports customised designs, leads to a decrease in time to market, and offers cost reduction and higher consumer satisfaction.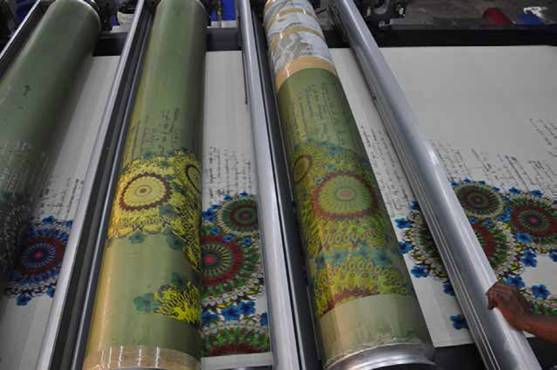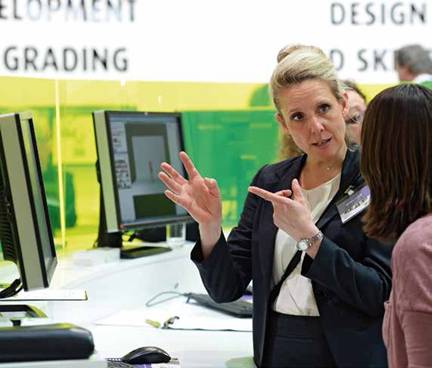 "Digital printing enables mass customisation and provides a competitive advantage for those companies wishing to manufacture closer to the point of sale. Because designs are stored in a digital format and can be printed on demand, digital printing enables highly customisable products that can be made further down the supply chain and closer to the end-consumer. The shortened lead-times for domestic production will provide the US customer (for instance) with access to a quality, customisable product, at a low price in the dotcom and retail markets. In addition, retailers can provide a more cohesive array of products. For example, digital printing enables a retailer to provide a colour and pattern coordinated range of products including wall covering, floor tiles, carpeting, bedding, stationery, tableware, and personal electronics. The labelling and packaging also may remain highly consistent."
All these observations and explanations beg the question: will digital textile printing open up the market for smaller players by offering them a level-playing field with big brands? Can, for instance, a small businessman start selling customised products through a big e-commerce portal like Amazon?
Bansal is direct, "There is an interesting fact that the online retail fashion market in India is growing at a whopping rate of 63 per cent CAGR and attracts around 16 million users per month, and this leaves a yawning space for small retailers and small fashion houses to capitalise on. With increasing return of investment, a small player now can easily move into this lucrative space."
It is a possibility, but will not happen in the near future, differs Shah. He reasons, "When the whole internet and infotainment reaches up to a different level, and style and fashion innovations are based and consumed on a weekly and monthly basis, only then do I see a possibility where just like every town which has few tailors, you will have localised approach towards styling as well."
Sustainability of cost-effectiveness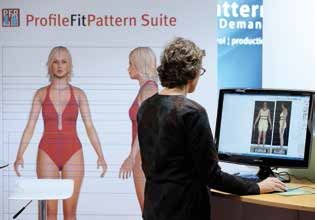 Mass customisation, needless to point out, is only one of the many advantages that digital offers over the traditional. Cost-effectiveness and ecofriendliness are two other conspicuous advantages. These were summed up in brief by Raymond Cheng, Kornit Digital's director of Sales for Asia-Pacific: "In case of digital printing, the cost remains the same irrespective of the quantity. In case of screen printing, the costs would vary. In case of digital printing, whether you print two pieces or five pieces, the cost of each garment will be the same." Kim added, "In case of traditional printing, there is a pre-process stage as well as a post-process stage. In case of digital printing, those two stages are eliminated. The operational area therefore remains clean, it is compact (as in requiring less physical space for installation). Moreover, at a time when the world is moving towards an environment-friendly industry, our inks are eco-friendly. Those do not cause any harm to the environment; the inks we provide are water-based."
In simple terms: the machines and accessories need to be good.
Bansal speaks for his organisation, "When it comes to Colorjet digital textile printers, we have a complete range of affordable printers in production range from 15 sq m/hr to 362 sq m/hr. With 65-plus installations in the Indian market, we have already proved that our machines are rugged, long-lasting and provide value for money." Shah chips in, "I am into manufacturing of dyes for digital textile printers' inks, and we do try to provide the best quality and best prices. We have not changed rates in the last three years for our customers. We know that once 15-20 per cent of the market has moved from traditional to digital textile printing, we will automatically reap the fruits. Right now, the demand is not much. Hence, we try to go in for a balanced approach, and as a stakeholder in any new industry, we try to work as a facilitator to our consumers by enabling in their research and development process."
Jariwala makes a slightly contrarian argument, "Rotary-screen printing in general offers some considerable advantages over other technologies. As the screen and the fabric run at the same speed, there is no friction between them, and not too much tension on the fabric. Therefore, both very light and very heavy fabrics can be processed on the same machine without any problems. The advantages of rotary-screen printing machines over engraved-roller machines include faster production rates, greater ease of setting up and a lower dependence on experience for successful operation. Computer-aided design (CAD) techniques for printing screens are now increasingly widely used."
There is no alternative to being environment-friendly; it is the only way out, as Cheng had asserted, "Our machines are environment-friendly in terms of curbing water wastage, reducing power consumption, and virtually eliminating pollution. If we speak of our roll-to-roll printers, just consider the other forms of printers and printing (both traditional, as also digital). There has to be both pre-treatment as well as post-treatment. In pre-treatment in other kinds of technologies, people have to do, for instance, coating. They have to do the coating according to the kind of pigment/ink that they are going to use to print on the fabric. And don't forget, printing is essentially a chemical reaction.