This study is an attempt to understand the awareness of various aspects of eco-fashion among students of textiles and fashion design and their acceptance towards such a concept. The study could establish a significant relationship between shopping orientation of the customer and his/her self-expression. It was also found that consumers' purchase decision of eco-fashion products was dependent on their awareness of the eco-label contents. This study by Fezeena Khadir throws light on the importance of knowing the target market to get a clearer idea of the purchase intention of sustainable fashion.
Eco-fashion or sustainable fashion is one in which the materials and processes used are connected to environmental visions and policies. Responsibly farmed organic or natural sources or those made from upcycled or recycled materials become an integral part of the production process. It is a means of meeting the needs of the present generation without compromising the needs of the future generations. Hence, the responsibility is shared between the industry, government and consumers to evolve ways in which environmental, social and economic issues can be tackled with far-reaching solutions.
The idea of eco-fashion is closely connected with the idea of sustainability. Eco-friendly thinking and sustainability awareness are on the rise to adopt a socially and environmentally responsible lifestyle by consuming goods that are made from sustainable fibres and in an ethical way. The emerging design philosophy and sustainability has embraced eco-fashion, in a small way, in order to construct a new system and mechanism for the growing fashion industries. A number of green trade fairs, ethical movements and eco-friendly concepts are growing rapidly and they become part of the contemporary fashion scene with an escalating consciousness among the international players.
The fashion industry has been infamous for damaging the environment during various stages of production from raw materials to manufacturing to consumption and disposal. While fast fashion has been characterised by hedonism and shorter product lifecycles, sustainability is seen as being synonymous with ethics, durability and reuse. Compulsive consumption behaviour, completely disregarding the natural resources, has been noticed in this industry, thanks to the overwhelming fashion perceptions and trends from one season to the other. The concept of e-tailing has also contributed largely to such kinds of consumption behaviour. The other negative impacts are social, ethical and health issues, especially with the rise in sweatshops in the sector.
There have been researches urging the sector to take necessary steps to develop products and services that are sustainable. As a major share of lifecycle impacts of a product is contributed by the design phase, the role of the designer is very vital. Designers in the fashion field have a big role to play in the design and development of sustainable products that can have a lesser negative environmental, ethical and social impact. Irrespective of the widespread criticism that fashion industry is facing, majority of the players have not come forth to address the issues related to sustainability, except some of them like Marks & Spencer and H&M with their Conscious Collection, though with lesser mass appeal. Though sustainable fashion was an oxymoron in the yesteryears, it has seen a sea change in recent times, adapting practices like eco-efficiency, eco-effectiveness, life cycle analysis or cradle-to-cradle techniques.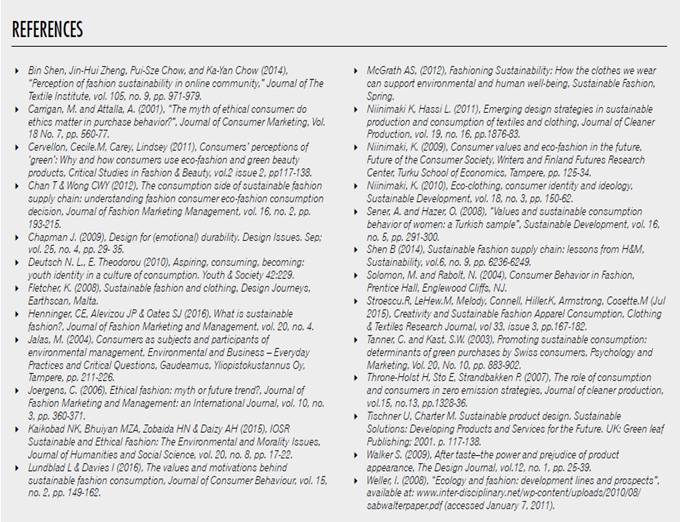 About the author
Fezeena Khadir is Associate Professor in the Faculty of Management Studies at NIFT Kannur. Her research focuses on consumer behaviour and service management, and she has presented papers at international conferences of the Indian Institutes of Management (IIMs) and undergone their faculty development programmes.
<![if !vml]>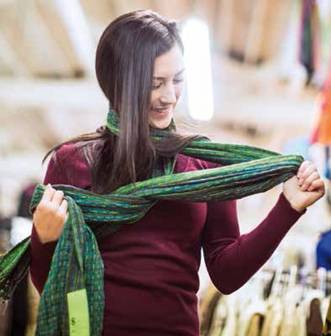 <![endif]>Media awareness needs to be worked on. This can promote the shopping rate of eco-friendly fashion products. This is an effective method for the awareness and sale of the sustainability fashion products. Celebrities' endorsement of eco-friendly fashion products boosts the confidence level of prospects and customers. The introduction of any sustainable fashion product into the market through a celebrity triggers the purchase by the customers. People consider the factor of image creation beyond the utility of the eco-friendly products. Customers wish to use sustainable fashion products for almost every occasion. Sustainable fashion products are considered trendy.
The principles of reduce, reuse and recycle may be applied on eco-fashion products, chiefly apparel. Instead of buying new products each season, one can be motivated to even modify an old one to create something new and also mix and match the products bought earlier to create an interesting combination. The help of stylist could be sought in this area. Keeping these factors in mind, creative awareness and actions can be taken to promote them.
Design approaches to reduce the consumption rate through service design and user involvement are being worked out. K Fletcher suggested five ways to start a sustainable process in clothing industry, namely, local production, never laundered clothing, products that answer deep human needs, a multiple life-cycle approach and design thinking that engages the consumer to take part in the design or realisation process.
Sustainable design is thinking beyond aesthetics and considering the product from the perspectives of production, materials, use and after use, and also in terms of its meaning and contribution. In addition, it must support attachment, empathy, aesthetic aging and gaining of meaning over time. While some researchers believe that there is need to emphasise the human aspect of sustainable development, others advocate that there is need to develop radical ways of changing consumer patterns of consumption. Yet another category of researchers call for developing new ideas and designs.
Data analysis
Perception of sustainable fashion
An open-ended question was used to collect data for this and the key answers were categorised as shown in Table 1.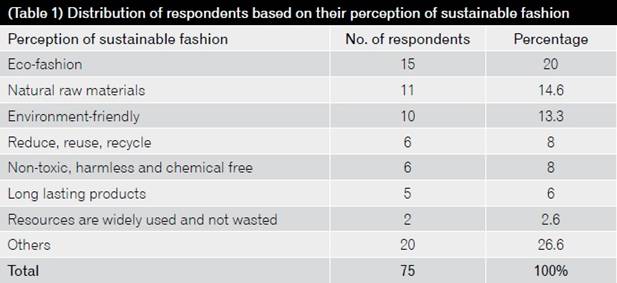 While eco-fashion, natural and environment-friendly raw materials received maximum response for indicating the meaning of eco-fashion in the open-ended question, other variables in the order of their priority were the 3Rs (reduce, reuse and recycle), non-toxic, harmless and chemical-free and long-lasting products and those made with widely-used resources which are not wasted. Varied opinions regarding sustainability like it should not only be eco-friendly, but a holistic view of the product, which will add value to the planet, consumer, seller and the whole supply chain also came up in the survey. There was also a mention that sustainable fashion is the fashion that is changing for the better.
Definition of eco-friendly fashion
Fig.1. Distribution of respondents based on their definition of eco-friendly products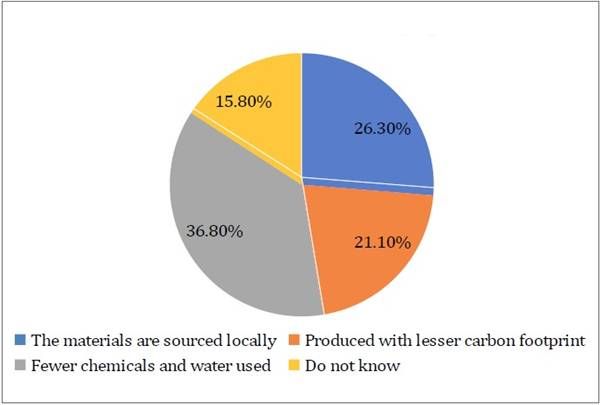 Majority of the respondents define eco-friendly products as those products where fewer chemicals and water are used and materials for production are sourced locally.
Choice of retail
Fig.2. Distribution of respondents based on their choice of retail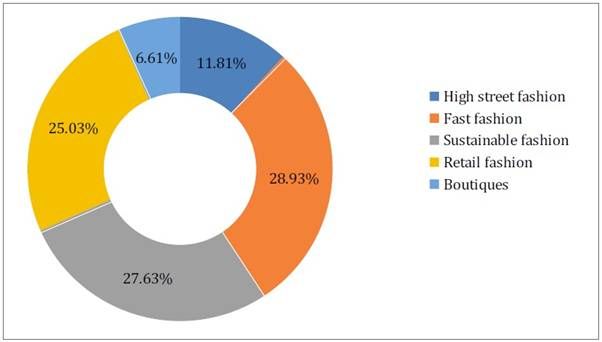 As for the value and quality, their needs were best met by fast fashion, closely followed by sustainable and retail fashion. The rest of them either chose high street fashion or boutiques.
Eco-product preference

While pondering about their preference for eco-products, almost half the respondents preferred to purchase eco-friendly cosmetics whereas one-third of them chose to buy apparels and one-fourth loved to buy accessories of the eco-friendly category.
Priority for planet protection
As regards the frequency with which the respondents considered ethical issues concerning the product's manufacturing during their purchase process, as high as 63 per cent considered that only 'sometimes' whereas 22 per cent never gave it a thought. Every time they made a purchase, 15 per cent always considered ethical issues in production. Hence, their concern for planet protection during the purchase of the products is rare.
Fig.3. Priority for planet protection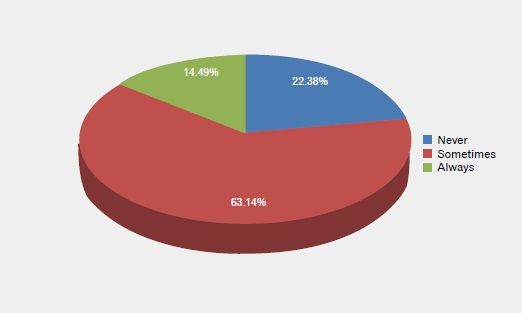 Preference criteria of eco-friendly products

From the set of responses received, it is evident that the price and quality were given the most preference during the purchase of sustainable fashion products. The brand label and cruelty-free factors are the least important whereas the concern for planet is moderately important.
Awareness of eco-labels and logos
Fig. 4. Distribution of respondents based on awareness of eco-labels and logos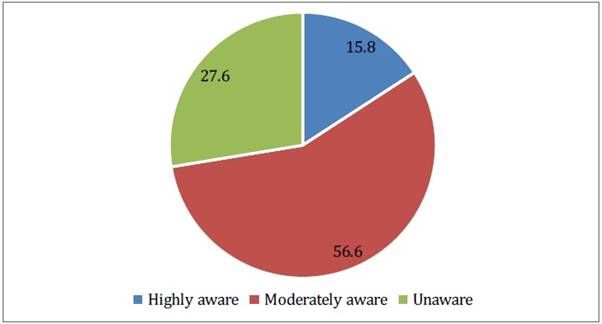 Moderate awareness could be observed among 56.6% whereas 27.6% were least aware. However, 15.8% were confident about their awareness of labels and logos.
Familiarity with eco-labels

Though more than one-fourth of the respondents never bothered to look at the label, almost equal percentage of them gave keen interest in label contents, namely, certified organic, natural and recycled fibres. Some of them looked for the synthetic chemical content in the product labels.
Choice of a sustainable brand similar to fast fashion brand in appearance and price

Almost half of the respondents agreed that they would definitely buy a sustainable fashion brand having the same appearance and price as fast fashion brand. Whereas 22.4% were unsure, 19.7% were sure not to purchase sustainable brands having similarity with fast fashion brands.
Perception of eco-friendly visual merchandising (VM)

Almost half of the respondents gave higher importance to the visual display at the stores. Some were not aware of VM and the rest of them gave no importance to the eco-friendly VM.
Preferred aspect of eco-fashion product

Style and design was given the most priority by more than half of the respondents. More than one-fourth of them gave preference for utility whereas the rest chose product range (15.8%).
Impact of sustainability-related awareness programmes on purchase

Almost three-fourth of the respondents felt that awareness programmes oriented towards sustainable fashion encourages purchase of eco-fashion products. However over one-fourth of them felt otherwise.
Shopping orientation

Self-expression

Testing of hypothesis
This section deals with the results of various hypotheses tested using statistical tools.
Hypothesis 1: There is a significant relation between shopping orientation on eco-friendly products and the customer self-expression.
This hypothesis was tested using Pearson's coefficient of correlation, the results of which are given in Table 11.

Here the r-value, 0.680 demonstrates a strong positive correlation. The p-value is lesser than the assumed significance level. Hence the test is significant and we have evidence to state that there is a significant relationship between shopping orientation towards eco-friendly products and customers' self-expression.
Hypothesis 2: There is a true difference between respondents with various opinions regarding the choice of retail in respect of self-expression of the customer about sustainable fashion product.

Here the p-value is 0.775, much lesser than the assumed significance level of 0.05. Hence, we have no proof to state that there is a true difference between respondents with various opinions regarding choice of retail in respect of self-expression.
Hypothesis 3: Awareness of sustainable fashion is dependent on observation of eco-label contents (chi square).
The results are shown in tables 13.1 and 13.2.


Here, the p-value is 0.037 lesser than the assumed significance level. Thus, we reject the null hypothesis and state that awareness of sustainable fashion is dependent on observation of eco-label contents.
Findings of the study
The following are some of the major findings based on the data analysis done:
Eco-fashion product means those in which the consumption of chemicals and water are minimal.

Design and style of the sustainable fashion products motivates the customers for its purchase.

Fast fashion meets the required needs of the customers as regards to value and quality.

Eco-friendly cosmetics are preferred to other eco-fashion products.

Customers are rarely concerned about planet protection during purchase.

Price and quality of the eco-friendly products are the most important factors during purchase.

The customers are just 'moderately' aware of the ecolabels and the logos.

Customers do not give due importance to the labels during purchase.

Customers are comfortable using the sustainable fashion products.

Eco-friendly VM in the stores greatly influences the purchase.

Product range of the sustainable fashion products attracts the customer.

Customers would definitely go for sustainable fashion products if it had same price and appearance as fast fashion brand.

Awareness towards sustainable fashion encourages its sale.

There is a significant relationship between shopping orientation towards eco-friendly products and the customers' self-expression.

Awareness of sustainable fashion is dependent on observation of eco-label contents.
Taking the argument forward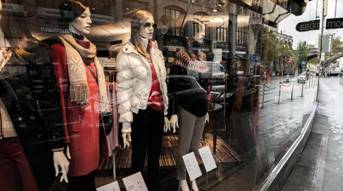 Window displays in the stores should be given due importance in order to promote eco-fashion. It greatly attracts and influences the customers in its purchase. The visual merchandising can be creatively put up to attract the customers for its purchase. Various awareness programmes and creative classes about sustainable fashion, at local, state and national levels could be formulated. Promotion strategies may include details of sustainable sourcing of raw materials, production processes and supply chain activities, as tools to convince customers. The innovative design and style of the fast fashion products may be adopted while creating ecofashion products. Proper research and development in this area could be explored.