Acrylic is a synthetic fibre made from the polymer, polyacrylonitrile. It was first manufactured by DuPont in the mid-1940s under the trademark Orlon. For the next decade, it was not manufactured in huge quantities. It is first manufactured as a filament, after which it is cut into short, staple lengths and spun into yarn.
Uses and Application Areas:
As acrylic is a strong fibre and has a warm property of natural fibres like wool, it is substituting wool in many applications. It has many uses in garments, home textiles, the industrial sector and other fields.
Garments: sweaters, gloves, socks, hats, knitted underwear, sportswear, tracksuits, pajamas, womenswear,childrenswear, hand knitted yarn etc.

Home textiles: rugs, carpets, upholstery, blankets, cushions etc.

Industrial: filter fabric, tents, sheets, awnings, alternative asbestos, boat covers, paper making.

Other uses: toys, auxiliary tapes, wigs, braids, bag fabric etc.
Production:
Acrylic staple fibre (ASF) is mainly produced in China, north East Asia, south Asia, and south East Asia, the Middle East, Africa, east and west Europe and in a few parts of the Americas. The world's largest manufacturer and consumer of ASF is China.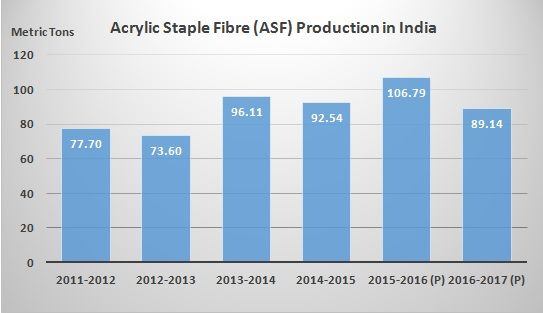 Source: Office of the Textile Commissioner, P: Provisional
In India, overall annual production capacity of ASF is 147.40 MT. There are six major manufacturers. As the graph shows, ASF production is expected to decline in 2016-17 by almost 17.65 metric tons compared to 2015-16, which is a sharp shrinkage of around 17 per cent. Indian ASF production grew at a CAGR of 2.79 per cent for the period 2011-2016, and is expected to continue growing parallel to its demand.