Africa as a major producer of cotton does not always figure in discussions. African countries taken together constitute almost a quarter of the cotton exports of Bangladesh, and also supply substantial quantities to China. Given this backdrop, it was surprising that few from outside attended the recent annual conference of the African Cotton Association, reports Jozef De Coster from Nairobi.
If only Africa's top politicians would take into account the diagnosis and recommendations that representatives of African Cotton Association (ACA) present at their annual conference. Time and again, these representatives explain why there's such a big gap between the disappointing current situation and the rich potential of the African cotton sector in terms of job creation and foreign currency earnings. If the governments and companies concerned would follow the advice of the African cotton experts, India would have a hard time competing with Africa in the international markets, just as well in terms of raw cotton as cotton garments.
It was surprising that, with the exception of the Bangladesh Cotton Association, no other Asian association or companies were represented at the recent 15th annual conference of ACA in Nairobi (Kenya). Would they think that a pan-African cotton conference is not worth a journey? After an increase in cotton production from 1970 to 2005, a financial and economic crisis hit the African cotton sectors leading to a sharp decrease in production. Even if this production has improved recently, Africa's share in world cotton production is hardly 5 per cent. However, since nearly this whole production is exported, Africa is a significant player in the world market. Organisations like ICAC (US), Bremen Cotton Exchange (Germany), Afcot (France), ITMF (Switzerland) and interested companies like Cargill, Glencore, Louis Dreyfus, Marsk Line, were all present to get the latest information on developments in African cotton countries and to network with African and European cotton experts.
According to French cotton consultant Gerald Estur, India is the principal competitor of Africa in the world's important cotton markets. Mike Edward of Cotton Outlook provided some statistics to prove that Estur is right. In 2016, cotton imports in Bangladesh, the country that nowadays tops Vietnam and China as the world's biggest cotton importer, originated for 24 per cent from India and for 26 per cent from Africa. Last year, only 9 per cent of China's cotton imports originated from Africa, but other years it was more than 20 per cent.
Low production efficiency and untapped potential
It may be a surprise to some that African cotton exporters can compete with India. The yield per hectare is on average low in Africa and African cotton fibre is said to be mostly of mediocre quality.
According to Baba Berthe from Mali, chairman of ACA, the two main weaknesses of African cotton culture are indeed its low production efficiency and the quality of the cotton itself. Several other challenges have also to be responded to like high production cost, insufficient research, guaranteeing an attractive minimum price for the farmers, cotton export subventions in US, EU and China, and the difficulties in building up local (or regional) cotton textile supply chains from fibre to fashion.
Sector specialists can explain in detail which external and sector-specific factors caused problems in each of the ACA countries and cotton regions. Kenyan sector specialist Anthony Muriithi referred in Nairobi to the negative impact of market liberalisation in the early 90's: there was no longer adequate sector planning, affordable credit or a certified seed system. On the demand side, imports of cheap second-hand clothing (mitumba) and sales of smuggled fabrics hampered the creation of an integrated cotton-garment value chain. The production of cotton in Kenya peaked in 1984 at 70,000 bales of lint cotton. In spite of government efforts to revive the cotton sector starting in 2006, last year production of lint cotton did not exceed 20,000 bales.
According to Mahieldin Abdalla of the Sudan Cotton Company, cotton subsidies paid to cotton producers in some countries, particularly in the US, European Union and China, had a negative impact on African cotton production. During 1995-2015, these cotton subsidies totalled $88.2 billion with an overall average of $4.9 billion per year. Abdalla argues that international cotton prices are negatively correlated (r=0.32) with cotton subsidies. When subsidies increase, cotton prices decline. This could have been the main reason for decreasing cotton production in Sudan and Egypt. During 1995-2015, cotton exports of Egypt and Sudan decreased by 27 per cent and 65 per cent compared to their exports during the period 1975-1995.
Today, the important African cotton countries are all situated in West Africa. The top five are Burkina Faso, Mali, Ivory Coast, Cameroon and Benin. However, several East African countries have great ambitions and want to multiply their annual cotton production. In Kenya, about 384,500 hectares of irrigated and rainfed land is said to be available for cotton production, of which only 40,000 hectares or 10.4 per cent are currently under cultivation. Given the variety of the cotton grown in Kenya, the production potential is 368,000 bales or five times the historic peak production of 1984.
Also, Tanzania has great cotton production expansion plans, but the most ambitious cotton country in East Africa is Ethiopia. According to the Ethiopian government, the total land available for cotton growing is 3 million hectares but only 7 per cent of this is cultivated. Most of the cotton produced in Ethiopia is used for manufacturing textiles and garments. Ethiopia differs in this respect from most African cotton producing countries, which export more than 90 percent of their cotton as raw material. Estur believes that the textile supply chain in Ethiopia will grow faster than in other African countries because of the high priority which the Ethiopian government is giving to the development of the sector. Also, Ethiopia has an available yarn producing capacity of more than 100,000 tonnes.
Climate change and other issues
For a few years now, climate change has been drawing increasing attention at the annual ACA conferences. In the rain-fed African cotton regions, shifting sowing dates are making the crop prone to drought problems and hence resulting in lower yields. Some pests, like flea beetles, have shifted from the status of secondary pests to primary ones. In addition, new pests like mealy bugs are threatening cotton production. It's likely that in the future many more small farmers will abandon cotton culture if their government doesn't take appropriate measures to support them in the fight against the effects of climate change.
Most other issues discussed at the ACA conferences among country representatives and cotton experts are recurrent themes. How to upgrade soil fertility and enhance cotton variety? How to equip farmers with better input? How to achieve the dream of building up a complete cotton value chain from fibre to fashion? Some African countries seem to be on the brink of achieving this dream.
In West Africa, Ivory Coast is a cotton producing country with an industrial vocation. The printed fabrics manufacturer Uniwax, in Abidjan, a subsidiary of the Dutch multinational Vlisco, not only survived the massive influx of low-priced Chinese fabrics, but established itself successfully as the leading fashion brand of loincloths in Western Africa.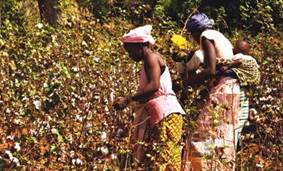 In theory, East African countries Tanzania and Ethiopia could rapidly complete building their own cotton value chain. Thanks to big investments in large textile factories during the regime of legendary president Julius Nyerere, Tanzania still has a relatively strong (though somewhat obsolete) textiles industry. In 2016, the textile unit of the ministry of agriculture was trying to lure a foreign investor in setting up a denim factory in Dar es- Salaam to supply fabrics to Tanzania's jeans export industry.
Thanks to big investments initially made by Turkish companies like Ayka Textile and Saygin Group, followed by investments by Indian (Kanoria, Arvind) and other foreign companies, Ethiopia is well on its way towards achieving an integrated value chain. The Ethiopian government showed its commitment to the development of a competitive export-oriented supply chain by investing in high profile projects like the Textile Industry Development Institute (TIDI), the Bole Lemi textile industrial zone in Addis Ababa, near the airport, and the impressive Hawassa industrial park, some 275 km south of the capital.