Retail experts agree that tomorrow's retail store will look quite different from its counterpart today. E-commerce and alterations in consumer behaviour require new strategies for brick and mortar stores. Here are some ideas from Euroshop, the world's largest retail trade fair, held in Dusseldorf, Germany in March 2017. Regina Henkel reports.
Trade pundits are gazing into the metaphorical crystal ball to see how the store of the future will look, what the consumer will expect and shopping trends. What role will brick and mortar stores play in the future? Classical retail has not gone out. Its potential, its ability to attract, to create community feeling and to communicate, is promising. All these are characteristics online shopping is unlikely to offer.
Experience per square metre
The performance of a store has traditionally been measured in turnover per square metre. "This is the wrong approach," says Nicole Srock Stanley of the German retail design company, Dan Pealman. For many years, the Berlin based company has developed retail architecture for fashion brands as well as experience architecture for leisure parks. "The future will be about experience per square metre," she says. Instead of packing as much merchandise as possible in a store and offering a wide selection, the store of the future will become smaller and oriented to offer more entertainment. "We must understand that shopping means we spend our leisure time in a store, where the customer invests money and time," she points out. Retail is becoming a part of the leisure industry. The first retail parks, where shopping areas are connected with climbing halls, swimming pools and MTB parks, have arrived.
Personal Touch
Adidas has just offered a special shopping experience at the Bikini Mall in Berlin. Until mid-March, Adidas offered customised sweaters in a pop-up store. Under the Knit for You concept, customers could design their Merino sweaters individually and then have them knitted at the knitting machines installed. A few hours later, the sweater was ready. The Bikini Berlin Mall is geared towards such an adventure architecture whose overall strategy was developed by Dan Pearlman. In addition to permanently leased stores, the special shopping experience consists of several pop-up stores housed in wooden boxes, and which change over the year again and again. So, the mall keeps changes. A similar concept was realised in London in 2011 under the name Boxpark. It was the first popup shopping mall in the world.
Stores where you buy nothing?
The purchase process in the store will lose relevance. The transaction can finally take place anywhere-in the store, online or through social networks. Once used as the top principle, the main focus of the store will shift towards customer engagement. At the latest Samsung flagship store in New York, the brand and the products are staged but you cannot buy them. Steven Weiss from the American Trade Advisory Shop! USA, puts it in a nutshell, "Retail is changing from POS (point of sale) to POE, or point of engagement."
Creativity is welcome
The list of possibilities with which a store can become relevant to a customer is long and without restrictions in creativity. "Actually, everything is conceivable, as long as there is a market for it," explains Weiss. He mentions a restaurant which offers its guests free repair of broken mobile phone screens. "This has nothing to do with the actual business, but it is a great service," says the specialist. Of course, there are also more conventional solutions.
Sport is characterised by passion and emotions. Here, a wide range of service offers can be introduced, some of which have already happened. Brands and retailers not only offer equipment, but also training sessions as stores like Lululemon transform into training halls. The customer wants to try things before buying them. This offers a lot of potential for more service and experience. Even a repair service is a good opportunity to offer value to customers. "Those who offer good events or special service may also ask for money," Weiss says.
From electronics to big data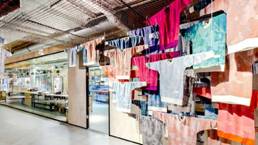 Digitisation in retail was one of the main themes of EuroShop. In future, the customer expects more connection of all channels, no matter how the processes are organised. Holistic IT solutions are a must. The digital dimension is not an add-on but an integral part of the retail strategy and shop design. This includes electrification of shelves to connect tablets or screens wherever needed. Big data also enters the brick and mortar stores. Until now, only online players were able to generate huge data about their target group to develop new conclusions for marketing and product design. The brick and mortar store was a black box. With the use of new cameras and so-called heat maps, store operators can now generate data in their stores. For example, they can measure customer frequency at different locations in the store at different times of day and try which marketing tools achieve which effects with which target group. These cameras can identify the age, gender and also the fashion style of the customers by scanning logos.
New requirements for staff and store design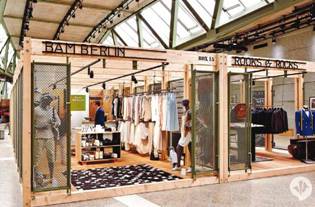 In future, the classic salesperson has to be ready to be consulted and to inspire. Much attention will be paid to the dressing room including its design, because that is where the purchase decision is made. The store of the future could be nothing more than a changing room. The customer selects articles online, and comes to the store to try them on in a pleasant atmosphere. Trained staff could then order matching articles or alternative sizes, using artificial intelligence tools. Then, stores will not need to be huge, and the ratio of product areas to convenience areas, e.g. changing rooms, will change.
Scan boxes in retail
The idea of the own avatar, which tries on the clothes when shopping online, is not new. The fact that it has not yet become reality is because there are no body scanners in the shops yet. On the other hand, measurements of the clothing are only available in the form of garment sizes, but not as 3D data. "I'm sure we'll see body scanners in every city in a few years," says Mihail Tanev from the Doob Group in Dusseldorf. The company specialises in mobile body scanner technology and has already tested it successfully in retail for Uniqlo. Also for large multichannel retailers, a fixed body scanner box can be interesting if it helps to improve fitting and reduce returns of online purchases.