The 12th edition of Fibres and Yarns Expo organised by Tecoya Infotech in Mumbai this April was bigger than before. Meher Castelino presents snapshots of select players who exhibited at the three-day event at the World Trade Centre in the city.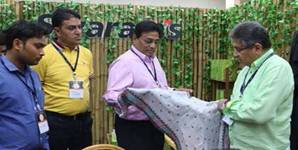 The Indian textiles and apparel industry is on a growth path, and the mood is upbeat. This was reflected in the turnout at the 12th edition of Fibres and Yarns Expo organised by Tecoya Infotech in Mumbai from April 6-8. All three days saw a heavy rush with most stalls bristling with visitors eager to check out the latest trends in fibres and yarns. However, there were not many innovations on display, since many companies were now concentrating only on improving their production and sales targets in India as well as the rest of the world.
Some of the interesting innovations exhibited were from Haining Xin Gao Fibres Ltd which brought in CM800, a new stretch yarn. Also ofinterest was the INVIYA I-400 from Indorama Industries Ltd, which is reckoned to be a step ahead of the earlier I-300 avatar that the company had introduced to the Indian market in 2012. Bringing bamboo to the forefront was Spinning King (India) Ltd that promoted its popular Tanboocel Jigao Bamboo Fibre.
The popular soya bean, milk and bamboo fibres were there along with the various fire retardant viscose variations, high-tech polyester fibres and the many versions of polyester fibres and yarns, apart from modal and tencel fibres. There were also brands exhibiting functional fabrics like pure silk, linen and jute along with the fancy yarns. For many of the visitors, fashion starts with the right type of fibre and yarn, and hence visiting the expo was important for many designers and weavers besides knitters and garment brands.
Haining Xin Gao Fibres Ltd
Haining Xin Gao Fibres Ltd is part of the Cha Technologies Group founded by Cha Chi Min in 1949. Cha Technologies Group is a global manufacturer of fibre, yarn and nonwovens. One of the interesting products from Haining Xin Gao Fibres Ltd was CM800, a new type of stretch yarn made from PTT/ PET by conjugating method. The heat shrinkage differences from dual polymer (PTT/PET) generate a permanent 3D crimp, which brings in a permanent stretch after heating. There is 100 per cent recovery, and it is anti-alkali, anti-chlorine, UV-proof, dyeable and never-fatigue stretch. The fabric from CM800 has a wrinkle-free quality making the material return to its original smooth surface even after a wash; there is no stretch fatigue even after repeated stretching. Its well-being comprises dyeable with dispense dyestuff, which helps the fabric retain a pure colour even after stretch. The shape-keeping is great, as the CM800 spirals up as a spring after heat processing and returns to its original length after stretching. The wear resistance is good as that of filament yarn, which is not easily broken. CM800 is comfortable compared to spandex, and sorona, the renewable green source of CM800, ensures that the fabric is friendly for the skin. The company plans to introduce more products such as PLA, CM900 LM Spandex and BI-CO Nylon.
Spinning King (India) Ltd
Part of the Kashiwala Group of Companies, the Ahmedabad based Spinning King (India) Ltd has provided services to the textiles industry since 1990. At the Expo, the company promoted its Tanboocel Jigao Bamboo Fibre from which fabrics and garments, towels in all sizes, bathrobes, bedding and childcare products are produced. The fibre is soft as silk, and the garments displayed had a silky and soft finish too. Besides Tanboocel, the company also exhibited PVA Fibre and PVA Yarn, 100 per cent linen, hemp and remie fibre and yarn, 100 per cent Indian cotton, absorbent cotton and cotton linter. The hemp linen and remie fabrics are ideal for bed linen and bedsheets, while the soya, milk and cashmere fabrics are other offerings from the company. Under development is Tanboo Tex - Jigao Bamboo Modal Fibre. What makes Tanboocel Bamboo Fibre unique is its biodegradable quality, natural anti-bacterial properties and good absorbance. Even after 50 washes, the bamboo fibre retains its anti-bacterial function and does not cause any skin allergy. It is also breathable and soft, as it is filled with various micro-gaps and micro-holds and it has better moisture absorption and ventilation. The bamboo kun helps to resist harbouring odour. It takes dyes easily and is ideal for undergarments, socks, t-shirts, etc.

Indorama Industries Ltd
Indorama Industries Ltd presented INVIYA I-400, an improvised polymer variant of a premium elastomeric yarn with greater mechanical strength and immunity from chemicals like alkali, bleach acids and chlorine, and provides near perfect fit and shape with enhanced comfort and freedom to move. The product is recommended for denims, bottom-weight fabrics, activewear, shape and intimate wear, leggings and medical applications. INVIYA I-400 is available in 20-140 deniers. Its advantages are a stretch up to 5 times of its original length with excellent recovery, and providing long-lasting fit and shape to the garment. Besides, it has high durability even after repeated washes and uses.
The new freedom fibre INVIYA is made at the company's plant in Himachal Pradesh, and its most advanced spandex fibre INVIYA I-300 was introduced in 2012. INVIYA I-300 is a high tenacity product with improved stretch recovery, heat resistance and durability. The company was the first producer of spandex in India and totted up a turnover of ₹200 crore when it started. It's the first indigenous company offering spandex in not only 30, 70, and 90 deniers, but also 35 and 75 options. The company caters to the requirements of Pakistan, Bangladesh, Sri Lanka, as well as Egypt, Latin America, Turkey and Italy.
Pallavaa Group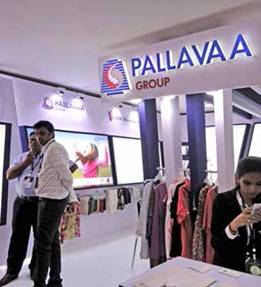 The Pallavaa Group from Erode has been in business for over four decades, and has a fully backward integrated operation with India's largest set-up in Vortex Air Spinning Technology from Japan. From the group's brand Long Lasst, there is a wide range of spun yarns, woven and knitted fabrics. With a turnover of $260 million per year and integrated manufacturing units - spinning, knitting and weaving along with imported knitting machines, the group's capacity is 130 tonnes per day yarn, 20 tonnes per day knitted fabrics and 300,000 metres per day woven fabrics. Keeping power conservation in mind, 75 per cent of the energy requirement is through captive wind and solar power. The Long Lasst brand comprises viscose m langes that have enhanced life, low pilling and soft touch. The other benefits include very high colour fastness, perfect shade uniformity, lower water footprint and carbon footprint, and ecofriendly dopedyed fibres, which are dyed while manufacturing. No further dyeing is required, and less water usage is required during fabric finishing. The company also has a wide range of spun yarns with major spinning technologies using smart fibres like lenzing, viscose, promodal, micromodal, tencel and bamboo.
Alok Industries Ltd (Polyester Division)
Alok Industries Ltd started manufacture of partially oriented yarn (POY) in 2006 at Silvasa with a capacity of 54,000 tonnes per annum that has now rocketed to 438,000 tonnes per annum. The ISO-certified operation spans right across the textile value chain from POY, fully drawn yarn (FDY), cationic yarn, polyester staple fibre (PSF) and draw texturised yarn (DTY) manufacturing on the polyester front, and to fashion fabrics, yarn, workwear, technical textiles, home textiles and garments on the cotton side. The POY, FDY and DTY yarns are available in fine, coarse, super-course or double ply super-coarse in semidull or bright forms. When it comes to PSF, the company's capacity is up to 240 million pounds per year offered in a variety of deniers. The end use is for apparel, knitting nonwoven applications, home furnishings, bed linen, automotive industrial markets, mattresses, pillows, cushions and even in the making of sewing thread. Staying true to its green path, the company encourages recycled products with the setting up of a recycled polyester unit that has an initial 15 tonners per day capacity to recycle polyester yarn waste, flakes and PET bottles to produce 100 per cent recycled polyester fibre. The recycled fibres endues is to produce value-added textile material, nonwoven material, good for blending with virgin fibre and used for carpet yarn. It can also be used for high-quality wadding, filling of pillows, quilts, toys, upholstery,\ mattress and available in a variety of deniers.
Siyaram's
Siyaram's started in 1978, and its processing unit was opened in Tarapur two years later. In 1984, it successfully pursued backward integration by setting up a manufacturing plant for textured yarn at Patalganga. The company ventured into readymade garments in 1991-92 with the brand Oxemberg. The company's stall at the Expo was crowded, with visitors who were not only interested in the various yarns, but also wanted to take a look at the wide range of garments on display from the company's various brands. The company's specialty is in the manufacturing and developments of polyester filament and fancy dyed yarn, linen, cotton and cotton blends and dyed yarn. Every month, 400-500 new shades are developed and introduced in dyed and fancy yarns for textiles. The company's dyeing capacity is 800 metric tonnes per month with plans to go up to 1,000 MT in due course. A line-up of 13 dyed yarns were on the offer, which started from 100 per cent linen, polyester filament, cotton, spun polyester, as well as polyester blends with cotton, viscose and wool. Besides these, there were spacedyed fancy and intermingled dyed yarns, knitting, special dyed yarns, microfilaments, linen, delave and heavy denier multi-coloured fancy yarns.
Tribeni Worldwide Pvt Ltd
Part of the Tribeni Group of companies, Tribeni Worldwide Pvt Ltd is a reputed name in diverse products in textiles like staple fibre, PET chips, polyester filament yarn (POY, FDY and DTY), nylon yarn, viscose yarn, embroidery threads and almost all textile-related products. With a sister concern office in Singapore, the company has alliances for manufacturing in five countries, and with a presence in 14 countries like Vietnam, China, Japan, Korea, Singapore, Brazil, Turkey, Taiwan, Indonesia, Thailand, Hong Kong, and others. The FDY product list was extensive with deniers from 30-600 and a variety of filaments.
Indian Rayon
Indian Rayon, a unit of Aditya Birla Nuvo Ltd, which has a $4.5 billion turnover, offers Raysil viscose filament yarn as a fashion yarn. Indian Rayon is a leading VFY manufacturer in India with a rich heritage of about 60 years as part of the Aditya Birla Group, which is a premium $40 billion conglomerate. Raysil, which is manufactured at the integrated 19,800 tonnes per annum facility at Veraval in Gujarat, is a 100 per cent natural made yarn from quality imported pulp brought in from Domsjo Fabrikar in Sweden, which is also an Aditya Birla company. Raysil is skin-friendly and comfortable, and has great drape and fluidity with rich lustre, colour, softness and smoothness that has no pilling and anti shredding qualities. Indian Rayon offers Raysil in 30-1200 denier, which is in bright and dope-dyed VFY. Raysil is perfect for georgettes, crepes, chiffons, fine brasso, shantung, satin, velvet, suit lining, selvedge ties, and knitwear as well as lustrous embroidery threads, home textiles, crepe bandages and other technical applications.
Birla Cellulose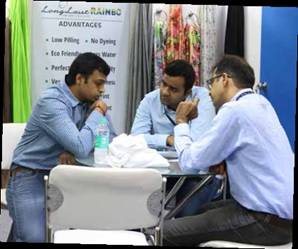 Part of Grasim Industries Ltd, Birla Cellulose's core products are viscose, modal, micro-modal and excel in spun shades as well as dyed fabrics. The spring-summer 2018 collection of its Liva brand is a colourful offering in natural fluid fashion. Divided into four colour stories-Nostalgic Future, Hybrid Paradise, Pop Graffiti and Global Kaleidoscope, the forecast is wide and imaginative. Nostalgic Future is influenced by a natural palette with hints of the past brought to the future. For Spring/Summer 2018, the Hybrid Paradise forecasts a psychedelic but abstract feel with exotic flowers, jungle inspirations, along with hybrids, colours and textures. Pop Graffiti is young and rebellious where breaking rules is the norm and designs, which are gender fluid, are ageless and borderless with punk undertones that are combined with versatility giving a combination of nostalgia. The Global Kaleidoscope forecast is full of adventure, travel and world experience. It has a borderless feel with great global touches. The Liva tag is seen on many fashionable brands globally as well as in India for Global Desi, Allen Solly, Fusion Beats, 109 Fahrenheit, Park Avenue, Van Heusen, Reliance Trends, Pantaloons, Chemistry and Crimsoune.
Jitendra Kumar Lalbhai
Started in 1965, the Jitendra Kumar Lalbhai Company (JKL) traded in yarns initially, but moved to yarn indenting business in 1978. Today, JKL is one of the leading textile marketing organisations representing the best ginning, spinning and weaving mills of India. Now, the operations are pan-India with a head office in Ahmedabad and branches in Bengaluru, Mumbai and Ichalkaranji. The company offers 24 varieties of yarns in a multitude of specifications that can be used for garments, fabrics, household linen and draperies. The portfolio of grey woven fabric from JKL's greige fabric division is specialised in 100 per cent cotton greige for shuttle as well as shuttleless fabrics in popular designs, which are used for shirting, bottom-weights, sheeting, stretch, workwear fabrics, corduroy, technical and industrial fabrics and yarns dyed fabrics. The weaves can be poplin, twill, satin, pique cord, oxford, herringbone, pinpoint oxford, plain, drill, rib stop, percale, voile, cotton, seer sucker (woven), gauze, canvas, matti, etc. The knitted fabrics range starts from jersey, rib, interlock to special knitted fabrics.