It had been only some time back that electronic textiles were being seen as innovations that could have a bearing on theway people wear clothes as also what they wear at all in the future. Today, those experimental exercises are a market segment in themselves, Jozef De Coster reports.
Until recently, electronic textiles were more a buzz than a business. Though very visible in professional magazines, conferences and research projects, electronic textiles could hardly be found in the market. Market research bureau IdTechEx Research estimated the global market for electronic textiles in 2015 at a modest $100 million. Surprise! Sales recently started increasing exponentially and will, according to IdTechEx, exceed $3 billion by 2026.
The big leap forward predicted by IdTechEx is a surprise because electronics and textiles do not at all fit together. It's difficult to find another pair of products which are so different from each other. Electronics are hard, not flexible and fragile while textiles are very soft, flexible and strong.
Electronics are neither stretchable nor washable and are designed to last for a long time. Textiles, on the other hand, are often stretchable, they are washable and are designed to get rapidly replaced, preferably over the next fashion season. So, it doesn't look a smart idea to combine electronics and textiles in one product. Also, producers of clothing and other textile products who want to enrich their offer with electronics have to solve problems for which they lack technical knowhow. As for the producers of electronics, they don't have any clue about which specific textile materials are best suited for specific requirements. It therefore looks more logical to integrate 'smart' functions in pure wearables like wrist straps or watches, not in textiles.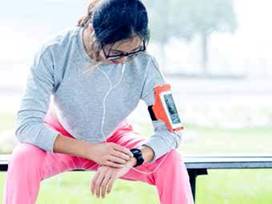 Though most wearables did not even exist a decade ago, they constituted already a market of $6 billion in 2015. Market leader Fitbit, established in 2007, sold $2.17 billion fitness watches and other wrist straps in 2016. The French producer of connected health devices Withings, which was founded in 2008, was acquired by Nokia in 2016 for $191 million. Products including Fitbit fitness trackers, Android Wear watches and the Apple watch have helped fuel a rise in mainstream awareness of wearables for the past several years. Wearables are expected to be a $19 billion industry by 2018, according to Juniper Research.
Leading brands are stepping in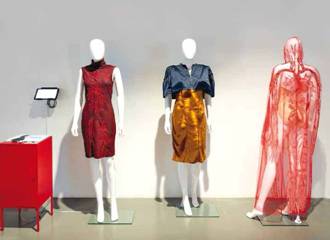 Some leading brands like Under Armour, Nike and Levi's try, each their way, taking advantage of recent technological and market developments in wearables to boost their business. The strategy of Under Armour is mainly based on the acquisition of promising fitness apps. Nike is cooperating with Apple. Recently, much media attention went to the collaboration of Levi's and Google. Starting this autumn, people who are willing to pay roughly $350 for a smart Levi's jacket can simply swipe their sleeve to control their electronics. Levi's smart 'Commuter jacket', which was introduced early March 2017 in Austin, Texas, is aimed at the growing number of people who bike to work. It has technology woven into its fibres, and allows users to take phone calls, get directions, check the time, and listen to music, by tapping and swiping a sleeve. The jacket, which uses Bluetooth and is compatible with Google Maps, Spotify and Strava, is waterproof and machinewashable (but you have to remove the smart cufflink before washing). It should hit stores this fall.
Sidney Morgan-Petro, retail editor at trend forecasting firm WGSN, argues that Levi's Commuter jacket is different from other wearables and smart clothing because it's not pitching the electronics as its main feature. By using inbuilt electronics to solve problems that everyday people have, Levi's is paving the way for a range of clothing products with wearables that can attract a public of ordinary consumers and not only tech geeks. However, for the time being, it's not fashion that is driving electronic textiles demand. It's expected that mainly the segments-sports & fitness, medical textiles, automotive and building textiles, will boost demand.
Researchers are speeding up the tempo
As well in the electronics sector as in the textile sector, efforts are being stepped up to integrate electronics and textiles. Over the years, research teams have accumulated a lot of useful knowhow. Now they are keen to run the last mile. Manufacturers of electronics, who eye opportunities in the clothing market, are working hard to lower energy consumption of integrated wearables and to make them smaller, lighter and more flexible. They also want to make them wireless charging and fully waterproof.
Manufacturers of textiles try to make yarns more conductive and to produce sensors and actuators from textile fibres instead of metal. They are also experimenting a lot with novel inks and adhesives. Different sub-sectors have different pieces of knowhow. One can expect that in future knitters will come up with other types of conductive yarns than weavers. Also, some companies will prefer inks as materials for electronic textiles while other ones will prefer yarns. To solve the problem of embedding electronics, some will rely on coatings, others on adhesives. To guarantee a flawless interconnectivity of the building blocks of smart clothing like sensors, actuators, the personal data processing hub and a back-end processing app, a choice has to be made between conductive yarns and wireless or other connectors. All suppliers of electronic textiles will have to offer a good solution to integrate their new products in the Internet of Things.
Researchers are eagerly experimenting with textile fibres for electromagnetic interference shielding (EMI-shielding) and for their use as conductive yarns or as substrates for in mould 3D printing. It's interesting to note that in the specific field of radio frequency identification/near field communication (RFID/NFC) the apparel sector has already a lot of experience: some 10 billion units were sold in 2016 of which 70 per cent were used for tagging apparel.
Sustainability is a major challenge
According to Belgian researcher Brecht Demedts, it's nearly impossible for individual textile companies to develop electronic textiles on their own. Cooperation with diverse technological partners is the only way ahead. One of the main challenges is to find solutions for the integration of hardware and textile materials which not only are highly functional but at the same time sustainable. One can be sure that in future, only sustainable solutions will be accepted by consumer organisations, green action groups and environment-conscious authorities.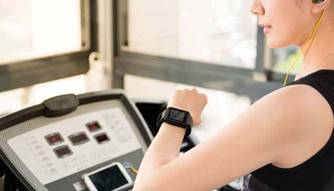 Among the problems to be solved is the compatibility of complex electronic textiles with the circular economy: what will happen with the batteries and other hardware parts of e-textiles at the end of their lifecycle? Another problem is: how to prevent damage of electronic parts during washing? An issue with possible social consequences is the increasing technical complexity of apparel. Will apparel brands continue relying on manufacturing their products in countries like Cambodia or Ethiopia, where many workers have only limited education?
The extremely innovative Dutch designer Aniela Hoitink (company Neffa), who created several types of smart garments (solar capes, jackets equipped with elastic organic lightemitting diodes, dresses measuring and showing the heartbeat, etc) is afraid that electronic textiles have no future in the circular economy.
How could the 7.5 billion inhabitants of the planet be disciplined enough to handle electronic textiles properly at the end of their lifecycle? Hoitink thinks there will rather be a future for textiles that never have to be washed or recycled. She argues: "Why do we still make clothes that last for 40 years if we only wear them 1 or 2 years? Why not make our clothes disposable like in nature and give clothes a biological lifecycle?" Neffa recently developed a range of dresses made of the threads of mushrooms (mycelium). A MycoTEX t-shirt only needs 12 litres water and you can easily grow the mycelium inside an old building, while a conventional cotton t-shirt needs 2,500 litres water, expensive farmland, and a lot of chemicals.
A wave of research programmes
While Asia, the leading textile continent, has an advantage over the US, Japan and Europe in the field of developing and producing conventional textiles, thanks to the quantity and quality of research institutes and test labs, the Western nations may have an edge in the development of electronic textiles. In Europe, a lot of EU, regional and national research programmes that are focusing on the integration of electronics and textiles are under way. Much attention goes to additive manufacturing (3D printing) for smart textiles.
While currently extreme conditions (e.g. wash to the boil) can't be met by standard screen-printing of electronics, researchers think that soon durable results can be obtained thanks to ink developments based on nanomaterials like graphene and carbon nanotubes and on metallic inks. This type of research is done in cooperation with companies which are active in high-end technical textiles, like e.g. professional workwear for cleanrooms.
Other researchers are participating in programmes for the development of heat conductive coatings, textiles with organic light-emitting diodes, fabrics with optical fibres, movement and pressure sensitive textiles, and a long list of other electronic textiles.