The Copenhagen Fashion Summit is the annual pilgrimage of all those in the textiles-apparel industry who are working on sustainability issues. Over 1,000 professionals had gathered at the Danish capital this May to discuss "how the fashion industry can contribute to a world beyond the next season." Marco Lucietti, Global Marketing Director of Sanko/Isko division, presents a first-hand account of the event.
The whole experience at the Copenhagen Fashion Summit this year was encouraging: it is 'the' place-to-be for starting a solid and sustainable approach to the fashion world, with an eye on future development. No wonder then that some of the most important experts and brands are involved in this initiative, accepting its compelling challenge: as leaders of the market 'green' topics demand top priority on our everyday agenda.
This is a peculiar phase for our sector: perhaps for the first time in history, both brands and consumers feel the urgency for true change. Style needs and environmental issues must line up and march together. We have to bear in mind that ecological practice and products must become a tangible and defining difference for companies; a solid driver for consumers from all over the world. Moreover, if we are to be successful in this effort, the industry must be spot on in terms of products that are beautiful, stylish and conscientious at the same time.
We are on the right track, but I think that the industry in general needs to work together on agenda and priorities, throughout the year, not just during the Summit. In addition, we need to rethink the numerous international certifications. We need balanced and harmonised standards if we are truly willing to move forward on conscientious green practice.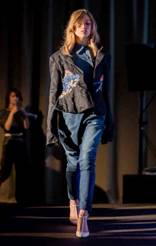 During the Copenhagen Fashion Summit, Isko had two crucial roles. First, I participated in the panel discussion dedicated to 'Technology innovations', along with important players such as Giulio Bonazzi (chairman and CEO, Aquafil Group), Leonard D Lane (managing director, Fung Academy), Christoph Hahn (managing director, I:CO) and Amit Gautam (vice president, Global Business Management Textiles, Lenzing). During the discussions, we explored the new frontiers of the promising technologies set to change industry methods like 3D printing, robotics in cut and sewing factories, and much more. It was a launching pad for a courageous, critical and in-depth analysis that focused on the possible social consequences that this kind of revolution might produce.
We also presented our educational project for the future stars of the sector, Isko I-Skool, the cutting-edge talent contest dedicated to fashion and marketing students from all over the world. But we made sure the presentation was very special and without precedent. A select group of contestants of the Denim Design Award of the 2016 edition of Isko I-Skool put on a Dynamic Exhibition of the projects that landed them in last year's contest finale-but with a twist: they revamped their creations to make them environmentally sustainable.
It was nothing like the 2016 show: the talented young designers rethought their creations under a more conscious approach, using Tonello's treatments and the Isko Earth Fit concepts for the task. Isko Earth Fit is the green platform by Isko that has already received two important recognitions, for several articles: the Nordic Swan Ecolabel and the EU Ecolabel. Isko is proud to be the first and only denim mill in the world to receive these groundbreaking certifications. The 'responsible' outfits were evaluated by a very prestigious jury comprising fashion experts such as Peter Copping, independent fashion professional; Bandana Tewari, editor-at-large, Vogue India, and Dio Kurazawa, denim director, WGSN.
The competition was won by Farah Sherif Wali for her concept 'The path to Divinity'. The other talented designers were Annie Ansell, Anna Biotti, Nadja Kiess, Quinton Lovelace, Sayaka Niida, Ester Rigato, Danielle Thaxton, Elena Trukhina and Xintao Wang. The Isko I-Skool dynamic exhibition showed that beauty, style and responsibility can coexist without compromise.
Isko's goal is sustainability, each of its actions are guided by profound respect: respect for people-employees and suppliers-because Isko prioritises transparency and ongoing relationships with and among players and stakeholders; respect for the environment, because an ecofriendly approach must embrace every phase of the manufacturing chain.
What's needed, today, is a real change of perspective that involves textile producers, brands and consumers. Besides its commitment to responsible production methods, Isko's founding and guiding goal is to empower local communities and the entire denim value chain. And Isko also works for end consumers by developing excellent fabrics that keep their original qualities longer, requiring less effort and particularly fewer washings so garments maintain their ideal, beloved shape over time. This fact alone positively shapes people's habits, reducing the amount of natural resources being wasted every day.
As the world's number-one producer of premium quality denim, Isko takes corporate social responsibility (CSR) very seriously. While we use sustainable materials as well as improve water and energy use, our primary focus is always people. We value our employees, ensuring equal opportunities for all. We also believe that a company only truly fulfils its mission if it improves the life of the communities it works in. Our greatest desire is to share our own success in the homes of thousands.
Isko is part of Sanko Tekstil, privately owned by the Konukoglu family. The Sanko Group is one of Turkey's largest conglomerates. Our stakeholders know that we are fully committed to sustainability and that this is a defining aspect of who we are. We keep pushing past boundaries every day and our commitment is clearly demonstrated by our growing number of improvements and certifications. We proudly present them to customers to go beyond selfreference and share value along the entire chain of production and sales.
Our next goal is very ambitious: we dream about an industry that has environmental issues at the centre of every daily activity. We are sure that if the industry works together, that goal can be reached in the very near future.