Like all other years, innovations were announced and showcased at the bi-annual trade fair Techtextil in Frankfurt, Germany. But, as Jozef De Coster reports from the event, it was not easy to differentiate between the new and the old.
The bi-annual professional trade fair Techtextil/Texprocess in Frankfurt is traditionally a 'feelgood' event. This was also the case this year in May when a record number of visitors (47,500) flowed through the corridors in search of improved or new products in a maximum number of booths (1,789). It was, as usual, no easy task to make a distinction between real and pretended innovations.
Thermoplastic materials gain importance
Techtextil 2017 confirmed that the trend towards the replacement of petroleum-based raw materials by bio-based raw materials is continuing. Trevira, Perlon, Monosuisse, Polisilk, PHP Fibres, the Chinese Glory Tang group, and others presented improved thermoplastic polymers from lactic acid (PLA). The German Institute for Textile Technology of Aachen boasted having developed bio-based PLA-fibre blends with better mechanical properties, reduced shrinkage and higher tensile strength than the basic PLA.
Several firms presented innovations in processes and/or the functionalisation of standard polymers. This was the case of France's Durafiber Technologies which was in the running for a Techtextil Innovation award 2017 with alkaline resistant polyester HT yarns. Some companies like MA.RE and Polysilk said that they produce already PVDF filaments (polyvinylidene fluoride), but up to now only Monosuisse and Perlon seem to have it already on the market.
Among the exhibitors that showed flame and heat-resistant fibres was the small German company PyroTex Fibers, which boasted that its patented PyroTex engineered acrylic fibre clearly surpasses currently accepted standards because of its inherent properties (e.g. the flame resistant limiting oxygen index is 43 per cent). Also Evonik, Kurarary, Toyobo, Kynal, Kermel, Perlon and Durafiber Technologies are active with fibres and/or yarns in this market.
Dongyang of South Korea impressed visitors with UHMWE PE fibres, produced via gel spinning, which have a specific strength that is 15 times stronger than steel (brand MirAcle).
Textile composites find ever more applications
A composite material is a material made from two or more constituent materials with significantly different physical or chemical properties that, when combined, produce a material with characteristics different from the individual components. As far as textile composites are concerned, the number of their applications seems to be endless. At Techtextil, interesting new applications could be seen in reinforced concrete, protection products, self-reinforced polypropylene, and materials for racing bikes and aerospace.
Anne-Kathrin Kuhner from the Berlin Weissensee Art Academy won a Techtextil design award with her idea for a concrete textile. To make the concrete textile, a textile tube is filled with high-performance concrete. The resulting filament is flexible and can be shaped immediately after the tube has been filled with concrete to create woven, knitted or knotted textiles.
When the concrete is reinforced with steel wire, corrosion may be a big problem. But, this is not the case when concrete is reinforced with PP-fibres (like Low & Bonar and Belgian Fibers demonstrated) or with PVA-fibres (brand Kuralon from Kuraray) or PA6.6 fibres (brand KraTos from Kordsa).
Sector specialists expect that in the next years the highly praised stabile, recyclable and inert graphene composites will strongly increase their presence in the market.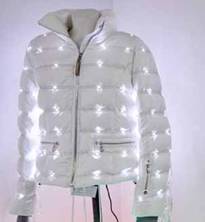 Smart textiles make life easier
Many examples could be found at Techtextil of smart textiles that make life easier, like fabrics with integrated lighting, warming underwear, measuring of muscle activities, intelligent kneebraces (for rehabilitation after knee surgery), elastic screens for shadowing, dehumidification of walls, etc. However, none of these were new inventions. The same could be said about the offer of phase change materials (PCM), coating and finishing products, water and oil repellent products, flame retardants, and laminates.