There are various methods to determine or measure the physical performances of zippers, depending upon their types as well as applications.
Below are parts of the well-known norms in the zipper industry.
US: ASTM D2051-D2054/D2057-D2062

Germany: DIN3416-3149

Japan: JIS3015

China: QB/T2171-2173

UK: BS3084
Certain internationally recognized testing organizations such as Intertek Testing Services(ITS), Municipal Testing Laboratory(MTL), Societe Generale de Surveillance(SGS), Oeko-Tex Standard 100(OEKO-TEX) and TUV Rheinland (TUV) are available. SBS Zipper has been cooperating with some of these testing organizations for a long time.
Apart from the internal testing standards, SBS zippers are always subjected to these international testing standards. Based on these norms, various tests are performed strictly while manufacturing the zippers at SBS to achieve better physical performances. This also enables us to grow into the top zipper providers in China
The testing methods and items might differ slightly, depending on the nation or the customer's preferences. The following table displays frequently tested methods for accessing the physical performances of zippers at SBS Testing Center, along with their specific applications.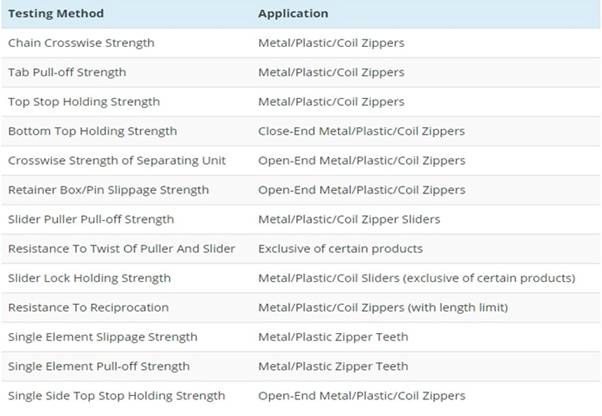 The terminology might differ from one testing standard to another.