Dutch designer Jalila Essaidi has developed a new material using cow dung. In the Netherlands, where Essaidi is based, the livestock industry last year exceeded its phosphate ceiling by 4.6 million kg by producing excess manure. Since phosphate and nitrogen compounds in manure can be harmful to the soil, water and air, there were proposals to limit the number of cows. That's when the designer came up with an innovative solution. Subir Ghosh reports.
The way manure is thought of may change soon. An Eindhoven designer has developed a technology with which manure can be immediately transformed into bioplastic, biopaper and biotextile.
Designer Jalila Essaidi pursued the project titled Mestic with her BioArt Laboratories as a way of addressing the global manure surplus, which is responsible for excessive amounts of harmful phosphorus and nitrogen in surface and groundwater. Essaidi, who is known for her work '2.6g 329m/s', also known as 'Bulletproof Skin', a project that achieved bioengineered bulletproof human skin reinforced with synthetic spider silk, began working on the project last year.
In late 2015, BioArt Laboratories was approached by the agricultural sector of Noord-Brabant, a province in the southern region of the Netherlands, to find an immediate and innovative solution to the surplus cow manure that was being produced there. Essaidi's organisation, within a few months, developed a method and technology to solve this problem by transforming cow manure directly into bioplastics. The solution was called Mestic, a portmanteau of the Dutch word for manure, mest, and plastic.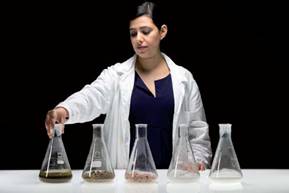 In June this year, Essaidi and her team organised a fashion show featuring Mestic-derived fabrics, with support from the municipality of Eindhoven, Suna Producties, Inspidere, and Eindhoven365. The show and the products were a resounding success. The result is that Mestic is now being projected as a circular solution that will not only solve the present cow manure problem, but will also provide a sustainable source of biomaterials to the manufacturing industry, textiles included. And, however exceptional this already sounds, this is not where it ends. According to Essaidi, the possibilities are infinite.
Essaidi elaborates on how the project started: "For another project, we were trying to collaborate with both the Dutch Federation of Agriculture and Horticulture and the province. At that time the political climate surrounding the Dutch manure problem was such an obstacle that they jokingly told us that this would only happen if we could solve their manure problem. That's the day we picked up our first batch of manure.
"Initially we didn't set out to make a fibre, our goal was to create cellulose acetate by directly pulping and acetylating the available cellulose in manure. A logical next step was to spin this into a fibre."
Now that the innovation is here, the next step would be to reach out far and wide. Says Essaidi, "As far as the technology is concerned, the method of producing bioplastic derived from manure has been patented and we are going to work under a licence with other companies. The partners for this collaboration are the stakeholders that benefit the most from the solution- the farmers and government. With regard to working with brands, we are planning to make the textile available under its own brand, and are already exploring the possibility of other brands integrating the textile into their products."
This goes with the vision of the organisation: "Over the next few years, we are planning (along with our partners) to scale up and industrialise our product through the realisation of a prototype plant. It is the ambition of Mestic to ultimately find a significant positive impact to the global climate objectives. We are all here to make a serious contribution to a new circular world."
And as Essaidi says, it did not cost her too much: "The raw material of similar fibres makes up a big percentage of the price of the final product. In the Netherlands, for now, farmers pay us 18 per square metre manure. This fee pays for the process; so essentially we get our raw material for free."
At a time when most solutions come with innumerable constraints, especially of the financial type, this is one innovation that should need little investment. Particularly in a country like India.