India's textiles and apparel exports, particularly the fibres segment, grew at a healthy rate of 8 per cent in the first quarter of the current financial year 2017-18. Imports, on the other hand, have increased drastically-by 23 per cent, according to the latest quarterly report of Wazir Textile Index, a textiles sector performance update from Wazir Advisors.
The financial advisory firm had recently introduced its Wazir Textile Index (WTI) as a barometer to periodically assess the financial performance status of the Indian textiles industry.
WTI Sales was calculated to be 113.0 in quarter 1 of FY18. This reflects that consolidated sales of the top 10 selected companies increased by 3 per cent in Q1 FY18 as compared to Q1 FY17. The consolidated sales of the top 10 selected companies was Rs10,122 crore in Q1 FY18 compared to Rs8,961 crore in Q1 FY16. The WTI EBITDA was calculated to be 77.7 in Q1 FY18. Therefore, there was an overall decline of 25 per cent in EBITDA margin in Q1 FY18. The EBITDA factor decreased significantly due to the impact of increase in raw material and employee costs. The consolidated EBITDA margin of top selected companies in Q1 FY18 was 12 per cent, declining from 16.6 per cent in Q1 FY17.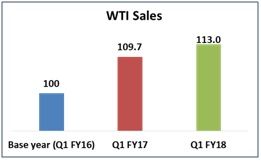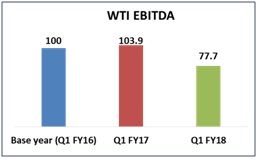 The WTI Cost for raw material (RM), manpower and others were 122.2, 130.5 and 112.9 in Q1 FY18. There was a significant increase in raw material prices which resulted in overall costs, while manpower costs increased on the back of increasing labour wages. Consolidated RM cost constituted 54.9 per cent of sales in Q1 FY18, while consolidated manpower costs constituted 9.8 per cent. The impact of the cost increase was visible in the declining EBITDA margin.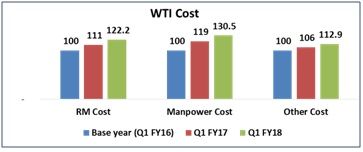 Slight decline in key economic indicators in Q1 FY18: In Q1 FY18, India's real gross domestic product (GDP) increased from Rs29.40 lakh crore to Rs31.10lakh crore from last year's Q1, growing at a rate of 5.7 per cent. This was a much lower growth than previous year's quarter growth of 7.9 per cent. The average index of industrial production (IIP) for textiles has declined by 2 per cent while the IIP for apparel declined by 3 per cent in Q1 FY18 compared to Q1 FY17. The wholesale price index (WPI) for textiles registered an increase of 3.5 per cent in Q1 FY18, indicating increase in prices.