The Iranian textiles and apparel industry, after the lifting of UN sanctions is gradually beginning to look up. So is the country's economy, over all. With India and Iran already having a history of trade that dates back hundreds of years, that country could be an attractive destination for Indian exporters in the near future, reports Jozef De Coster from Tehran.
There are several good reasons for Indian producers of textiles, garments, machinery, dyes and chemicals, to put Iran on their list of export destinations. Iran is a medium-sized market with now slightly over 80 million consumers. Iran's GDP and consumption are expected to accelerate growth, thanks mainly to domestic reforms and the recent lifting of UN economic sanctions.
India and Iran have a centuries-old tradition of trading material and cultural goods with each other. As far as textiles are concerned, the strong presence of Indian exhibitors at Irantex 2017 (70 participants compared to 37 from Turkey) demonstrated their belief that they can successfully compete with China and Turkey in the Iranian market.
The annual trade fair Irantex, which from September 4 to 7 took place in Tehran, simultaneously with a clothing fair (Iran Mode) and a carpet fair, drew less visitors than last year. This was, however, the result of some organisational and promotional changes. The overall business mood was good.
Iran is not yet a rich economy, but Iranians aren't poor neither. In 2016, the GDP per capita (purchasing power parity) was estimated at $18,100, which is nearly three times higher than that of India ($6,600). The Iranian economy is growing fast. It bounced back sharply in 2016 at an estimated 6.4 per cent. The latest data available for the first quarter of 2017 suggests that the Iranian economy grew at an accelerated pace of 9.2 per cent (year over year). The growth rates in 2017-19 are expected to retreat to slightly above 4 per cent.
Hassan Rouhani, who was re-elected as President of Iran in May 2017, has succeeded in reining in inflation and, in July of 2015, securing the promise of sanctions relief by signing the Joint Comprehensive Plan of Action (JCPOA) with the P5 1. The JCPOA, which severely limits Iran's nuclear programme in exchange for unfreezing of Iranian assets and reopening Iran to international trade, should bolster foreign direct investment, increase trade, and stimulate growth.
Until the partition of the sub-continent and creation of Pakistan in 1947, India and Iran had long shared a common border as neighbours, with cultural and linguistic ties between the two ancient civilisations going back thousands of years. Despite a lot of differences, over all diplomatic and economic relations between India and Iran have improved and deepened in the new millennium. India is one of Iran's best customers for its oil exports. Ravindra Kumar, joint director of the Indian Cotton Textiles Export Promotion Council (Texprocil), says Iran is a good market for a lot of Indian textile exporters who are looking at market diversification. Exporters of yarns, fabrics and home textiles can find interesting market niches in Iran. China may be a strong competitor in Iran, but contrary to the more flexible Indian companies, the Chinese tend to cater only to big customers. There's still a price gap between Chinese and Indian textile products, but it's gradually shrinking.
An industry with around 300,000 workers
Every year, the Statistical Centre of Iran publishes a Statistical Yearbook providing the latest numbers on economic, social and cultural counts. Unfortunately, this information is not up to date. The last published yearbook dates from the Persian year 1392 (year 2013-14 of the Gregorian calendar).
Table 1 indicates that Iran is a relatively important producer of textiles, but not of apparel. It is noticeable that Iran's apparel industry has managed to continue supplying products to the domestic market so far despite its minuteness in firm scale and an unstable business environment. It's also important to note that the apparel industry of Iran has been totally privatised, while the textiles industry is quite close to being privatised.
After the Iraq-Iran war (1980-88), the total number of workers in the textiles and apparel industry, including those working in small-scale firms, exceeded 430,000. According to official statistics, the total employment in the textiles and apparel industry currently is less than 90,000 in companies employing 10 or more workers. However, Afsaneh Mehrabi, director-general of the textiles and clothing department of the ministry of industry, stresses that currently some 9,800 industrial units are active in Iran's textiles and apparel industries, licensed by the ministry. Together, they have created more than 290,000 direct jobs, accounting for 13 per cent of all industrial jobs in Iran. Textiles professor Hooshang Nosraty of Amir Kabir University of Technology (previously called Tehran Polytechnic), estimates the total employment in the sector at around 300,000.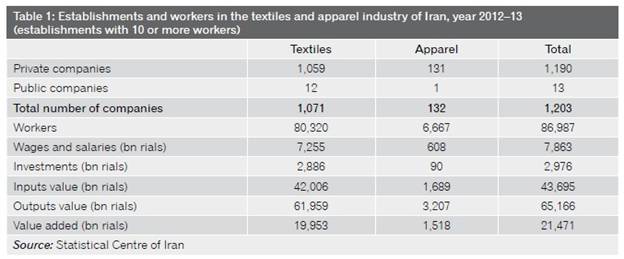 Traditional as well as advanced technology
A large part of the textile machine park of Iran may be obsolete, but there are some technologically advanced segments. At Irantex 2017, some producers of hi-tech fabrics said that the Iranian textile research centres and companies have acquired a lot of know-how in the field of nanotechnology and plasma technology. Nano Maad Pars Co, a manufacturer of smart textiles, is exporting EMI-shielding. Companies like BasaFan and Plasmatex are able to produce hydrophilic and hydrophobic fabrics.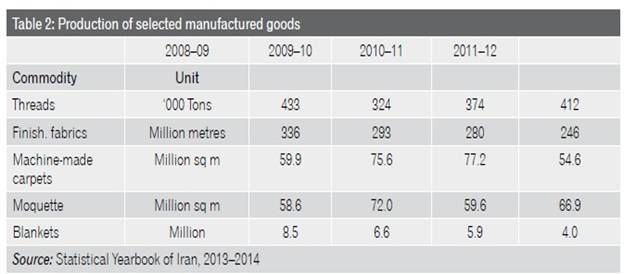 Imports are mainly illegal
According to Iranian sources, over $1.6 billion worth of textile products were imported last year. Taking into account the related equipment and machinery, the figure reaches $1.9 billion. The main import was fabrics worth around $500 million. This was 70 per cent more compared to the previous year. Other major products imported were fibres (around $440 million) and yarn ($300 million). In addition, the import of black fabrics used to make chador (a full body-length fabric worn by many Iranian women) saw a 73 per cent increase compared to the year before to stand at $125 million. The above-mentioned value of imports pertains only to legal imports. To reach a more realistic figure on the total amount of imports, a further $2-3 billion should be added to include illegal imports, which would bring the total amount of textile products imports into Iran last year to $4-5 billion.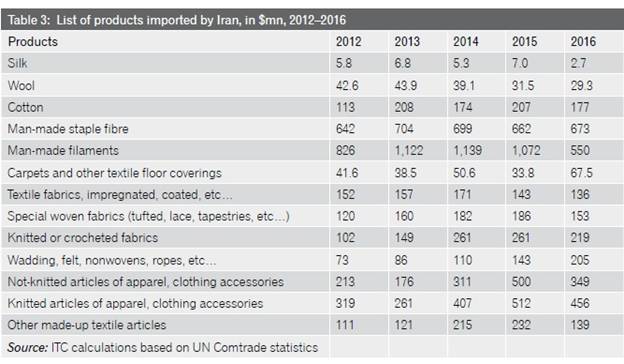 India beats Iran in global handwoven carpets market
Iran is not an important player in the international textiles markets. In the last Iranian year (March 2016-17), the country's textiles and apparel industry's $850mn worth of annual exports (excluding handwoven carpets) constituted only a 0.1 per cent global share. This included handwoven carpets, and the figure stood at a little more than $1.2 billion.
Textile flooring topped the list of the sector's exports. Carpets are indeed Iran's most successful textile product. The handwoven Iranian rugs are famous all over the world. The Carpet Museum in Tehran (Muze-ye Fars), created by Farah Dibah, the former empress of Iran, presents a clear overview of Iranian rugs and kelim production from the 17th to the 20th century. Here, one can see where the European rugs producers who successfully export their products to dozens of countries find the inspiration for their classic collections. Iran has also a strong machine-made carpet industry as could be seen at the exhibition in September.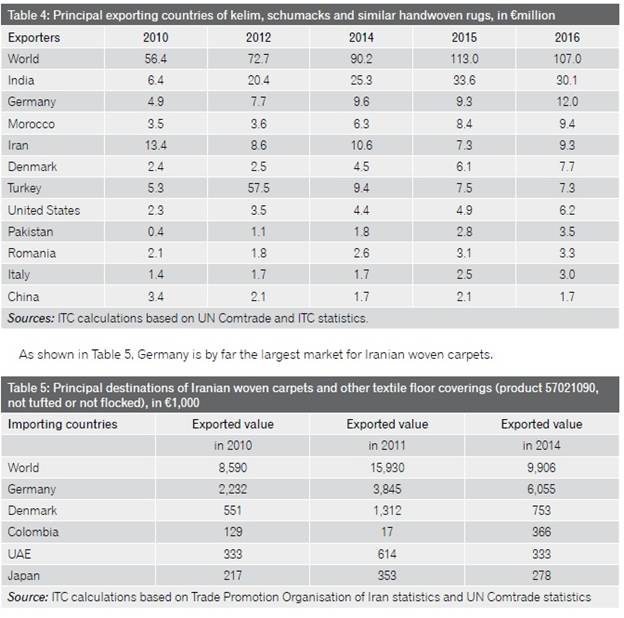 Exhibitors at the 26th Iran Handmade Carpet Exhibition (August 23-29, 2017) in Tehran apparently did not expect to meet a lot of foreign buyers. English-speaking people were few and far between at the booths. According to statistics available, by the end of 2012-13, 1,154 handwoven carpet cooperatives were operational in Iran employing 27,133 people. Four years earlier, these cooperatives were more (1,272) and employment had peaked at 41,500. The regions which employed most weavers were Tehran (5,803 workers) and Chaharmahal & Bakhtiyari (4,125).
Textile machinery imports are soaring
While Indian textile machinery manufacturers such as Nota, Lakshmi or Voltas were not exhibiting at the 23th edition of Irantex, many of the leading European manufacturers presented their products and services. Somewhat hidden, American CAD CAM producer Gerber was represented at Irantex. Gerber reportedly has the biggest market share in Iran for automatic cutters.
Boris Abadjieff of the textile machinery export department of the German association VDMA declared that in 2016 Germany was the leading exporter of textile machinery to Iran, ahead of China and Italy. Total Iranian imports of textile machinery amounted to $117 million, with Germany's share being $28 million. During the first half of 2017, Germany had already exported $30 million worth textile machinery to Iran, more than during the whole of 2016.
Italian and Belgian textile machinery exporters at Irantex seemed happy. Leading Belgian weaving machines producer Picanol is represented in Iran by the dynamic firm Iranstrick. Advisor Behrooz Yadollahvand mentioned that more than 200 Picanol machines were sold in Iran in 2016.
�����������