Keeping in mind that the season's topical patterns gesture to past impacts, Autumn/Winter 17-18 is without question energising. A new interpretation of femininity weaves all through, booming an assessment seen on the catwalks that are as of now picking up commercial pace. As WGSN reveals, colours for this season will be richer, fabrics/ textures more refined and looks will draw from nature as an answer to the digital world. The four noteworthy patterns towards this are: Design Matters, Earthed, Nocturne and Infusion.
Design Matters
Sustainability being the front line of this trend, fabrics/ textures will progressively originate from natural and recycled/ reused materials. Palette tones are diminished, with a practically "smudgy" grey cast to them, and "abnormal" vivid will round out the color set. The general palette has a worn/ ragged, engineered/modern feel.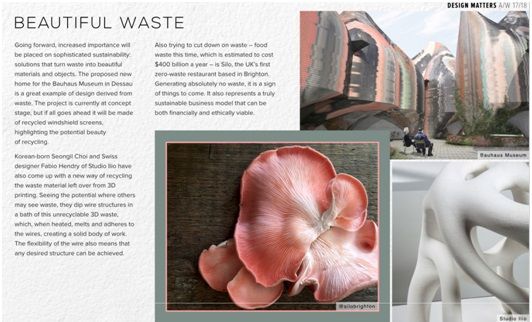 Fig 1: Inspiration from Nature
Source: Images Source Pintrest
Colour direction:
Core hues will be blues, rust, pea and yellow with somewhat creamier tone. Improved turquoise being key shade for the season yet it will be richer, functioning admirably for both street and night wear. Infused Grey will play well with the season's green tones-having a more backwoods like quality-for both men and women. Chalk pink stars as the palette-hotter with a look that is dustier and more transitional, moving from the spring/summer season into harvest time/winter. Dark blue will stay a staple shade though repositioned for easygoing wear.
Fashion outlook: Fashion look for Autumn/Winter'18 is what WGSN called "industrial couture" -- another way to deal with utility where easygoing wear is given to a greater extent a form makeover. Shapes will wind up feminine but also architectural; think: contemporary utility.