The global testing, inspection and certification (TIC) market will well cross the $100 billion mark in another five years. The importance of TIC in the textiles-apparel context is paramount. Subir Ghosh looks at growing demand for TIC in the Indian market.
Many segments of the textiles and apparel industry are not as dynamic or happening as certain others. Also, many sectors remain under the radar, far away from public gaze, simply because of the back-end nature of their work. The testing, inspection and certification (TIC) niche is one such segment that has been increasingly gaining significance in a very trying and demanding world. The demand for quality, and therefore standards and benchmarks, are increasingly becoming strident and fundamental in trade and retail. Many would contend that the increase, though palpable, is not yet enough to turn the industry on its head; that there's still a long way to go. Others might disagree on that count, but all would still concur that TIC companies now figure more in news.
For instance, TUV Rheinland (India), a subsidiary of TUV Rheinland Group of Germany, recently caused a flutter after it signed a memorandum of understanding (MoU) with the Export Promotion Council for Handicrafts (EPCH) wherein the two organisations agreed to work together in building capacity and capability in the Indian handicrafts sector. The announcement was made at the Textiles India 2017 at Gandhinagar earlier this summer. In 2014, TUV Rheinland had announced that it would invest at least ₹100 crore in the following three years in India; and not without reason: India is an attractive and important market. In the month of July, India's leading lifestyle and fashion conglomerate Arvind Limited signed an MoU with the Khadi and Village Industries Commission (KVIC) to certify khadi denim and khadi products made by Arvind.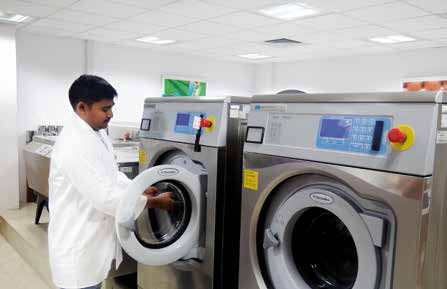 In a globalised world, and for an industry that is arguably more globalised than many others, textiles and apparel in India have become a focal point of many TIC companies. Almost all major multinational TIC firms have been operating out of India for a while. Globally, it is big business. According to industry reports, the global market for TIC is expected to grow at a compound annual growth rate (CAGR) of around 5 per cent during the period 2016-2022 and is expected to grow to a market size of $115 billion by 2022. This, of course, includes the textiles-apparel segment.