For centuries, India artisans have been job workers for others. Thier talents have been used by top designers in the country and around the world without due credit. The payments have always been negligible, even though they are the main stars of many haute couture collections at fashion weeks. Meher Castelino writes about an initiative that is slowly transforming artisans into designers.
There are numerous non-governmental organisations (NGOs) in India and abroad who aid Indian artisans in selling their products, but none have been able to turn the artisans into businesses or brands.
This was what Somaiya Kala Vidya (SKV) sought to change when it stepped in to turn artisans into businesspeople who would brand their craft and create a label. Started by Judy Frater, known for her work in the field of crafts for over 20 years in Kutch, SKV's vision and purpose is quite clear. Its mission is to develop a new approach to design education based on existing traditions.
The core concept is that tradition is more than technique; it comprises concept and knowledge as well. SKV works within traditions, by understanding and drawing from their salient features. The focus of education is on acquiring knowledge and skills that enable artisans to use design effectively in their work, in order to successfully reach new markets, while at the same time strengthening traditional identity.
With its comprehensive one-year course, SKV works with artisans through a sustained, long-term, coherent programme. The aim is to work in the local language and environment, and integrate concepts and execution in tradition-based crafts. The goals are to enable artisans significantly improve their standard of living, and socio-cultural and economic status; strengthen the vitality and viability of the crafts in the national and international markets; to raise the level of education in the crafts sector; and to provide a successful example of educational reform.
"SKV also works with artisans in establishing and articulating what they already know, and how they traditionally work. In affirming this and building upon it, we identify the most effective path to our subsequent goals. SKV has established an approach of respect, sharing, and mutual teaching and learning. As much as possible, education is imparted utilising traditional methods," states Frater.
Course Correction
In 2014, SKV launched two new courses and an outreach programme. Business and Management for Artisans, a postgraduate course for artisan design graduates, is the first business course expressly for artisans. It teaches artisans to produce collections, as well hold an exhibition in a major city. Craft traditions for non-artisans aim to raise awareness and value for traditional arts and artisans.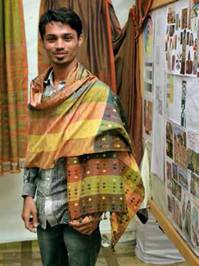 SKV enables artisans to increase their incomes without necessarily increasing the cost of time and raw materials. Intrinsic to this goal, SKV understands what was traditionally created as art. All courses are hands-on. They are for practicing craftspeople, and focused on preparing them for the marketplace. The six courses build upon each other, and work towards creating a final collection that will be displayed and evaluated by a jury of market experts, and available for sale at a public mela. All courses can avail of SKV's computer centre, digital cameras, scanner, printer, and relevant collections. With the assistance of SKV staff, students are able to document and archive their work throughout the year.