The garment industry in Myanmar is beset with problems, right from being hangstrung by inadequate infrastructure facilities to dealing with a labour force that is by and large unskilled. Yet, the industry is growing at a remarkable pace, finds Jozef De Coster in Yangon.
Among the 450 garment factories in Myanmar, not one of them at present is Indian. During the period of the US and EU economic sanctions, Korean and Japanese companies continued producing in Myanmar. Over the last few years, the majority of new garment investments have been Chinese.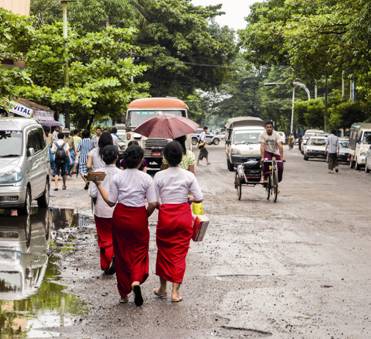 Of course, Indian companies have less reason than Chinese, Korean or Japanese competitors to invest in garment export factories in neighbouring Myanmar. What are these foreign investors looking for in Myanmar, and what do they get?
Most of the foreign investors who recently set up garment factories in Myanmar were mostly attracted by the low labour cost (at the end of 2017, the daily minimum wage still stood at 3,600 kyats/day or $2.63), the availability of workers, and the zero duty access to important export markets like the EU and Japan.
What the investors found in Myanmar was surely not a garment production paradise. Exaggerating somewhat one could say that manufacturing garments in Myanmar is one big headache. The wonderful thing, however, is that in spite of struggling with dysfunctionalities of all kinds and at all levels, the Myanmar garment industry keeps growing fast and attracting new foreign investment.
The main weaknesses of Myanmar as a garment production centre are the nearly total lack of modern fabric production, the low skills level of workers, and the inadequate infrastructure (like steady electricity supply, fast road connections and ports).
Textile manufacturing? A low-margin and dirty enterprise
Just like other developing countries which at a certain point in time come in the focus of the ever-hungry global fashion industry, Myanmar has a sweet dream. Being a country with a labour force of some 37.5 million, it wants to get a lot of jobs in the garment manufacturing industry (500,000 in the short term and eventually more than double of that in the medium term). Most of these jobs will go to low-skilled female workers. Second, Myanmar wants to gradually increase the value-added created in the garment factories operating within its borders. Therefore, the current CMP activity (cut, make, pack) should quickly be transformed into FOB (free on board) and ally in high-end clothing manufacturing including design, marketing and even branding. Developing in this way, the garment industry could become the same perfect stepping stone towards a productive and diversified national economy like it for instance was for Hong Kong, Taiwan, or South Korea.