Leather is becoming increasingly unpopular among both buyers and manufacturers of shoes. Meher Castelino speaks to a bunch of designers who now use fabrics as the base material for shoes.
Going for sustainable organic fabrics and cruelty-free fashion has been the watchword for many designers when it comes to garments. Now, footwear designers too are slowly moving away from leather to create shoes from a variety of fabrics that are not only eye-catching, but really glamorous too.
Payal Kothari, Veruschka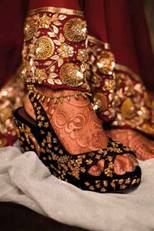 Sculpted shoes
Payal Kothari, creator of Veruschka shoes, calls herself a shoe sculptor. Started in 2005, the brand has created a niche in the footwear industry. Trained in Advance Shoemaking from the L'Accademia Riacci, Florence and a Bachelor of Arts in Accessory Design from the Fashion Institute of Technology, New York, Kothari's Veruschka shoes are known for their eclectic designs.
"Our USP is the ability to cater to each client's personal preference for footwear since we offer custom-made shoes as per their necessities. We use all kinds of fabrics that are sturdy enough-fabrics that offer different textures and patterns, and breathe life into a shoe. We use all fabrics ranging from satin to jute, and my favourites happen to be printed satin. Our bridal shoes are mostly made of velvet. We refrain from using leather and fur because we truly believe in cruelty-free fashion," informs Kothari, who has created footwear for beauty pageant winners of Miss India, Miss World and Miss Universe. Nearly 70 per cent of shoes by Kothari are in fabrics. "We are a country with beautiful fabrics like ikat and brocade. We at Veruschka are really embracing the fabrics of our country to make fashion-forward shoes." The fabrics are sourced locally and Veruskha can be termed as a pure Make in India label. "We often design patterns and print our own fabrics for certain designs depending on the collection theme." The price range for the cocktail collection is ₹4,000-6,500, while bridal shoes are at ₹8,000-12,000. Veruschka makes four collections: autumn/winter, spring/summer, festive for Diwali and bridal collection.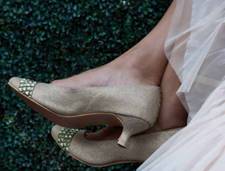 Kothari reveals the advantages and disadvantages of working with fabrics: "Fabrics that are used for shoes need to meet a few specific guidelines. They must have the right durability, elasticity, and brightness of colour. Durability, because if the fabric is not sturdy enough, it could tear during the intense process of draping. That is the reason we refrain from using transparent fabrics like chiffon. Elasticity, because if the fabric over-stretches, it could lead to a tear and look ribbed once finished. The brightness of colour is important as the dull fabric will only look duller once the glue is applied to the lining of the shoe.
"Apart from that, we have to ensure printed fabrics are symmetrical on both sides of the shoe. The prints also need to be tightly placed as a shoe has a small surface area as opposed to clothing, and a large print can lose its effectiveness. I enjoy covering our wedges in beautiful patterned fabrics. Also, there is something timeless about a satin pump. When using fabrics, we have to strategically place the prints to ensure the shoe is enhanced at the right curves. The placement and vibrant colours of the printed patterns on the shoe is what draws buyers to the shoe. Most customers want to match their wedding outfits to their shoes, and since fabrics can be dyed we are able to meet this demand."
She continues, "Satin is fabulous as it has a beautiful sheen to it, and raw silk as it has an unmatched luxury about it. The fabric shoe in my opinion is as durable as a leather or faux-leather shoe. It needs the same maintenance as that for a white or light-coloured outfit. If it soils, you can easily use white petrol to remove the stains, or even wipe with a damp cloth and allow it to dry before your next wear."
Sonali Dalwani, Crimzon
Handcrafted footwear
Sonali Dalwani's aim is to create perfect shoes for her brand Crimzon, which she started in 2003. Her presence in the fashion industry dates back to 1989, when she worked closely with design houses in the EU and US like Karl Lagerfeld, Chanel, Mary-McFadden, Valentino, Ponz Quintana and Ungaro.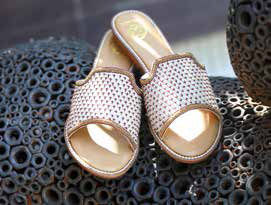 Offering a bespoke service, the brand's edgy styles came into the limelight with its presence at the Lakme Fashion Week in 2009 and 2010. Retailing in Mumbai, New York, Sri Lanka, Hong Kong and Dubai, Crimzon is all set to go online. The fabrics on top of Dalwani's list are drills, cottons, embroidered jacquards, silks, velvets and linens, which are sourced locally as well as overseas. "We make four collections a year, and our prices range between ₹2,000-6,000. Our styles revolve around wedges, flats, sandals and pumps."
Dalwani feels a good shoe can be made from any fabric. "What is needed are the correct techniques, which should be applied in terms of gluing, fusing, reinforcement and strength. Fabric shoes need special care and handling because of fine fabrics." Fusing is an integral part of the process without which the fabrics won't hold on to the shoes. "When we do a quality product, this is a critical part of the process. Shoes need to be kept well dried and aired after use, and kept in duster bags for protection."
The buyers love fabric shoes, according to Dalwani. "They are breathable, give a unique look and feel, and I can play with elements, colours, prints and textures to give our clients an antique product."
The latest 'Mughal Imprints' collection by Dalwani for Crimzon is lavished with zari embroidery that reveals Indian craftsmanship. It is based on the art of Aughi from this era of glamour, and has rich embellishments motifs, patterns in intricate, antique, gold, linen, brocade, velvet, zardozi, stones and pearls, which add elegance to the gold, beige, black and deep red colours.
Komal Panchal, Kanvas
Protecting Indian crafts
A relatively new brand in the footwear industry, Kanvas by Komal Panchal created a stir at the India Beach Fashion Week in Goa in March 2017 with the colourful kalamkari footwear line, which gave the traditional craft an interesting fashionable twist. The wedges and sneakers were in hand-painted, blockprinted, vivid colours that were ideal for the summer season. Only a year in business, the turnover in fabric shoes is ?12 lakh; but with numerous overheads, the profits have just started trickling in.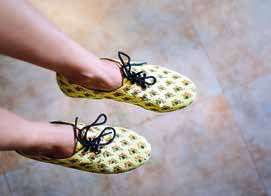 "Kanvas began as a vision in June 2013, and we finally executed it in 2015 with the intent to bring new, personalised designs to customers. Our motto is to revive the withering traditional Indian art forms that were once cherished as a realm of pure art in India. Can we really give our nation something creative that embraces fashion with the Indian touch? Yes, we can! Our craftspeople are trained to transform sophisticated, native art into fashionable, modern forms to infuse vigour in our designs," reveals Panchal.
The USP of the brand, she says, is, to create products "that celebrate Indian ethnic designs. Our products range across men's and women's designer footwear. The design is intricate, beautiful and inspired by diverse styles of art and painting in India." The shoes are priced at ₹999-6,499, and Panchal makes two themed collections a year along with new designs as and when required. The styles are oxfords, ballerinas, sneakers, pumps, heels, wedges, etc. Creating shoes from fabrics is tricky as she explains, "It's a tricky matter as the fabrics are thin and the solutions we use seep through it and we have a tough time to maintain the durability, wear and tear of the shoes as fabrics are delicate and very vulnerable."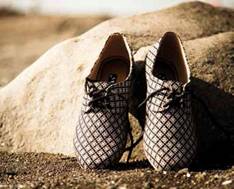 While cotton is the best, Panchal uses jute, silk, art silk and faux-leather. "It's been quite a while in the industry; so, we have our own vendors who get things for us, while we also travel to various villages to get raw fabrics or to get the traditionally crafted fabric in the purest forms." The response has been really good ever since the brand started. "It's been an amazing journey doing everything we do. People have responded positively, and are definitely eager to know the art behind each shoe."
But Panchal cautions regarding care for fabric shoes. "It is a difficult task as the shoes are sensitive to friction, pull and stretch. Hence, these fabrics have to be treated correctly, lined with different materials, and also made strong enough to take the movement."
Sumeet Jain, Daponair
For men only
When Sumeet Jain could not find a good pair of shoes for his brother's wedding, he realised the need for a great one. So, two and half years ago he launched Daponair. The words apper (meaning neat, trim, smart) and debonair (meaning sophisticated and gentlemanly) were used for the portmanteau, Daponair. "The options available were few and over-priced. While hunting for the right pair, I found artisans who could make shoes for us. I gave them few designs and trained them to make new patterns and styles. My designs caught the eyes of the people, which eventually led to the launch of Daponair. European style silhouettes, combined with the expertise of Indian craftsmanship, inspired the designs."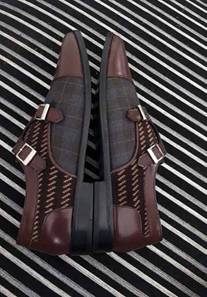 The USP is the range of designs, which inspire the fabrics and vice versa too, but Jain has also used Italian velvet, denim, mock suede, organic jute, linen, raw silk, suiting material, plastic sheets and even cork. "Apart from leather, we have also used jute and vegan leather (produced by bonding a plastic coating with a fabric backing) to make an ideal alternative to organic leather."
The fabrics come from a range of sources-from cities like Jaipur, Kolkata and Ahmedabad to even woollen blends and velvets imported from Turkish mills and Giza cottons of Egypt. "Even during nonwork- related travels, I have come across amazing fabrics at local markets, which I pick for special editions. Once I saw a beautiful French painting on a canvas-like fabric, which I transformed into a design for shoes."
The footwear is priced at ₹2,000-3,000 for Greek slippers and Roman style sandals to about ?4,500-8,500 for a pair of shoes depending on the level of customisation and embroidery. The range from Daponair comprises English slippers; laceups, using them as a part of the brogues and penny loafers, monk-strap shoes and even traditional mojris. "Your creativity with the fabric is your limit. From brogues with ikat prints, to velvet and leather mixes, any design can be done," states Jain.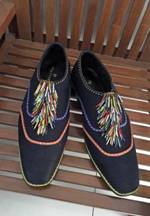 "Keeping in mind that fashion cycles, which are anywhere from a year or two ahead, we typically do 4-5 collections per year for Fall, Winter, Summer and Resort. Resort would be an in-between collection that falls outside the traditional fashion calendar. Also, sometimes there is a special collection for wedding seasons for different themes and events." Demand is high during peak wedding seasons when more than 150-200 pairs are customised and sold. "Around the year we average about 30-40 pairs a month, out of which 45-50 per cent of the shoes are made of fabric. The demand for fabric shoes is usually higher during the wedding season as it gives more details and finesse to the outfits making you look very Daponair!"
Making shoes with fabrics could be a little challenging because unlike leather, it has to be properly lined and fused with other fabrics to give it a stiff finish for a lasting upper of the shoe. On maintenance, Jain adds, "With nanotechnology, sprays are widely available online and in markets. Any fabric can become spill-proof, dust-proof and water-repellent. Thus, maintaining shoes made of any fabric is a no sweat job."
Priyanka Tejwani, Hersh and Malini Kotecha
Experiments in stylish shoes
Three creative people-Priyanka Tejwani, Hersh and Malini Kotecha-conceptualised Stoffa in 2003 as a creative experiment with six shoes and matching bags, and haven't looked back since. From their flagship store at Colaba, Mumbai, Stoffa offers ethnic western and fusion styles.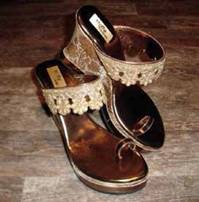 "Stoffa brings together ethnic and western sensibilities to create shoes that can be worn across a spectrum of occasions. Blending comfort and style is our philosophy. We use inputs of the highest quality but as a principle, we do not use leather," says Hersh Kotecha.
The fabrics are a little thick; so, jute, both plain and embossed with metallic tones, velvet, lots of raw silk and rich brocade are favoured. Fabrics are sourced from dealers. "We keep a lookout and find fabrics at unlikely sources like fairs or handloom stores or even small shops and streets during our travels. The price range is around ₹2,700-4,200," he adds. Stoffa has two collections in a year-Spring in February and Festive in August, but these are supplemented with a couple of new styles almost every 6-8 weeks.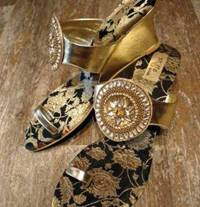 Production of shoes with fabrics requires more care and attention to detail and finish. "We have also learnt which fabrics adapt well to being used on shoes. So, rather than easy or difficult, we would say it's a bit different. We make flats, wedges as well as stilettos from fabrics. It all depends on the story and how the fabric speaks to us." Hersh has noticed that the reaction of buyers is positive to fabrics on shoes. "Many appreciate our stand on no-leather. Often, due to the range of prints or textures available in fabrics, the style becomes interesting and individualistic. The only concern is how to maintain the fabric."
Hersh reveals the annual turnover, "We would estimate that almost 35 per cent of our shoes use an element of fabric in some way or the other. We would imagine this percentage could only get higher." The maintenance is the only difficulty one can face when making fabric shoes. Clients are concerned about the fabric getting dirty and naturally washing isn't an option. However, with the coming of new and specialised laundries, maintenance may slowly cease to be a deterrent.
Swati Mehrotra, Swati Modo
Charismatic shoe designs
The Swati Modo brand created by Swati Mehrotra in 2009 at the Wills India Fashion Week has turned into an ingenious and charismatic label. Mehrotra's achievements in the footwear industry are many. She runs a shoe-making academy in Tihar Jail teaching inmates the art of shoemaking hoping to urge society to accept them back as no one is born criminal. The brand even earned visibility in Cannes with award winning recycled tyre shoes.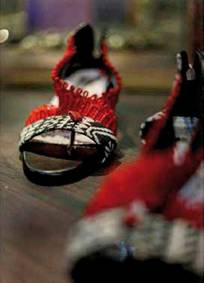 Mehrotra won the best footwear designer award from HOP, IFFD and IIFT and has been brand ambassador for Ghaziabad city. Mehrotra also teaches students of fashion colleges and is on the board of Marwah Fashion School. Her works for giving back to society cannot be ignored. From teaching the inmates of Tihar jail the art of shoemaking to supporting women's uplift, she recently even supported Acid Attack Survivors, a society run by Lakshmisaa and won the Top 100 Women of India Award from the President of India.
Using tweed, wool, cotton, brocades and denim, Mehrotra's designs are a smorgasbord of colour and style. "Our fabrics are sourced from various places like Varanasi, Lucknow, Surat and Kolkata. We even get the best pashmina from Nepal to make comfy winter boots. Prices for fabric footwear start at ₹3,000."
Creating 12-18 collections for men, women, kids and pets, Mehrotra finds it delightful to work with fabrics for shoes since the options are endless to push her creative juices to the limits. From flip-flops to boots and from oxfords to pumps, fabrics are the best materials. "My clients love the way fabrics take shape as their most loved possession. It gives them an option to convert their old fabrics into something wearable. For me, I love tweed shoes, while experiments with kalamkari have also been very attractive."
Karan berry, a.k.a. bespoke
Bespoke collections
Catering to individual requirements, a.k.a. Bespoke is an accessory brand aimed at the millennial clients of both sexes. Started by Aeiman, Karan and Ateev-three friends and designers, each with a very distinct style, but with a common passion to create beautiful, timeless pieces to express their love for design. After graduating from the prestigious Cordwainer's London College of Fashion, they decided to establish their brand to cater to a niche group of clients, as limited in number as their collections and just as sharply discerning. They believe in exclusive, bespoke creations-to delve deep into each client's wants and wishes and handcraft painstakingly, specialty footwear and bags like no other.
In this age of mass production and quickie collections, a.k.a. Bespoke shoes and bags bow down to age-old Indian pride 'karigari'. They rely only on the finest selection of highest quality of raw materials to create design that is environmentally sustainable. Each product is modern in design sensibility, but handcrafted meticulously using traditional craftsmanship techniques to ensure each of their footwear and bags will delight the senses, comfort body and soul and be passed on through generations as precious heirlooms.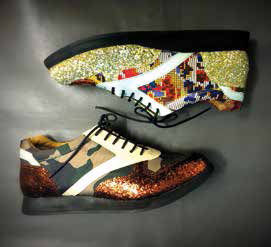 "We use fabrics like drill cotton, ikat, raw silk, denim and canvas which are sourced from Mumbai. We also use recycled old saris and handlooms from clients to make their shoes," informs Karan, the driving force.
Priced at ₹7,500-15,500, the brand does not make specific seasonal collections, but concentrates instead on bespoke footwear; so it's more custom-driven. The range comprises sneakers, sandals and brogues. When it comes to the correct usage of fabrics, the designers explain, "It's the way you handle the fabric and which part you use it for that matters. The delicate fabrics are used for trims and detailing purpose and the sturdy ones are used on a larger scale. The best fabrics are canvas, drill, lycra and suiting material. After-care is easy-maintains them with a damp cloth and you are good to go," explains Karan.