Leather is becoming increasingly unpopular among both buyers and manufacturers of shoes. Meher Castelino speaks to a bunch of designers who now use fabrics as the base material for shoes.
Going for sustainable organic fabrics and cruelty-free fashion has been the watchword for many designers when it comes to garments. Now, footwear designers too are slowly moving away from leather to create shoes from a variety of fabrics that are not only eye-catching, but really glamorous too.
Payal Kothari, Veruschka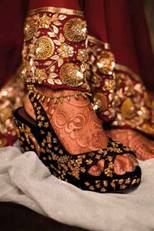 Sculpted shoes
Payal Kothari, creator of Veruschka shoes, calls herself a shoe sculptor. Started in 2005, the brand has created a niche in the footwear industry. Trained in Advance Shoemaking from the L'Accademia Riacci, Florence and a Bachelor of Arts in Accessory Design from the Fashion Institute of Technology, New York, Kothari's Veruschka shoes are known for their eclectic designs.
"Our USP is the ability to cater to each client's personal preference for footwear since we offer custom-made shoes as per their necessities. We use all kinds of fabrics that are sturdy enough-fabrics that offer different textures and patterns, and breathe life into a shoe. We use all fabrics ranging from satin to jute, and my favourites happen to be printed satin. Our bridal shoes are mostly made of velvet. We refrain from using leather and fur because we truly believe in cruelty-free fashion," informs Kothari, who has created footwear for beauty pageant winners of Miss India, Miss World and Miss Universe. Nearly 70 per cent of shoes by Kothari are in fabrics. "We are a country with beautiful fabrics like ikat and brocade. We at Veruschka are really embracing the fabrics of our country to make fashion-forward shoes." The fabrics are sourced locally and Veruskha can be termed as a pure Make in India label. "We often design patterns and print our own fabrics for certain designs depending on the collection theme." The price range for the cocktail collection is ₹4,000-6,500, while bridal shoes are at ₹8,000-12,000. Veruschka makes four collections: autumn/winter, spring/summer, festive for Diwali and bridal collection.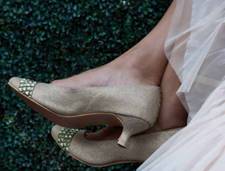 Kothari reveals the advantages and disadvantages of working with fabrics: "Fabrics that are used for shoes need to meet a few specific guidelines. They must have the right durability, elasticity, and brightness of colour. Durability, because if the fabric is not sturdy enough, it could tear during the intense process of draping. That is the reason we refrain from using transparent fabrics like chiffon. Elasticity, because if the fabric over-stretches, it could lead to a tear and look ribbed once finished. The brightness of colour is important as the dull fabric will only look duller once the glue is applied to the lining of the shoe.