The ITM 2018, Istanbul's premier international textile machinery exhibition, is the biggest such event in the region with a hinterland that stretches over West Asia, North Africa and Central Asia. Subir Ghosh presents a curtain-raiser.
Certain events serve as weathercocks-they tell you which way the wind is blowing, or, at times, beginning to blow. Textile machinery fairs are something like that. Since textile machineries call for huge investments that need to be planned years ahead-and given that no company would want to pump in monies unless they were sure those would not blow away in the wind-the interest generated in these events can vouchsafe be taken as indicators of the shape that industry may take.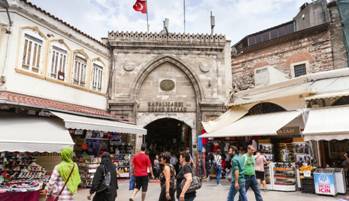 The ITM Istanbul is one such event, with the latest four-day edition-ITM 2018-set to get under way on April 14. If preliminary reports are anything to go by, ITM 2018 is set to break all visitor records of the past. It is the largest regional fair of leading producers of the global textile machinery and technology sector. Trade delegations and sectoral investors from around 100 countries are expected to throng to the biggest city of Turkey, Istanbul. ITM 2018 is being organised by Teknik Fuarcilik (Teknic Fairs Inc) and Tuyap in collaboration with TEMSAD (Textile Machinery and Accessories Industry Association).
The four-day assemblage will be held concurrently with three other major events-the 15th International Istanbul Yarn Exhibition, HIGHTEX 2018 - 7th International Technical Textiles & Nonwoven Trade Fair, and the ETT 2018 - 8th International Istanbul Textile Conference.
The previous ITM 2016 exhibition of June 2016 had been a "phenomenal" success-not an inch of exhibition space to be frittered away. There had been a cent per cent occupancy rate for 1,200 exhibitors and company representatives; and close to 50,000 visitors from 76 countries had visited the fair. The buzz is that all numbers are going to swell this time. In fact, almost 80 per cent of the exhibitor stalls were booked a year before the event, according to the organisers.
The exhibition will be spread over 12 halls across an area of 120,000 sq metres at the Tuyap Fair and Congress Centre. The event hinges much on the procurement committee programmes of the Turkish ministry of economy. The organisers will host procurement committees from India, Iran, Uzbekistan, Pakistan, Bangladesh, Russia, Egypt, Turkmenistan, Morocco, Algeria, Indonesia, Tunisia, Vietnam, Ethiopia and Kenya. These committees will be able to meet producers of all kinds of yarn, woven and knitted fabrics, with integrated facilities that make dyeing, printing and finishing on woven and knitted fabrics, and with technical textile and nonwoven fabric producers.
Promoting ITM
The resounding success of ITM 2016 did not stop the organisers from aggressively promoting this year's edition.
For instance, a team visited the 23rd Irantex 2017 Textile Machinery, Subsidiary Industry, Home Textile, Embroidery Machines and Textile Products Fair in September 2017 at Tehran. Talks were held with officials of the Iranian government, directors of the chambers of commerce and industry, and presidents of various associations. Iran, of course, should have been important since 19 per cent of the visitors at ITM 2016 had been from that country.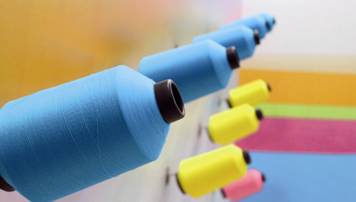 Promotional activities were subsequently carried out at the CAITME 2017 - 11th Textile Machinery, Apparel Machinery and Technologies Exhibition held at Uzexpocentre International Expo Centre in Tashkent, capital city of Uzbekistan. The ITM team held talks with Uzbek officials over the prospects of the latter and other commercial delegations visiting ITM 2018. They also met members of the Chamber of Commerce and Industry of Uzbekistan to discuss procurement committee issues. Another meeting was held with the president of the AMBIT (the Associations of International Business and Technology), whose members are influential Uzbek textile investors.
The whole hog promotions have resulted in a surprise debutant visitor-Panama. The Colon Free Trade Zone, the world's second largest free trade zone, will have its own booth at ITM 2018. Panama, one of the fastest-growing economies of South America, has 18 registered free trade zones with the largest of them being the Colon Free Trade Zone. There are nearly 3,000 companies in this zone with 500 of them into textiles and readymade garments. The annual trade volume of the Colon Free Trade Zone is estimated to be around $20 billion.
There are other plus points as well. The official newsletter declares so, "Istanbul's easy access, historical and cultural attractions, and accommodation facilities make the ITM 2018 even more attractive to visitors. Middle East, North Africa and Central Asian countries that are rapidly developing in textiles can easily access Istanbul without having visa problems. Iranian, Algerian, Egyptian, Pakistani and Bangladeshi textile people who are having visa problems while going to Europe are coming to Istanbul without having such problems. This circumstance is increasing the number of participants into the exhibition. In addition, another significant advantage for the participants is the cheap cost of accommodation in Turkey in comparison with Europe."
The promo line, therefore, is clear: heart of the textiles world beats in Istanbul.
Getting Ready
The organisers are upbeat about showcasing Turkey to the world. Many of the innovations that would be announced at the event are likely to be invested in Turkey in the near future.
Istanbul Tekstil ve Hammaddeleri Ihracatcilari Birligi (ITHIB, Istanbul Textile and Raw Materials Exporters Association) chairman Ismail Gulle says, "Our most important goal is the 24/7 uninterrupted exports with the country producing foreign trade surplus for more prosperity, development, employment, production and investment." The sector exports goods worth $74,000 every minute. The ITHIB represents textile exporters of Turkey with a membership base of over 4,000. ITHIB members realise more than 70 per cent of the country's total textiles exports.
He continues, "We have made exports of over half a billion dollars to the difficult market of the US with a high unit price of $5 per kg, and $866 million for a unit price of $5 per kg to Italy. We have also made high value-added exports worth $10 per kg to Sri Lanka. At one time, it was alleged that the textiles industry did not produce added value. However, today we see that it is one of the few sectors providing the largest added value for Turkey once again."
TEMSAD chairman Adil Nabant asserts, "Turkey has a pretty strong infrastructure of textiles and a wealth of experience. Turkey as a country that buys textile machines worth $2 billion each year is very good market. And, if we can start producing our own machines, we can become absolutely successful. Besides, all the branches of the textiles (industry) must be united under one roof. This can only be possible with the establishment of a ministry of textiles." Currently, the textiles and apparel industry comes under the ambit of the ministry of economy.
The textiles and apparel industry started picking up in 2017 after a downcast period of two years. According to a recent ITHIB report, the total textile and raw material exports in the January- December period last year was $10.1 billion, registering a 3 per cent growth. European Union (EU) countries continued to be the number one textiles market for Turkey. The total exports to the EU during the period was $5.3 billion, with an increase of 1.6 per cent and accounting for 55.7 per cent of the total textiles exports. The top five countries/regions were the EU, US, China, Vietnam and Japan. Textile producers, who are back as the centre of economic attention following the increase in exports, are expected to purchase a large number of machines in order to increase their capacities. According to Gulle, around $3 billion will be invested in the sector by the end of the current calendar year.
Ready to Showcase
Exhibitors are raring to go, with some already announcing what to expect from their stalls. German circular knitting machine manufacturer Mayer & Cie will be exhibiting three machines. It will exhibit the Relanit 3.2 HS and the D4 2.2 II, both of which are established machines, besides the OVJA 2.4 EM, which is a new addition to its MCT product range in the mattress ticking segment. The Relanit 3.2 HS is one of the company's most popular models, and its 30-year-old technology is characterised by gentle yarn processing and high productivity. The range of applications for which the D4 produces the desired fabrics include underwear, sports and leisurewear as well as lining for shoes. The OVJA 2.4 EM is a new machine designed for the market's changing demands. It focuses on maximising output of standard mattress cover fabrics.
Swiss manufacturer of analytical instruments and online monitoring systems for the textiles industry, Uster Technologies, will display the sixth generation of its Uster Tester 6 machine. The practical benefits delivered by Uster Tester 6 range from assured quality control to expert process analysis and optimisation of the entire spinning mill with the Total Testing Centre. The company will highlight the concept of the Total Testing Centre to mill owners, operators, managers, technicians, and yarn sellers. According to the company, the Total Testing Centre has become a unique business tool, transforming data into practical choices for quality yarns and profitable production.
Autefa Solutions, Germany's leading textile machinery company known for the development, engineering, and manufacturing of industrial logistics and automation solutions, will be seen as a full line supplier for carded-crosslapped needlepunch lines and thermobonding lines. Autefa will exhibit innovative solutions for the processing and recycling of carbon, glass, aramid, and natural fibres. It has developed and patented the V-Jet injector that can lead to energy savings of up to 30 per cent.
Swiss company Mouvent, which focuses on digital print using pioneering digital technology, has already announced that the TX801, its new digital textile printer, will be demonstrated live at ITM 2018. It will be one of the company's first ever global trade shows demonstrating the TX801, an eight-colour multi-pass digital textile printer producing the highest print quality on textiles with up to 2,000 DPI optical resolution, associated with very high printing speeds. There will be four live demonstrations each day at the Mouvent booth. The TX801 can process knitted, woven and nonwoven textiles with a maximum fabric width of 1,820mm with roll diameters of up to 400mm.
Baldwin Technology Company Inc will display the TexCoat G3. Launched in 2017, the innovative machine has already been installed at major textile finishing facilities worldwide, with proven results, including reduced water and chemical usage up to 50 per cent, reduced total changeover time up to 85 per cent, and reduced chemical waste up to 95 per cent. With individual nozzle control and automatic volume adjustments, the TexCoat G3 ensures precise and uniform application in various process conditions and capacities.
Leading German textile machine manufacturer Karl Mayer is expected to show market-specific and innovative textile machinery systems for the Turkish market. It will be specifically targeting producers of home textiles and stylish, functional clothing by exhibiting products for the warp knitting sector. Together with warp knitting and warp preparation, technical textiles would be the third focal point for the company at the event.
Parallel Tracks
There would be three other parallel events, none of which are small by any scale.
Turkey is among the most important producers of cotton in the world, and also a country of repute when it comes to yarn manufacturing and processing. Intended to provide a meeting ground for the yarn and fibre industries, the 15th International Istanbul Yarn Exhibition will display high-performance and quality products of major producers from the yarn sector.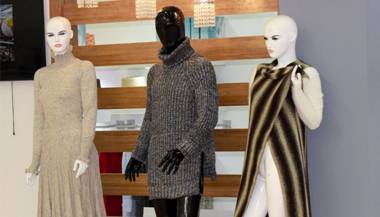 Yarn is among the most crucial raw materials for the Turkish textiles industry. According to the ITHIB, the share of the yarn group in the overall textiles and raw material exports between January and October last year was 17.8 per cent. The October figure for yarn exports was $165 million, indicating an increase of 9.5 per cent over the previous period. According to the organisers, these figures mark the crucial role that yarn plays in overall Turkish textiles manufacturing.
Among the products that would be showcased at the fair include cotton and cotton
blend yarns, elastane yarns, wool and wool blend yarns, viscose and viscose blend yarns, acrylic and acrylic blend yarns, fancy yarns, polyester and polyester blend yarns, silk and silk blend yarns, polypropylene, polyamide, linen, natural, regenerated, metallic yarns, technical, sewing and embroidery threads, nylon yarns, knitting threads, textured yarns, fibres, bobbins and spools.
On the other hand, the HIGHTEX 2018 - 7th International Technical Textiles and Nonwoven Exhibition is the first and only exhibition event of its kind in Turkey. It is projected as a meeting ground of the Middle East and Eastern Europe wherein technical textiles, nonwovens, raw materials, semi and finished products, and production technologies are displayed.
The technical textiles market in Turkey started to develop only in recent years as an outcome of the development of high value-added products in the mainstream textiles sector. The producer companies, which started their activities with simplistic products in the 1970s, now export tonnes of technical textile raw materials and end-products to different parts of the world. Among the preferred technologies here are meltblown, spunbond, spunlace, thermobond and waterlaid. Technical textile companies produce both raw materials and intermediate products used by different sectors like construction, readymade clothing, geotextiles, home textiles, cleaning/cosmetics/hygiene, automotive, packaging, and food industries.
The producer companies operating out of Turkey continuously make technological investments in order to renew their technologies and increase capacities. Turkish producers have been attracting investments for research & development (R&D), and many foreign companies have been either moving their production facilities to Turkey or partnering with Turkish companies.
The third of the events-the 8th International Istanbul Conference on Evolution Technical Textile (ETT 2018) will explore the theme of "Recent Advances in Innovation and Enterprise in Textiles and Clothing." The aim of the high-profile conference is to provide a forum for leading textile entrepreneurs from all backgrounds in textiles and apparel to discuss the achievements, progresses and new ideas in their respective areas of expertise.
The conference will provide a unique opportunity for participants to meet leading personalities with research, management and technology experience from all over the world, and to discuss with them any ideas and proposals from one's own particular field. The conference where leading academics, scientists and researchers will address the gathering is expected to make important contributions to the textiles discourse.
Must Visit
Given the scale of the conclave, the fact that the four parallel events provide a unique meeting platform, and also that Turkey is home to one of the most vibrant and dynamic textiles-apparel industries in the world, one cannot simply afford to give ITM 2018 a miss.