The ITM 2018, Istanbul's premier international textile machinery exhibition, is the biggest such event in the region with a hinterland that stretches over West Asia, North Africa and Central Asia. Subir Ghosh presents a curtain-raiser.
Certain events serve as weathercocks-they tell you which way the wind is blowing, or, at times, beginning to blow. Textile machinery fairs are something like that. Since textile machineries call for huge investments that need to be planned years ahead-and given that no company would want to pump in monies unless they were sure those would not blow away in the wind-the interest generated in these events can vouchsafe be taken as indicators of the shape that industry may take.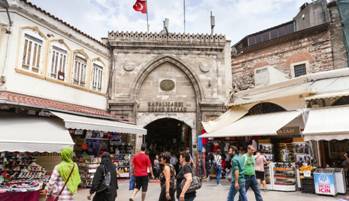 The ITM Istanbul is one such event, with the latest four-day edition-ITM 2018-set to get under way on April 14. If preliminary reports are anything to go by, ITM 2018 is set to break all visitor records of the past. It is the largest regional fair of leading producers of the global textile machinery and technology sector. Trade delegations and sectoral investors from around 100 countries are expected to throng to the biggest city of Turkey, Istanbul. ITM 2018 is being organised by Teknik Fuarcilik (Teknic Fairs Inc) and Tuyap in collaboration with TEMSAD (Textile Machinery and Accessories Industry Association).
The four-day assemblage will be held concurrently with three other major events-the 15th International Istanbul Yarn Exhibition, HIGHTEX 2018 - 7th International Technical Textiles & Nonwoven Trade Fair, and the ETT 2018 - 8th International Istanbul Textile Conference.
The previous ITM 2016 exhibition of June 2016 had been a "phenomenal" success-not an inch of exhibition space to be frittered away. There had been a cent per cent occupancy rate for 1,200 exhibitors and company representatives; and close to 50,000 visitors from 76 countries had visited the fair. The buzz is that all numbers are going to swell this time. In fact, almost 80 per cent of the exhibitor stalls were booked a year before the event, according to the organisers.
The exhibition will be spread over 12 halls across an area of 120,000 sq metres at the Tuyap Fair and Congress Centre. The event hinges much on the procurement committee programmes of the Turkish ministry of economy. The organisers will host procurement committees from India, Iran, Uzbekistan, Pakistan, Bangladesh, Russia, Egypt, Turkmenistan, Morocco, Algeria, Indonesia, Tunisia, Vietnam, Ethiopia and Kenya. These committees will be able to meet producers of all kinds of yarn, woven and knitted fabrics, with integrated facilities that make dyeing, printing and finishing on woven and knitted fabrics, and with technical textile and nonwoven fabric producers.
Promoting ITM
The resounding success of ITM 2016 did not stop the organisers from aggressively promoting this year's edition.
For instance, a team visited the 23rd Irantex 2017 Textile Machinery, Subsidiary Industry, Home Textile, Embroidery Machines and Textile Products Fair in September 2017 at Tehran. Talks were held with officials of the Iranian government, directors of the chambers of commerce and industry, and presidents of various associations. Iran, of course, should have been important since 19 per cent of the visitors at ITM 2016 had been from that country.