Turkey is the country to watch no matter which perspective one decides to assess it from: cotton, textiles, apparel or fashion. It was once that proverbial melting pot of cultures, and even today the country remains at the heart of global life and lifestyle. As Istanbul readies to host the premier ITM 2018 event in mid-April, Subir Ghosh turns the spotlight on Turkey.
Whenever the discussion hovers around India's relatively modest apparel exports and how the country has been losing ground to smaller countries in the great apparel supply war, Turkey invariably figures among those thought to be stealing a march over India. But then, the cherry-picking of Turkey in the context is misleading-for it is like no other. Its textiles are steeped in history, its cotton is part of lore, and its flamboyance cannot be matched. It is a country that compares more to China and India, than say Bangladesh, Vietnam or Indonesia. It is also one that has shown remarkable resilience to both internal political ferment and external economic recession. Depending on where a person is coming from, s/he can look at Turkey as the gateway to Europe, or one to Asia. It is a country with over 3,000 volatile years of known history.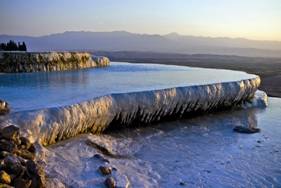 Turkey is certainly a country to reckon with. Its is the 13th largest economy in the world in terms of PPP (purchasing power parity), 17th worldwide on count of nominal gross domestic product (GDP) and the seventh biggest in Europe. In January this year, the World Bank revised the country's growth forecast for 2017 from 4 per cent upwards to 6.7 per cent based on data emanating from Turkey. "The significant rebound in Turkey's growth last year-to 6.7 per cent, from 3.2 per cent in 2016-was supported by fiscal stimulus aimed at expediting recovery from the economic repercussions of the 2016 failed coup attempt," according to the bank's Global Economic Prospects report.
Among all its industries, the textiles and apparel sector is the most rooted in history, and, for that very reason, with its buoyant and heterogenous culture too. It is one of the biggest, and contributes 2.5 per cent to the GDP, constitutes 6 per cent of manufacturing production, and fetches 12.4 per cent of the country's export earnings. Today's is a legacy of thousands of years gone by.
Clothed in History
One such inheritance finds resonance in an astonishingly surreal landscape, made up of mineral forests, petrified waterfalls and a cascade of terraced basins, that was created by the calcite-heavy waters that trickled down from the hot springs over a cliff more than 200 metres high, and that, over thousands of years. Located in the Denizli province of southwestern Turkey, this tract of land drew crowds even hundreds of years ago-from the adjacent Hellenistic spa town of Hierapolis that was founded by the Attalid kings of Pergamom around the end of the 2nd century BC. The epithet, however, comes from textiles-it is called Pamukkale or cotton palace in English, and is a UNESCO World Heritage Site. It would be a no-brainer that names in this land draw from a textiles heritage.