The four-day FESPA Global Print Expo 2018 begins on May 15. More than 18,000 professionals from 125 countries are expected to land up in Berlin for the event that showcases the latest in printing technologies and innovations. Subir Ghosh presents a curtain-raiser.
There are-few would contest-many aspects of the textiles-apparel-fashion business where technology holds sway. Still fewer would disagree it is the printing one that is decidedly the most colourful of them all. And when it becomes a question of what's the latest in printing, the FESPA Global Expo is the one to visit for updating oneself on the trendiest in technologies and machineries.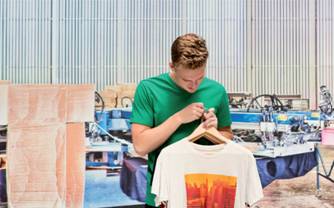 The annual congregation where manufacturers and suppliers from the world of print engage with those from the fashion world wanting to steal an immediate march over rivals gets under way in a few weeks' time-the four-day FESPA Global Print Expo 2018 kicks off at the Messe Berlin on May 15. It is undeniably Europe's largest exhibition for the wide-format print industry where over 600 exhibitors would showcase the latest innovations and product launches in the digital and screen printing sectors for graphics, signage, decor, packaging, industrial, corrugated and textile applications.
As the official website of the event proclaims, "Attracting in excess of 18,000 print professionals from 125 countries, this event is recognised by the industry as a key strategic marketing activity to display your innovations across the wide format digital, screen and textile print sector, to a highly qualified audience. " Numbers tell their own story; they also indicate how things stack up.
Roz Guarnori, FESPA's exhibitions director, summarises: "The prevalence of textiles within FESPA has not been an overnight occurrence. FESPA ran its first FESPA Digital Textile Conference in Geneva in 2008 and the launch of a dedicated textile section in 2010- later rebranded as FESPA Textile- gave a specific home within FESPA to the garment printing and decorating community. Eight years on, FESPA remains the destination event for printers interested in everything from soft signage to garment printing, promotional wear to decorative textiles." That's how it began; that's how it is.