The four-day FESPA Global Print Expo 2018 begins on May 15. More than 18,000 professionals from 125 countries are expected to land up in Berlin for the event that showcases the latest in printing technologies and innovations. Subir Ghosh presents a curtain-raiser.
There are-few would contest-many aspects of the textiles-apparel-fashion business where technology holds sway. Still fewer would disagree it is the printing one that is decidedly the most colourful of them all. And when it becomes a question of what's the latest in printing, the FESPA Global Expo is the one to visit for updating oneself on the trendiest in technologies and machineries.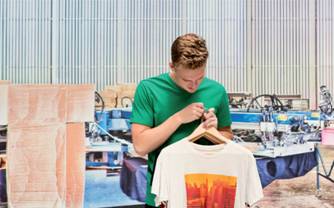 The annual congregation where manufacturers and suppliers from the world of print engage with those from the fashion world wanting to steal an immediate march over rivals gets under way in a few weeks' time-the four-day FESPA Global Print Expo 2018 kicks off at the Messe Berlin on May 15. It is undeniably Europe's largest exhibition for the wide-format print industry where over 600 exhibitors would showcase the latest innovations and product launches in the digital and screen printing sectors for graphics, signage, decor, packaging, industrial, corrugated and textile applications.
As the official website of the event proclaims, "Attracting in excess of 18,000 print professionals from 125 countries, this event is recognised by the industry as a key strategic marketing activity to display your innovations across the wide format digital, screen and textile print sector, to a highly qualified audience. " Numbers tell their own story; they also indicate how things stack up.
Roz Guarnori, FESPA's exhibitions director, summarises: "The prevalence of textiles within FESPA has not been an overnight occurrence. FESPA ran its first FESPA Digital Textile Conference in Geneva in 2008 and the launch of a dedicated textile section in 2010- later rebranded as FESPA Textile- gave a specific home within FESPA to the garment printing and decorating community. Eight years on, FESPA remains the destination event for printers interested in everything from soft signage to garment printing, promotional wear to decorative textiles." That's how it began; that's how it is.
Textile is the Key
Textiles would obviously be at the core of FESPA Global Print Expo 2018, and is being highlighted as one of the key industry attractions by the organisers. One of the not-to-be-missed exhibit areas would, naturally, be Print Make Wear, featuring a live production environment. The idea is to enable visitors discover each step of the entire creative process. From the initial design to finished garments and accessories, an integrated theatre, catwalk demonstrations, presentations and a chance to meet the experts would be the key elements of the Print Make Wear exhibit.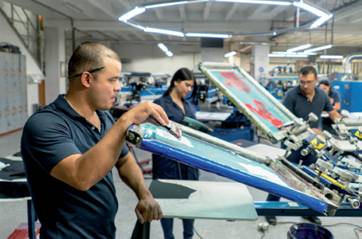 The interactive visitor feature was announced quite late-in February. The objective was laid clear in the official announcement: "In Print Make Wear, FESPA will bring together collaborators from all areas of the printed fashion sector, including fashion brand owners, designers, garment printers and producers, to explore the latest production possibilities, exchange experiences and share knowledge in the interests of a more sustainable fashion value chain. Demonstrating an integrated, end-to-end production environment, the Print Make Wear fast fashion factory will feature a screenprinting carousel, washing and drying equipment, digital direct-to-garment printing, cutting and sewing, and solutions for welding and embellishment." Among those who had confirmed participation even before the announcement were Premier Textiles, Magna Colours, Brother, Juki and Vastex.
The feature has been programmed to be interactive in all ways feasible. Design and technology experts will be present to explain each step of the fashion production process. Besides, a live fashion catwalk will add the 'Wear' element, enabling visitors to see garments and accessories produced in the 'factory'. The items which would be produced here are being designed by Sandra Zomer, herself a FESPA Young Star Award winner who now works for renowned fashion designer Julien MacDonald.
Print Make Wear will be action-packed, with additional seminar sessions providing fashion designers, brand owners and producers a platform "to present the latest trends, technologies and case studies to inspire and inform visitors about printed fashion textiles and garments."
FESPA chief executive Neil Felton had remarked in February, "Trend data from Smithers Pira (FESPA's knowledge partner) shows that the printed textile market today equates to around 30 billion square metres and that, in 2016, printed textile for clothing accounted for half of the total textile industry by volume. Recognising the growth in digital textile printing in recent years, FESPA has been consistently expanding its textile proposition for visitors. Print Make Wear builds on this commitment, focusing specifically on the growth opportunity within so-called 'fast fashion'."
The announcement itself had been made by Duncan MacOwan, head of events at FESPA. He had provided the backdrop: "The fashion and sportswear industry is transitioning rapidly from old-world, supply-led production cycles dependent on traditional analogue techniques, to a demand-centric digitally-enabled production landscape. For FESPA 2018 visitors with aspirations in textile, the addition of this unique live Print Make Wear production environment, supported by the interactive product showcase and expert knowledge-sharing sessions, will elevate awareness of the latest technical developments and highlight the product innovations they enable."
Inside Out
Manufacturers, suppliers, buyers, sellers-all have valid reasons to head for Messe Berlin. It's a great junction for networking, a grand platform to launch products/services from, a bustling melting pot for ideas, and a phenomenal opportunity to learn which way the world is headed.
All this becomes possible only because of the organisers' understanding of the subject. How does FESPA look at textiles, especially the digital aspect of it?
The official event website in early April had posted a statement that ought to set debates to rest. FESPA views textiles as the dominant growth application in the wide format market. "This growth can be viewed as a response to evolving demand in key segments: clothing, household textiles, displays and signage and technical textiles. "
According to FESPA, household textiles covering upholstery, carpets and floor coverings, bed linen and curtains is a fast-developing market segment. "Although it is smaller and growing slower than other key areas, technical textiles still provide clear opportunities for both generalist and specialist print service providers (PSPs), with applications such as automotive fabrics and protective clothing both expanding. " But apparel remains by far the largest segment for digitally printed textiles, "with fashion, haute couture and sportswear representing the most lucrative sub-segments."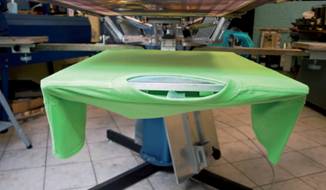 This is an interesting angle to understand fashion from. While lifestyle choices of consumers are overall drivers when it comes to giving a direction to certain trends that shape up the market, a key enabling factor that makes this growth of the fashion market possible is printing. FESPA points this out, contending in the same breath, "It is investment in high-end digital printing equipment that is enabling the acceleration of fashion cycles, delivering photo-realistic images and bespoke detailed garments. Fast turnaround on digital presses means retailers can order shorter initial runs, allowing swift re-orders on fast-selling stock. This result in reduced warehousing costs and less risk of wastage of unsold inventory. This model can be extended even further for online retailers, with garments printed in very short runs as soon as orders have been placed. "
<![if !vml]>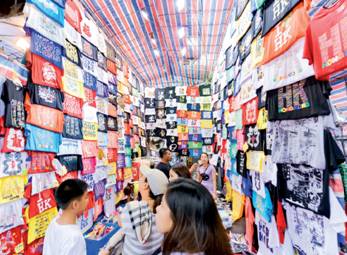 <![endif]>That brings 'fast fashion' into the broad picture. Fast fashion is not just about a well-oiled, streamlined supply chain and analysis of real-time data. Fast fashion brands could go only half-way through in meeting the demand if it were not for the printing technology at hand. "Digital production is a perfect fit for today's fast fashion industry. Brands competing for consumer spend means that the traditional two-season model has been effectively replaced by multiple mini-seasons, with new collections and launches for each one. " This could well be one of the risk factors for manufacturers and suppliers if they are to hinge all financial hopes on fast fashion. Fast fashion, as a fashion segment, is slowly losing currency. If fashion has to become sustainable, fast fashion will have to cede ground to slow fashion. That, however, will take some time to play out.
But, as things stand today, one of the fallouts of the fast fashion boom has been the proliferation of direct-to-garment (DTG) presses. Not only are these optimised for different types of clothing, "advances in web-to-print ordering and job management software allow garment decorators to adopt just-in-time (JIT) delivery approaches, the benefits of which are manifold when it comes to cash flow, investment, reduction in stock holding, minimisation of warehouse space and general operational efficiencies. " All this is becoming increasingly easy to do with new pigment inks. Earlier, digital textile printing was virtually beholden to polyester because of binding properties of dye sublimation inks. The new age inks, however, are just as good for cotton, silk and lycra.
In short, this is one of the best times to be in the business of printing, particularly textiles.