One of the cornerstones of the Fashion Revolution movement has been transparency. The just-published Fashion Transparency Index by the movement shows that top global brands are gradually becoming more transparent. Subir Ghosh takes a closer look at the transparency issue.
Five years is often not enough to gauge the impact of any movement. But in this case, the early signs of change are there for all to see. The Fashion Revolution movement, that first coalesced as an emotive idea and then gathered revolutionary zeal worldwide in the aftermath of the 2013 Rana Plaza tragedy that resulted in the death of over 1,000 workers, observed the fifth Fashion Revolution Week from April 23 to 29 this year. The week kicked off with the launch of the 2018 Fashion Transparency Index indicating that top global brands are gradually improving on transparency.
If it were big and influential brands that found themselves at the receiving end of widespread public anger over the 2013 disaster both in Bangladesh and the world over, then the positive impact of the movement is perceptible: last year not a single brand scored over 50 per cent in the Index; this year there are as many as ten in the 51-60 per cent bracket. The numbers certainly are clear.
But as Carry Somers, co-founder of the Fashion Revolution movement, points out, "We still have a long way to go until everyone who makes our clothes can live and work with dignity, in healthy conditions and without fear of losing their life. Poverty, human rights abuses, lack of union representation, unfair wages, discrimination, environmental pollution, waste and lack of transparency all remain within fashion." Somers' own fashion brand Pachacuti had earlier pioneered radical supply chain transparency, mapping GPS coordinates of each stage of the production process, from the community plantations where the straw grows, through to each Panama hat weaver's house. It is not without reason that the Fashion Revolution movement hinges on transparency.
Branding Transparency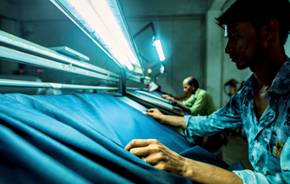 This time out, Adidas and Reebok have scored the highest followed by Puma, H&M, Esprit, Banana Republic, Gap, Old Navy, C&A and Marks & Spencer-all scoring in the 51-60 per cent bracket out of a possible 250 points. Since 2016, Fashion Revolution has tracked leading global brands and benchmarked performance on five key issues: policy and commitments, governance, traceability, know show and fix, and spotlight issues. In 2017, the Index reviewed 100 brands, with the number being enlarged this year to 150. The original brands which were reviewed in 2017 have shown a 5 per cent overall improvement in transparency levels across each section of the methodology.
Somers continues, "The section on transparency is where we have seen the most improvement in transparency since last year's report. Fifty-five of the 150 brands are publishing a list of their 'tier one' factories-in other words, where their clothes are typically cut, sewn and completed. This means 37 per cent of brands and retailers in this report are disclosing who their suppliers are, up from 32 per cent last year (32 brands in total in 2017). This year, 32 of the 150 brands and retailers are publishing over 95 per cent of their 'tier one' suppliers.
"A few brands and retailers are going above and beyond the requirements of the Transparency Pledge. Four brands include an email address or phone number for each 'tier one' supplier; these include Converse, Jordan, Nike (all owned by Nike, Inc.) and Lindex. Three brands-Converse, Jordan, Nike- include the percentage of foreign and migrant workers in each supplier. Although not covered within the scoring of our methodology, we thought it interesting to point out that Marks & Spencer is the only brand/retailer that includes whether each facility on its 'tier one' supplier list has a trade union or workers committee."
There has been a spin-off effect too. Fairtrade India chief executive Abhishek Jani points out, "The movement is gaining traction with younger brands. Pioneers like No Nasties have successfully completed seven years of making 'fair fashion' available to Indian consumers and have been joined by young and exciting brands like Huetrap, Aizome and Tuuda. Milind Soman's brand Deivee has also launched its organic and Fairtrade fashion collection. We are also seeing adoption of sustainable apparel and textiles from newer areas such as school uniforms with Vidyashilp School (in Bengaluru) making a commitment of sourcing Fairtrade uniforms and in the hospitality sector with the Novotel and Ibis Techpark Bengaluru sourcing Fairtrade bath linen across the property."
Jani agrees with Somers, and believes that "we still have our job cut out to get larger mainstream fashion brands in India to make significant commitments towards sustainable and fair fashion and getting more consumers to demand for fair and sustainable fashion as a fundamental requirement that ensures that farmers and factory workers have access to better living conditions and that our environment is also protected. A wide range of sustainable start-up and designer brands have started in the country over the last four to five years. This year with brands like Huetrap, Soul Space, Deivee and Aizome joining the movement we are beginning to break into the next tier of scale and commitment. We are also noticing the change in the conversation with the larger fashion brands in India who are now seriously evaluating making commitments towards sustainable and fair fashion."
Then again, transparency itself needs to be transparent. Asserts Somers, "I think there is less and less greenwashing around. Debbie Coulter [acting head of practice, evidence & learning at the Ethical Trade Initiative (ETI)] said at our Fashion Transparency Index press briefing that it is no longer a question of whether brands are moving towards transparency, but how.
"Disclosing key supplier, supply chain and operational information helps NGOs, unions, local communities and the workers themselves to more swiftly alert brands to human rights and environmental concerns. It can also help to protect brand reputation by enabling the company to more swiftly take action if any unauthorised facilities are being used to make its products."
Adds Jani, "The global Fashion Revolution movement has been successful in getting some of the mainstream brands to demonstrate greater supply chain transparency. Transparency is the starting point for initiating change and implementing a more systematic sustainability programme across the various operators that are involved in the complex textiles value chains."
Indices such as the Fashion Transparency Index also help to motivate brands to improve. That's what Somers found when she compared the 98 brands and retailers that were included in both the 2017 and 2018 Fashion Transparency Index: "We have seen these brands and retailers increase their level of transparency by an average of approximately 5 per cent overall and across each section of the methodology-suggesting that inclusion in the Index has influenced brands and retailers to disclose more information." Through this index, Fashion Revolution wants to see fashion brands and retailers increase levels of supply chain transparency and communications, and improved scores year on year. "We hope brands will be pushed in a more positive direction towards a fundamental shift in the way the system works, beginning with being more transparent."
A Cascading Effect
All this has a bearing on sustainability.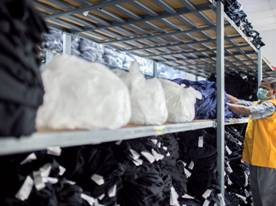 Transparency goes hand in hand with sustainability for Cibi Karthic, director of Huetrap: "Without transparency, sustainability means nothing. We try to make every process as transparent as possible. We source from Eastman Exports, who believe in a transparent and sustainable manufacturing process. Our products are dyed using 90 per cent recycled water and 10 per cent fresh water. So, every kg of fabric is dyed with less than 5 litres of fresh water (30-80 litre is the global average). Efficient processes lead to 10 per cent less energy consumed during the manufacturing process. And around 20 per cent of the energy used across the production process is from renewable sources."
Aizome founder Akshat Chaudhary thinks along similar lines, "Sustainability and transparency are two sides of the same coin. Unless we create systems that are transparent, our journey towards sustainability has not even started. As a company, we ensure that our entire supply chain is clean, transparent and traceable. All our organic, Fairtrade yarn is purchased through GOTS and Fairtrade-certified vendors following the required norms of traceability. We are a Bluesign system partner now through which we will be able to produce fabrics using only clean chemistry, which has minimal impact on the environment. Our products are transparently produced and are also traceable."
For Chaudhary, understanding the question of sustainability is key. "My understanding of sustainability is the longevity of the resources we have. To ensure that we must reuse, recycle and reduce our dependability on economic, social and environmental resources. It is imperative to preserve natural resources, and to have clean air and water for all. The textiles industry is known to be a polluting industry. As a part of our commitment to the environment, we only use 'clean chemistry' and develop business process using sustainable means in a transparent manner."
Naturally, his Aizome project fits into his idea of sustainability. "Every garment produced is clean and sustainable. For example, in one Aizome jeans, the fabric is made using 100 per cent Fairtrade organic cotton yarn, and environment-friendly chemical recipes. Trims like buttons and rivets are free from nickel and lead, and labels, hangtags and packaging materials are made from recycled materials. We intend to maintain a minimal footprint on our ecosystem."
And, likewise for No Nasties. Founder Apurva Kothari underlines, "Our work is built on this very foundation-we believe and hope that everyone should follow an organic and fair path to production of our food and clothes (and extend that to other aspects of our life too). Say no to things that don't make sense. If it's not ethical-say no. If it's not eco-friendly-say no. And why not, when we have so many amazing alternatives that make sense!?"
No Nasties, for its part, follows a two-pronged approach towards ensuring that the supply chain remains sustainable: "We work directly with our supply chain-one farmer co-op, one factory. We know the people we work with and build mutual trust. No middlemen.We only buy from certified organic (GOTS) and Fairtrade (FLO) supply chain partners-the certification process has more eyes on the entire process than we can ourselves." Kothari agrees that without transparency, sustainability means zilch. "We've always been fully transparent about our supply chain-all the information has been on our website since the day we launched seven years ago."
Easier said than done, if sustainability is to be seen as a lifestyle issue. Says Chaudhary, "Creating a sustainable lifestyle takes a lifelong commitment-to learning, experimenting, exploring, committing to increasingly sustainable practices and, above all, living. Sustainable living is a lifestyle that attempts to reduce an individual's or society's use of the earth's natural resources and personal resources. It requires a complete shift in how we live our lives. It has perceptual, emotional, behavioural, and international dimensions." Kothari, however, believes it is a survival issue.
And governments need to act too. Says Somers, "We have certainly seen improvements in the fashion industry in the past five years as more brands are understanding the importance of publishing information about their suppliers and their codes of practice, coupled with pressure from consumers and from legislation such as the Modern Slavery Act and California Transparency in Supply Chains Act. We hope the Fashion Transparency Index helps to demonstrate the need for mandatory due diligence and reporting. We would also like to see governments make companies and their executives legally responsible for what happens in the company's supply chains, regardless of whether the company has direct control or where in the world abuses may be happening."
Jani continues in the same vein: "Sustainability is the urgent and critical requirement of the hour affecting everyone on the planet-though some (the marginal and the vulnerable communities) more than others. The need of the hour is not to work in silos or with selective stakeholders, but for all stakeholders to work on their own and to forge partnerships wherever possible to promote sustainability. We need: governments to formulate and assess their regulatory paradigm and to fund and support sustainability initiatives (where catering to the externalities); industry to undertake R&D and adopt continuously improving sustainability practices; consumers to demand and then vote with their wallets for more sustainable lifestyle choices and civil society organisations to work on the development agenda across the fashion value-chain."
At home
For a country that is a major player in cotton, textiles and apparel, the impact of the global Fashion Revolution movement becomes important. So, what's happening in India?
Jani points out. "India has a diversity of production systems and brands. Some of the artisanal production-based brands have embraced the movement, and you can see that the social media is abuzz with these brands supporting the sustainable fashion movement. At Fairtrade India we are seeing a growing number of brands launch their Fair Fashion collections or committing to going 100 per cent Fairtrade for their entire collection. Further, the brands are embracing the concept of being more transparent about their supply chains and talking about the impact generated through Fairtrade and the Premium benefits to farmers on their social media platforms.
"So, though the sustainability movement in India is at a nascent stage, it is slowly and steadily being embraced by brands across the FMCG and fashion industries. Fairtrade India has been promoting systematic and holistic sustainability practices in India through our Fairtrade Certification and Standards, and has always focused on this being the only way production needs to be done. Our emphasis has been on mainstreaming sustainable production and consumption (SDG 12). So, while the sustainability journey of the garment factories in India may have been started off to cater to the international markets where consumer engagement with sustainability has been historically more, we are definitely seeing traction in the Indian market as well. It's only a matter of time for the sustainability dialogue to be a part of the mainstream in India also."
But are Indians lagging behind in terms of awareness and lifestyle changes? Kothari reacts, "It's unfair to use the word 'lagging'-we, Indian citizens, have so many harsh realities and challenges in our daily lives, but yet are ethically-minded and socially-conscious on the whole. There are definitely other countries that have become extremely aware of the social and environmental impact of our lifestyle choices, but most of them are wealthy nations not dealing with as much strife as we do, and I think that has an impact on the consciousness too given there is more mind-space to think about these issues. But Indian consumers are getting more conscious-the trend is very positive."
Karthic looks at the subject from a different angle. He contends, "I don't think we are lagging behind a lot in terms of awareness. But in a lot of instances, being sustainable comes with an additional financial cost. For example, treating the dirty water in the dyeing plant is expensive. But, we have to do it because if we don't, the cost is a dirtier future. In India, a big part of the population cannot afford a completely sustainable lifestyle even though they may be aware of the consequences. I think that's the biggest challenge- to make sustainability affordable."
Challenges abound, of course. Chaudhary chips in: "I feel the biggest challenge is the demand of sustainable products, especially in the Indian market. In a price-sensitive market, it will take some time to optimise the costs of manufacturing."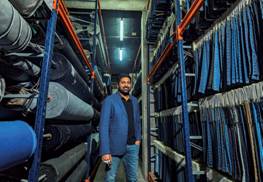 To Kothari, the main problem is green-washing. "As the market size for sustainable clothing grows, bigger brands are entering it with their own spin of sustainability and really diluting the values while pumping in their marketing dollars to make it sound sustainable. There's a lot of noise in the space and it's going to be increasingly difficult for consumers to know the good from the bad.
"I think certifications and labels like Fairtrade are key to build trust in this noisy space. Take the example of the green dot vs the red dot for food-a simple and effective indicator for veg vs non-veg food. That's how simple it needs to be for consumers, but that level of simplicity takes a lot of hard work for trust-building, certification, transparency."
The Need to go on
The show, however, must go on. Concludes Somers, "In the 2018 Fashion Transparency Index which ranked 150 of the biggest fashion brands and retailers according to how much they disclose about their social and environmental policies, practices and impact, 12 brands scored zero per cent and 48 brands and retailers (32 per cent) are scoring in the bottom 0-10 per cent range. This shows that many brands and retailers are still lagging far behind, disclosing very little about their social and environmental practices. This is why we still need a Fashion Revolution and are planning to make this Fashion Revolution Week bigger and bolder than ever before."