Operating and managing a mill has its challenges, but skilled, loyal staff and their experience helped forming and maintaining successful businesses.
The increasing demand for flexibility and quality in the textile industry is nowadays usually confronted with lack of skilled staff and high fluctuation thereof. One approach to address the issue is using data driven decisions in combination with the experience available.
Customers still using a shift book or wondering what happened during the night shift, have the step of digitisation ahead of them - gathering available information digitally.
T-Data is Trutzschler's web based monitoring system and helps customers focus on the bottlenecks of production and concentrates the resources on the right spot.
With the new My Production app, upper management sees at one glance whether their production is running smoothly or not. For this purpose, the app uses a very simple colour coding: a green indicator means "everything is ok", a red-coloured indicator means "Act now".
It has never been easier to optimise settings and reduce downtimes or to monitor trends in production and malfunctions. Production processes can be analysed efficiently by viewing data over a specific period.
The user can either choose between one of the ready-to-use standard profiles for production, maintenance or quality or easily create individual charts and tables with data of interest.
A standard external interface allows data to be used in customer monitoring, ERP or maintenance systems. The possibilities are endless.
Obviously, T-Data takes your data to the next level, but how does it get there?
High-end sensors made by Trutzschler
A textile machine - irrelevant of its manufacturer - contains a high number of sensors to fulfil its purpose. Trutzschler develops and manufactures additional high-end sensors, to increase the data quality and thus enables customers to interact early in the process chain.
The card's NepControl sensor for instance, monitors the number of neps, seed coats and trash particles in the card sliver. Deviations are measured in real time and not hours or days later during sporadic laboratory tests. This ensures that each metre of sliver in the can has been checked. In conjunction with T-Data, one can instantly see a potential quality decrease of the incoming material or if certain machines are affected by wearing.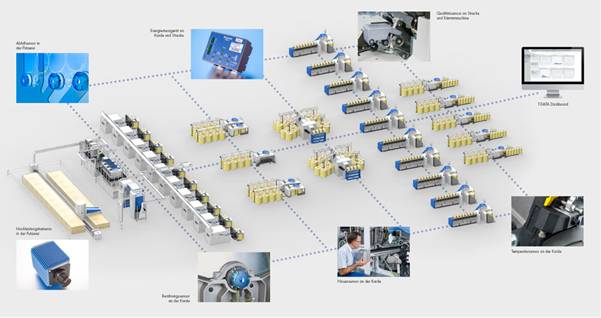 The data monitored by those sensors is sent through Gateways to T-Data and stored in a high performance database, only one click away.
The next level has been reached
One of Trutzschler's customers in Turkey has integrated T-Data into their ERP and production planning system.
Orders are generated and tracked through the production process using bar code scanners in the workshop. Once an order has been scanned, T-Data tracks the production and quality data for this specific order, allowing an easy analysis at any time.
The progress itself is reported to the production planning system, which then assigns the next order.
As shown in this example, the exchange of information even throughout data systems is an upcoming topic. But one can start small with some simple steps towards data driven decisions.
5 simple steps to data driven decisions - Increasing mill performance and ready-to-use
1. The new My Production app provides a way to be best informed anywhere
2. Use T-Data's fault analysis to focus on most affected machines and faults in the mill
3. Let T-Data notify staff via e-mail/SMS in case of malfunctions, set point monitoring, maintenance, etc.
4. Receive shift and can data reports via e-mail or analyse inside T-Data
5. Use real-time data during your discussions and meetings
Ready to shape the future
The main goal of Industry 4.0 in the upcoming years will be, to optimise machines and supply chains, reaching the level of autonomy. This can be achieved with the concept of the Internet of Things (IoT), which is a network of connected devices exchanging information and orchestrating themselves.
This concept has been in use in the Trutzschler Line Commander long before the term Industry 4.0 was publicly known. Merged with new technologies and the resulting possibilities, Trutzschler is ready to shape the future.
About the author:Markus Mosebach is working as Project Manager- Software at Trutzschler, Germany and has been with the company for over 6 years. He is extremely passionate about new technologies and innovative approaches.