E-commerce has had a disruptive effect on traditional retail market. Apart from market places, there has developed a market for niche services to serve the unique requirements of customers. As customer orientation has evolved, there has been much development in recommendation systems to serve the personal preferences of customers. However, traditional recommender systems are limited in their ability to predict the liking of customers especially with respect to creative domains such as fashion.
This white paper describes Kid Closet's view of evolving fashion trends and customer requirements especially in the kids' space in India. It discusses how to leverage the dynamics that are transforming the existing market, in order to cater to the unique requirements of Indian customers.
Fashion and digital
Online purchase is still in the early to middle stages of evolution in India, with a high growth expected in the next 5 years. A key driver to introducing users to online purchase is apparel and footwear, it being the first category 28 per cent of times to introduces most of the people to online buying.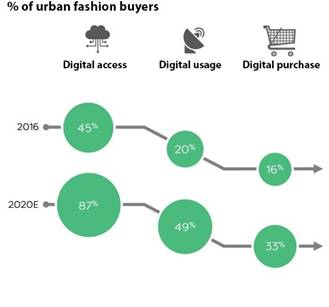 Source: BCG CCI Digital Influence Study
There are three stages of an online purchase: 1) digital access, 2) digital usage, and 3) digital purchase.
Fashion buyers with digitalaccess, i.e., those who have internet access are said to be around 90 per cent by year 2020. Likewise, digitalusage, that refers to fashion buyers using internet in their purchase process, irrespective of whether these users end up making their purchase from the internet or not, will increase to 50 per cent of all the fashion buyers by year 2020.
As a result, it is expected that ~USD 30 billion of fashion spend in India would be influencedbecause of digital usageby year 2020.
Digital purchase, refers to fashion buyers who purchase fashion online. Percentage of urban fashion category buyers who will purchase online is said to be one-third by year 2020. Asa result, fashion e-commerce market size in Indiais expected to reach USD 14 billion by 2020.
New adopters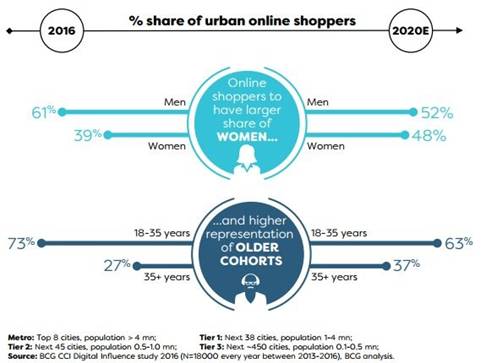 By year 2020, number of consumers purchasing fashion online will more than double. Additionally, share of women and older cohort (35 years of age) would see a drastic increase.
This change in demographics would have an important impact on online purchase of kids' apparel, since 70-80 per cent of kidswear is bought by women. Additionally, ~60 per cent of kidswear is bought by older cohorts (i.e. 35 years of age). This would lead to a rapid expansion in the online market for kidswear. The kid's clothing section is already witnessing increased diversification and the arrival of numerous foreign and home-grown brands.
Problems as opportunities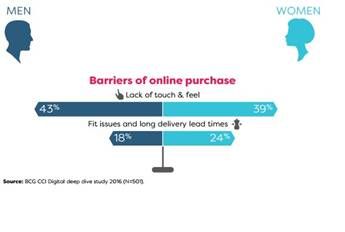 BCG study has identified lack of touch & feel and fit issues as key barriers of online purchase in fashion category. Lack of touch & feel together with skepticism on online e-commerce exacerbated by past incidences where the goods didn't meet to expectations.
This is more so in case of kids, where parents are very much sensitive about the quality of fabric.
As an aside, there is also the problem of plenty with many non-relevant options being shown and a lack of accurate navigation to guide the shopper, leading to confusion and summary of first pilot frustration among shoppers.
Even the brick and mortar stores present their own set of challenges, primarily time and effort to go to a retail store, problem of plenty, kids getting fussy about apparel.
Path to market
Developing private brands is emerging as a strategy by e-commerce players to garner higher margins and fill out gaps in consumer need. A unique connect with the consumers together with data analytics to understand consumer needs gives us a unique opportunity for development of designs that finds high acceptability with the customers.
References:
Credit-suisse.com
Economictimes.indiatimes.com
Dl.acm.org
Media-publications.bcg.com
Jonahberger.com
About the author:
Kid Closet is India's first personal stylist dedicated to all smart kiddos. We celebrate the spirit of kids by making them look their best every day with our uniquely picked pieces. Kid Closet celebrates the joy of dressing up from early childhood and tries to bring the right styles for the little dreamers at the right time. While mamas can chill at home with the kids, we work for you to curate each closet with utmost perfection and love.