E-commerce has had a disruptive effect on traditional retail market. Apart from market places, there has developed a market for niche services to serve the unique requirements of customers. As customer orientation has evolved, there has been much development in recommendation systems to serve the personal preferences of customers. However, traditional recommender systems are limited in their ability to predict the liking of customers especially with respect to creative domains such as fashion.
This white paper describes Kid Closet's view of evolving fashion trends and customer requirements especially in the kids' space in India. It discusses how to leverage the dynamics that are transforming the existing market, in order to cater to the unique requirements of Indian customers.
Fashion and digital
Online purchase is still in the early to middle stages of evolution in India, with a high growth expected in the next 5 years. A key driver to introducing users to online purchase is apparel and footwear, it being the first category 28 per cent of times to introduces most of the people to online buying.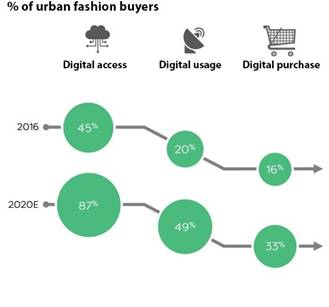 Source: BCG CCI Digital Influence Study
There are three stages of an online purchase: 1) digital access, 2) digital usage, and 3) digital purchase.
Fashion buyers with digitalaccess, i.e., those who have internet access are said to be around 90 per cent by year 2020. Likewise, digitalusage, that refers to fashion buyers using internet in their purchase process, irrespective of whether these users end up making their purchase from the internet or not, will increase to 50 per cent of all the fashion buyers by year 2020.
As a result, it is expected that ~USD 30 billion of fashion spend in India would be influencedbecause of digital usageby year 2020.
Digital purchase, refers to fashion buyers who purchase fashion online. Percentage of urban fashion category buyers who will purchase online is said to be one-third by year 2020. Asa result, fashion e-commerce market size in Indiais expected to reach USD 14 billion by 2020.