The latest index from Wazir Advisors talks about trade performance of India's textiles and apparel sector and the overall economy of the country. It also looks at the import scenario of major textiles and apparel markets and raw material price trends prevailing in the sector.
The Indian textiles and apparel industry has exhibited growth in overall sales and EBIDTA levels during the first quarter of financial year 2018-19. However, the scenario is different in terms of trade. On the one hand, apparel exports have declined significantly; on the other, there has been a sharp rise in apparel imports in first quarter of 2018-19. The issue of declining exports and rising imports needs to be addressed by the government in order to revive the Indian textiles and apparel industry's performance.
These are the findings of the latest Wazir Textile Index (WTI), an index developed by Wazir Advisors for assessing the overall financial performance of the Indian textiles sector. This WTI comprises cumulative financial performance of the top ten Indian textile companies along with an update on market performance of the sector for first quarter of financial year 2018-19 (Q1 FY19).
The WTI takes the collective performance of select top ten listed textile companies (by sales) of 2015-16 as the base/benchmark which is represented by the base Index number 100. The base is taken for each of the quarters and for full financial year performance of the companies in 2015-16. The financial performance of the industry is benchmarked to this base number to assess quarterly (Q1), half yearly (H1), nine monthly (9M) and yearly performance (FY) for future years against the set benchmark. It includes following three components: WTI Sales: consolidated sales index of top ten companies; WTI EBITDA: Consolidated EBITDA (earnings before interest, depreciation, taxes and amortisation) index; WTI Cost: consolidated index for cost of raw material, manpower and others.
Overall sales and EBIDTA of top companies have grown in Q1FY19
Based on detailed financial analysis, the WTI Sales was calculated to be 119.8 in Q1 FY19 as compared to 113.9 in Q1 FY18, which indicates that the overall consolidated sales increased by 5 per cent during the period April-June this year.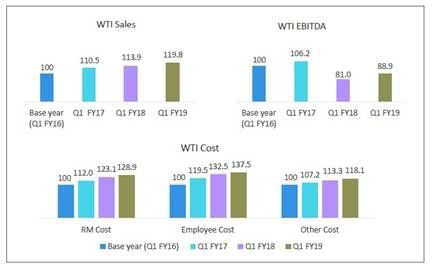 The consolidated WTI EBITDA stood at 88.9 in Q1 FY19 as compared to 81 in Q1FY18. EBIDTA margins have rebounded and increased by 10 per cent in Q1 FY19 as compared to Q1 FY18. The WTI Cost for raw material (RM), manpower and others were 128.9, 137.5 and 118.1 in Q1 FY19. The y-o-y (year-on-year) increase of about 4-5 per cent was observed in the RM and manpower cost.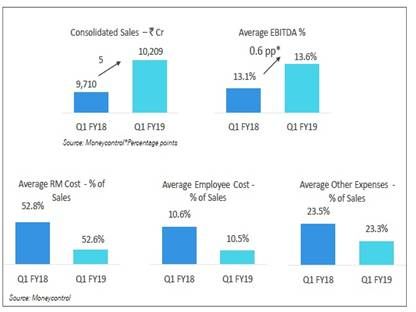 The consolidated sales of the top 10 selected companies was ₹10,209 crore ($1,527 million) (at the exchange rate of ₹1= $0.015 for Q1 FY19; ₹1= $0.016 for Q1 FY18)in Q1 FY19 as compared to ₹9,710 crore ($1,453 million) in Q1 FY18, growing by 5 per cent y-o-y. As compared to Q1 FY18, average EBIDTA margin increased by 0.6 percentage points to reach 13.6 per cent in Q1 FY19. The consolidated RM cost constituted 52.6 per cent of sales in Q1 FY19, while consolidated manpower cost constituted 10.5 per cent of sales. Raw material and manpower cost, as percentage of sales have remained almost stagnant during Q1 FY19 as compared to Q1 FY18. This can be seen in the reviving profitability of the top Indian textile companies.
Economy witnessed impressive growth, but industrial production for sector declined
In Q1 FY19, India's real gross domestic product (GDP) increased from ₹31.18 lakh crore ($466 billion) to ₹33.74 lakh crore ($505 billion) from last year's quarter 1, witnessing an impressive growth of 8.2 per cent.
The average index of industrial production (IIP) for textiles has declined marginally by 0.4 per cent while IIP for apparel has declined by 5 per cent in Q1 FY19 compared to Q1 FY18. The decreased IIP may be attributed to lower market demand immediately after GST (goods and services tax) introduction, especially for apparel which saw significant decline in production post-GST. However, the government has taken several steps during the last year to boost textiles and apparel production in the country.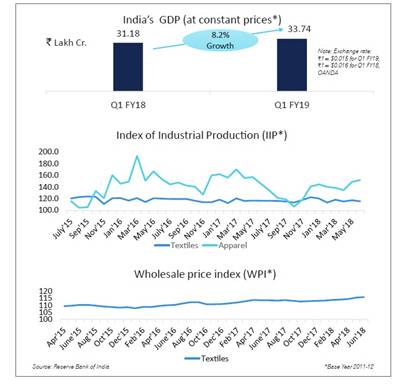 Last year, the government had increased the import duty on various categories of man-made fabrics from 10 per cent to 20 per cent. However, many HS codes in the man-made category were left out through which imports may continue. Currently, most of the Indian designer brands source fabric and other textile items from countries like China because of their lower prices and high quality.
This year also, the government doubled the import duty on as many as 400 textiles and apparel products to 20 per cent to boost local manufacturing. Earlier, the import duty was 10 per cent on the items. Most of the products on which import duties were hiked belonged to the apparel category. This move is a welcome step by the government as it would give an edge to domestic garment manufacturers because imported products will be costlier.
Due to the increase in raw material prices, the average wholesale price index (WPI) for textiles has shown an increase of 1 per cent in Q1 FY19 compared to Q1 FY18.
Indian exports of textiles and apparel products declined in Q1 FY19
Indian exports of textiles and apparel products stood at $9.48 billion in Q1 FY19, declining by 1 per cent as compared to same duration last year.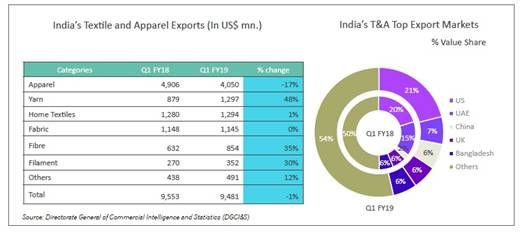 Exports of all categories except apparel and fabric have grown in Q1 FY19 as compared to Q1 FY18. Overall T&A exports have declined by 1 per cent in the first quarter of FY 2018-19. Apparel exports saw a decline of 17 per cent this quarter. The decline in apparel exports is largely attributed to subdued global demand as well as reduced competitiveness of Indian apparel exporters post-GST, due to reduction in duty drawback. Cotton yarn exports increased significantly by 54 per cent.
The US, the UAE, China and the UK remain the top export destinations for India's T&A products. India's exports to China grew by 4 percentage points in Q1 FY19 as compared to Q1 FY18. However, the same to the UAE declined significantly by 8 per cent.
India's imports of T&A products continue to rise, after-effects of GST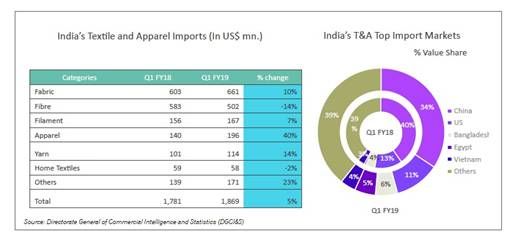 India imported textiles and apparel products worth $1.8 billion in Q1FY19, registering a growth of 5 per cent as compared to Q1 FY18.
The import of all categories except fibre and home textiles have increased in Q1 FY19. Apparel imports increased sharply by 40 per cent primarily due to impact of reduced effective import duties post-GST for imports from countries like Bangladesh and China. Imports have been rising significantly since FY18.
Specially, apparel imports saw an y-o-y increase of 30 per cent in FY18 as compared to FY17, while fabric imports grew by 27 per cent during the same period. This quarter also witnessed tremendous surge in apparel imports, i.e. by 40 per cent compared to previous year.
China continues to be the largest import partner for India; however, imports from China declined by 10 per cent y-o-y. Egypt emerged as a significant supplier in Q1FY 2018-19, accounting for a 5 per cent share. Textile and apparel imports from China declined by 10 per cent in Q1 FY19 as compared to Q1 FY18. However, the same from Bangladesh climbed by 40 per cent during the period. Bangladesh's duty-free access to India without any sourcing restrictions have caused apparel imports to rise heavily allowing backdoor entry of Chinese textiles into India. The increase in apparel imports during the post-GST period is a cause for concern and needs to be addressed.
T&A imports of US and EU have increased slightly in FY19 till date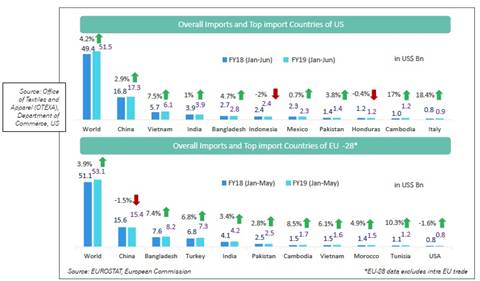 US imports of textiles and apparel have increased by 4.2 per cent in January to June 2018 period, while EU imports increased by 3.9 per cent during January to May 2018. Among the top importers, Vietnam has shown a high growth of 7.5 per cent in US imports, while China and India's exports to the US have increased by 2.9 per cent and 1 per cent respectively. Bangladesh's textile and apparel exports to US also grew by 4.7 per cent.
The overall imports of EU, pegged at $53.1 billion in 2018 (January-May), witnessed y-o-y increase of 3.9 per cent. China is the largest import partner for both the US and EU. India's T&A exports to EU increased by 3.4 per cent in FY19 till date while that of China declined by 1.5 per cent. India's lower growth compared to competing nations shows further increasing competition in the export market for India. Cambodia, Bangladesh and Turkey witnessed significant growth in EU's textile and apparel imports i.e. 8.5 per cent, 7.4 per cent and 6.8 per cent respectively.
Raw material prices increased over the first quarter of FY19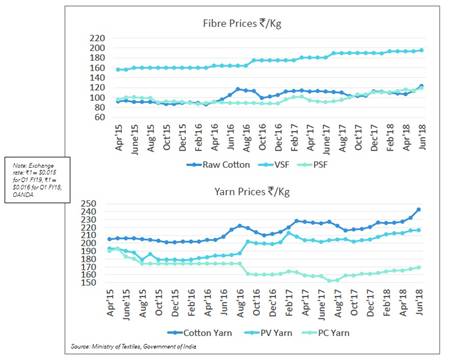 Overall, there was an increase in raw material prices in Q1 FY19 compared to Q1 FY18. On an average basis, raw cotton, viscose staple fibre and polyester staple fibre prices increased by 2 per cent, 7 per cent and 26 per cent respectively in Q1 FY19.
Similarly, there was an increase in cotton yarn, polyester viscose blended yarn and polyester cotton blended yarn average prices which grew at a rate of 4 per cent, 6 per cent and 5 per cent respectively in Q1 FY19.