The latest index from Wazir Advisors talks about trade performance of India's textiles and apparel sector and the overall economy of the country. It also looks at the import scenario of major textiles and apparel markets and raw material price trends prevailing in the sector.
The Indian textiles and apparel industry has exhibited growth in overall sales and EBIDTA levels during the first quarter of financial year 2018-19. However, the scenario is different in terms of trade. On the one hand, apparel exports have declined significantly; on the other, there has been a sharp rise in apparel imports in first quarter of 2018-19. The issue of declining exports and rising imports needs to be addressed by the government in order to revive the Indian textiles and apparel industry's performance.
These are the findings of the latest Wazir Textile Index (WTI), an index developed by Wazir Advisors for assessing the overall financial performance of the Indian textiles sector. This WTI comprises cumulative financial performance of the top ten Indian textile companies along with an update on market performance of the sector for first quarter of financial year 2018-19 (Q1 FY19).
The WTI takes the collective performance of select top ten listed textile companies (by sales) of 2015-16 as the base/benchmark which is represented by the base Index number 100. The base is taken for each of the quarters and for full financial year performance of the companies in 2015-16. The financial performance of the industry is benchmarked to this base number to assess quarterly (Q1), half yearly (H1), nine monthly (9M) and yearly performance (FY) for future years against the set benchmark. It includes following three components: WTI Sales: consolidated sales index of top ten companies; WTI EBITDA: Consolidated EBITDA (earnings before interest, depreciation, taxes and amortisation) index; WTI Cost: consolidated index for cost of raw material, manpower and others.
Overall sales and EBIDTA of top companies have grown in Q1FY19
Based on detailed financial analysis, the WTI Sales was calculated to be 119.8 in Q1 FY19 as compared to 113.9 in Q1 FY18, which indicates that the overall consolidated sales increased by 5 per cent during the period April-June this year.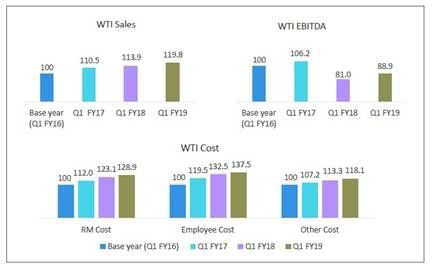 The consolidated WTI EBITDA stood at 88.9 in Q1 FY19 as compared to 81 in Q1FY18. EBIDTA margins have rebounded and increased by 10 per cent in Q1 FY19 as compared to Q1 FY18. The WTI Cost for raw material (RM), manpower and others were 128.9, 137.5 and 118.1 in Q1 FY19. The y-o-y (year-on-year) increase of about 4-5 per cent was observed in the RM and manpower cost.