The former Soviet republic of Belarus does not play the same role it once did, but it is slowly emerging as a formidable technical textiles producer, reports Jozef De Coster from capital Minsk.
International interest in the fibres, textiles and garment industry of Belarus is quite limited, in spite of the important role this industry once played within the centrallyplanned economy of the erstwhile Soviet Union. There is, however, one major textiles country that could rapidly transform from a quiet observer to a polyvalent actor in Belarus: China. Just like in the other 67 countries encompassed by the New Silk Road Initiative (One Belt One Road), China has an attentive presence in Belarus.
Though Belarus' textiles and clothing industry has a modest position (4.4 per cent) in the structure of the country's manufacturing industry, it's closely followed up by President Alexander Lukashenko, who originates from the textiles region of Vitebsk. Since Lukashenko took over the reins in Belarus nearly 25 years ago (1994), the performance of the textiles and clothing industry has rarely been a source of joy or national pride. The annual production of most textile items went down. The total turnover of the textiles, apparel, fur and leather industry was nearly halved, from 7.0 billion roubles in 2010 to 3.7 billion roubles in 2017, the equivalent of $1.75 billion. Employment in the textiles and clothing sector has been dwindling from 104,200 workers in 2010 to 75,500 workers in 2015.
Many of the state-owned companies that still dominate Belarus' synthetic fibre industry as well as its wool and linen spinning & weaving sector, could only survive thanks to generous government subventions. Many firms continue suffering from overstaffing and inefficiency, obsolete equipment and large debts. Take Kamvol, one of the largest producers of pure wool and wool blend fabrics in the former Soviet Union. According to local publications, during Soviet times, the company produced almost 22 million linear metres of fabrics annually. Then, volumes significantly declined. In 2015 Kamvol reportedly produced 10 times less than during its heydays. When in 2012 Lukashenko visited Kamvol, he was so enraged at the poor state of affairs that he fired the plant's management and the leadership of the coordinating Light Industry concern Bellegprom. But state financing continued. Since 2015, the government reportedly still has invested $160 million in Kamvol.
Belarus' production of selected industrial products

International brands
Apparel chains like H&M and Zara (Inditex) do not spurn the modest Belarussian market: they have their own shop in capital Minsk, which counts 2 million inhabitants. In the shopping malls in Minsk one finds more foreign than local clothing brands. Take Prime Hall, close to the National Exhibition Centre BelExpo. The Belarussian top brand MileVitsa (lingerie) is nearly invisible among dozens of international brands: Armani, Benetton, Calvin Klein, Desigual, Lacoste, Levi's, Mango, Guess, Hugo Boss, Pierre Cardin, Stefanel, Tommy Hilfiger.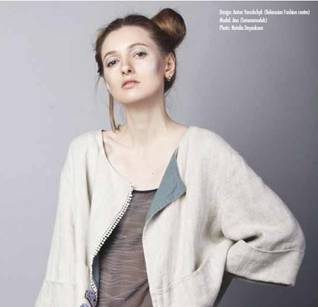 Fashion journalist Giorgia Cantarini, who at the end of 2017 reported for Vogue Italia about the Belarus Fashion Week in Minsk, noted a growing desire for change. She wrote: "One can really feel the buzzing energy of a city that seeks to expand its shopping destinations."
E-commerce is growing fast in the Belarus' fashion market. Vladimir Kazakov, director Market Research of the Schneider conducted a comparative study on this phenomenon.
Strong in linen
Though dating from the Soviet times, the Fashion Centre of Belarus, located in the heart of Minsk, still enjoys much prestige. It eagerly continues defending the national fashion image, which is strongly linked to linen and wool. Belarus is one of the top five producers worldwide of flax fibre. Three designers create fashion designs which are immediately transformed into clothing items in a small factory located in the Fashion Centre. In the nearby shop consumers can buy beautiful linen dresses for an average price of $70-80.
Manager Anastasia Apanovich of the integrated models agency Tamara has no illusions about the present impact of the Fashion Centre on the purchasing behaviour of the Belarussian clothing consumer. "The time that the Fashion Centre could inspire and direct the national fashion trends is something of the past," she says. It's not easy for Belarussian fashion models to economically survive. Except during the bi-annual Belarus Fashion Week, demand for fashion models is low. Therefore, some professional models try their chance in richer countries, forcing themselves to do the additional effort of learning foreign languages and slimming down.
In an effort to become less dependent on the Russian market, Belarussian clothing exporters try to enhance the fashion content of their products. In July 2018, during the trade fair Milano Unica, the Belarus' concern Bellegprom and the Italian Textile and Fashion Federation (Sistema Moda Italia) discussed the prospects for cooperation in 2019.
Slowly opening up
It's easy to understand why even Indian textiles and garment companies with a global outlook, are not that much interested in Belarus, a country that gained independence from the Soviet Union in 1991. Belarus is a small market with only 9.5 million consumers. The purchasing power of most Belarussians is weak. Though Belarus is opening up to the world (since the end of July 2018 visa-free travel for foreigners has been extended from five to 30 days), its international trade in both directions is still strongly focused on Russia and other CIS-countries (Commonwealth of Independent States). Due to its cold climate, Belarus traditionally prefers textile products of flax fibre or wool.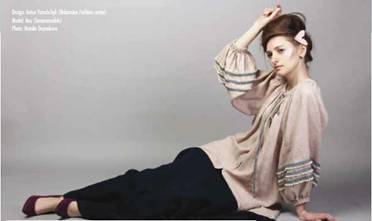 Belarus is not a good springboard to the neighbouring EU countries. Trade relations between Belarus, since it is governed by authoritarian President Lukashenko, and the EU are stressed. Since 2010, the EU has imposed unilateral import quotas for Belarus covering trade in textiles and clothing products.
It's well known that political, economic and social freedoms are severely restricted in Belarus. Former US secretary of state Condoleezza Rice once labeled Belarus as "Europe's last dictatorship". There is no separation of powers between the executive, the judiciary and the legislature. The lack of freedom is obviously a problem for many citizens of Belarus, but apparently not for the Chinese and other foreign companies who want to do business in Belarus. The Chinese presence in Minsk is very visible, since a number of road indications add Chinese characters to the words in Belarussian (in Cyrillic letters) and English.
Would-be investors who like taking some risks can apply for participation in the privatisation processes. Most of the Belarus textiles sector is still mainly in state ownership. Bellegprom is well aware of the pressing need to accelerate the privatisation process.
Some strengths of the sector
The main comparative advantages of the Belarussian textiles and clothing sector industry are: low labour costs, a qualified and disciplined workforce, and the strong links with Russian and other exUSSR markets. In its publication 'Belarus Business Partner', the Minsk Chamber of Commerce and Industry presents a lot of facts and figures to prove that Belarus is an attractive business partner. To begin with, the country has a highly qualified and disciplined workforce, while the labour cost is far lower than anywhere in Europe (with the exception of Ukraine and Moldavia). As on January 1, 2018, the official monthly minimum wage went up from 265 roubles to 305 roubles (the current equivalent of $145). But apparel and textiles workers earn on average much more than the minimum wage.
According to Belstat, in March 2018 the average monthly wage in the Belarus' textile and wearing apparel industry amounted to 679.10 roubles or $322. However, according to the
private Minsk-based consulting company Enter Invest, the average wage in the Belarussian textiles and clothing industry is almost 1.5 times lower than the average wage in the country.
Taking into account that Belarus is an ex-Soviet State, it has a surprisingly high score in the World Bank's Doing Business Ranking (38th position in the 2018 report). Belarus also has made serious efforts to excel as an IT nation and to develop big data and e-commerce activities.
Of late, Belarus has systematically been improving the cooperation and communication between its textiles and clothing industry and the academic world, thanks to its participation in the EU-sponsored UNITE project. According to Dmitry Ryklin, head of the department of textile technology of Vitebsk State Technological University, there are a lot of colleges with sewing programmes, and three colleges with textile programmes. Higher textile education is provided by the Vitebsk State University (spinning, weaving, knitting, garments manufacturing, textile design) and by the Mogilev State University (fibres manufacturing, textile dyeing and finishing).
The EU has introduced an Outward Processing Trade (OPT) regime for Belarus. This regime provides for additional import quota amounts for textiles and clothing manufacturers within the EU so that they can produce garments in Belarus that will return to the EU after processing. Under this scheme, the German Langheinrich Vertriebs GmbH produces high-quality table-cloth and linen for the contract business segment in Belarus. The leading manufacturer of sportswear Audimas is one of the companies from neighbouring Lithuania, which are producing textiles and clothing in Belarus.
The investment company Enter, from Minsk, mentions that the Belarussian company Slavianka is making clothing for brands like Hugo Boss and Pierre Cardin; Mona is producing for Gerry Weber and Dinamo Programa Orsha for customers like Adidas, Nike, Diesel. The sector sets great expectations on the abolition of quotas for Belarussian textiles and clothing as planned by the European Union. This abolition would open more opportunities for Outward Processing.
Crossroad function
Filip Vandenbroele, a dynamic Belgian businessman and consultant, who for 14 years served as a honorary consul for Belgium in Belarus, points out that the geographical and digital crossroad function of Belarus is a major trump-card. Belarus neighbours the EU; it has direct borders with Poland and the Baltic EU members Lithuania and Latvia. As a member of EAEU (Eurasian Economic Union), Belarus has not only free access to the large Russian market, but also to the markets of Kazakhstan, Armenia and Kyrgyzstan. Thanks to the CIS Free Trade Zone Treaty, it enjoys duty-free and quota-free trade with Moldava, Tajikistan, Ukraine and Uzbekistan.
Though internationally blamed for not being based on free and fair elections, the regime of the iron-fisted Lukashenko surely guarantees political and economic stability. Expatriates in Minsk and elsewhere in Belarus praise the safety, the low crime rate, the well-developed transport and logistics infrastructure and the remarkable cleanliness of the streets (no paper, no plastic bottles). In most places, air must be healthy in Belarus since 42 per cent of the country (whose total area exceeds 200.000 sq km) is covered with forests.
Belarus also tries attracting investors with a number of preferential tax regimes and with several economic zones offering significant incentives. Among these economic zones, the most prestigious is the Great Stone China-Belarus Industrial Park, occupying a total area of 9,150 hectares, at a distance of 25 km from Minsk. The Park was launched in 2012 with support from China as a hub for firms at the cutting edge of innovation and technology. It's very unlikely that any conventional textiles or garment factory will be established in Great Stone. But the Park would surely be an appropriate place for textiles or apparel companies using new materials or nano-technology, producing fine chemistry or advanced technical textiles, or strongly focusing on design, research or e-commerce.
Technical textiles dream
Belarus wants to become the largest producer of technical textiles (including nonwovens) in the whole post-Soviet area, even overtaking Russia. Heavy investments in a new technical textiles cluster on the premises of Mogilevkhimvolokno and the increase in production capacities of SvetlogorskHimvolokno could make the leap forward possible.
Early 2017, Mogilevkhimvolokno, one of the largest European producers of polyester fibres and yarns (with a capacity of 120,000 tons/year), announced its intention to create a technical textiles cluster. It will operate on a full cycle basis, from the processing of raw materials to the manufacture of finished products. During the first stage of the project, the new cluster will focus on the production and processing of technical yarns. The second will involve the production of a wide range of products mostly intended for exports. Implementation of the project is controlled by Lukashenko himself.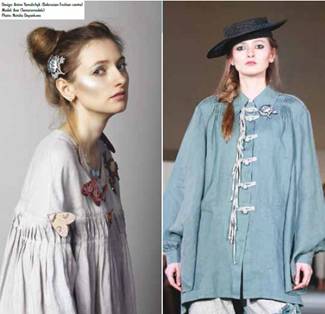 According to the Belarus government, the volume of investments in the project is estimated at €208 million at the initial stage. The majority of the funds will be provided by the government, with the rest coming from German banks in the form of loans. Among the products that will be produced in the new cluster are fire hoses, tent clothes, preforms, special clothes, and chemical coatings. The range is planned to be significantly expanded in the coming years.
As part of its strategy, the government also aims to attract foreign investors. The government has already started negotiations with some Western technical textiles producers, as well as Chinese investors, for the establishment of technical textiles and nonwovens production in Belarus. In addition to the new cluster at Mogilevkhimvolokno, the government also wants to increase production at SvetlogorskHimvolokno, another Belarussian leading technical textiles and nonwovens producer, based in Svetlogorsk, one of the centres of the country's petrochemicals industry.
In the case of nonwovens, according to the government's plan, successful implementation of these projects will allow to increase the annual volume of nonwovens production in the country up to 1.5 billion sq m by 2019 and up to 2.2-2.3 billion sq m by 2021. Over the past 10 years, the volume of nonwovens production in Belarus has multiplied by 4.1.
SvetlogorskHimvolokno boasts that not only buyers from CIS-countries, but from many others too have shown interest in its heat-resistant material Arselon, which can be applied in many domains, from filtration to space technologies. Last year, the Bellegprom organisation was in talks with Japanese customers of hi-tech fabrics like fire-resistant fabrics and fabrics with special effects. The Belarussian Mogotex company was said to be able to produce what the Japanese need. JSC Polotsk-Steklovolokno in Polotsk (near Vitebsk) is producing basalt fibre, yarn and fabrics for thermal isolation, filtering and for the production of composite material. Light industry researchers in Minsk boast they have developed a unique technology which enables them to make knitting yarn from bioflax (flax rolled tow that has been subjected to mechanical cottonising and ferments).