Sustainability has become the main focus for textile industry and their teams are working hard to achieve sustainable development goals in no time. All the factors including raw material as yarn, processing and supply chain are worked on, but Natural dyes is very less touched, may be because of unavailability of data for the calculation of sustainable impacts.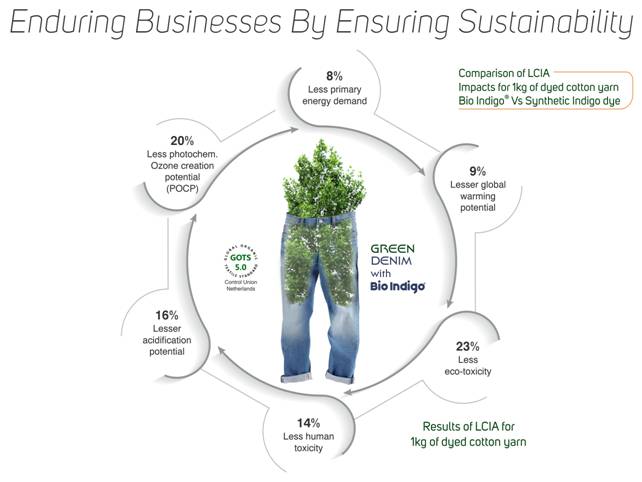 AMA Herbal Laboratories Pvt. Ltd. in India, have made a breakthrough in the dyeing sector by presenting Bio Indigo dye with Life Cycle Analysis (LCA) for the first time. LCA is a scientific, analytic approach in calculating benefits that brands can get on sustainable balance sheet by just switching to Bio Indigo in denim production.
Bio Indigo dye comes in powder form and is certified on "GOTS Version-V", and has "ZDHC", "REACH" to its credit. Its Fastness properties, process of dyeing and method of use remains same or at par with synthetic indigo. Many big denim mills form Turkey, India, Pakistan, China, Italy and Japan are already using Bio Indigo on their rope dyeing machines. Bangladesh Denim world is also showing good response to this concept. Designers love Bio Indigo for its greener cast and the kind of cut effect that it gives.
Bio Indigo dye is obtained from leaves of plant Indigofera tinctoria commonly known as indigo which also exhibits medicinal properties. One of the major characteristics of the Indigo plant is that it is a legume and contributes in fertility to soil. Many coconut farmers have reported higher yields in coconut water by planting Indigo in the periphery. It also acts as a nitrogen source when used as a compost.
Denim and Indigo blue goes hand in hand. Initially denim was made with Natural Indigo only, but now Indigo is also produced synthetically. Synthetic indigo (other name - Indigotin, CAS no. 482-89-3) is produced through chemical process and makes up for the majority of commercially produced indigo dye in the denim industry.