Chithra Ajith offers a glimpse into the state's handloom history.
Kerala, a state extending over 15,000 square kilometers, enthralls the world by its unique handloom fabrics. The state generally weaves undyed, off-white cotton cloth with coloured or golden borders. Single and double mundu, mundum neriyathum (settumundu) and sarees are its traditional dresses. The bright but elegant nature of the fabric makes it special. Excellent texture and structure of the cloth, unique colour combinations and traditional craftsmanship are the factors behind its global acceptance. These pure cotton cloths are manufactured using eco-friendly methods, making these extra special. Apart from a well-connected chain of co-operative societies, several places from Trivandrum to Kasargod are traditionally active in handloom production.Many bear geographical index as well. Several single and joint ventures are active in this sector.
Kerala handloom products have roots in specific locations. Balaramapuram in Trivandrum, Chennamangalam in Ernamkulam, Kuthampully in Thrissur and parts of Palakkad, Kannur and Kasargod districts are famous globally for handloom production.Dyeing, winding, warping, denting and joining, beaming and weaving are the main stages in production. South and central Kerala are famous for weaving of superfine dress varieties while north Kerala concentrates on both coarser and soft varieties of home furnishings and home linen. Kasargod is famous for sarees that have many similarities with neighbouring Karnataka state's Mangalore style. The handloom sector has been traditionally one of the most vibrant and profitable in the state with a distinct brand identity. To stand with the changing fashion trends, these traditional clothing are witnessing changes without losing their uniqueness. New colour combinations are added, ornamental works introduced and designer elements appended.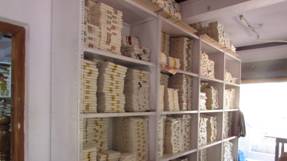 But the charm and elegance of these items, ideal for the state's hot and humid weather, make it an inevitable part of the Malayali wardrobe and celebrations. The lightweight nature and coarse texture make them comfortable. Kerala handloom varies slightly from place to place.Some weave mundu and saree with thin golden borders and pallu, some with heavy ornamental brocades and some opt for coloured borders. Some fabrics are lightweight and some slightly heavier. In certain places, weavers use half-fine zari for ornamentation to reduce product price.
Weaving has been a way of life for centuries in Kerala. Some communities like the Saliya community have been engaged in handlooms from the beginning. Erstwhile royal families of Cochin, Travancore and Chirakkal and chieftains from the Paliam family, who were the chief ministers of the kingdom of Cochin, then invited weavers from Andhra Pradesh, Tamil Nadu and Karnataka to weave cloths for the royal and feudal families. Cotton cultivation and weaving had widely prevailed in these southern states. The state's rulers encouraged weavers to settle down there and showered patronage. Padmasaliya and Devanga Chettiyar were the main communities that flourished in Kerala in this manner. Women also contributed to spinning, starching, winding, weaving, sizing and piecing.
Initially, all weaving was done at homes with pit looms. Women helped in fixing and starching warp and weft. The younger generation later turned away from that tradition and left home for higher studies and jobs. No looms are seen in households now.
Kerala's weaving history is also linked to the Basel Mission, a Christian missionary society from Switzerland active from 1815 to 2001 in the state, especially in northern regions of Kannur and Calicut along with Mangalore. Missionaries set up factories, including weaving sheds, spinning mills and printing units, to rehabilitate the converts who lost their traditional jobs as they were expelled from their own communities after embracing Christianity. Later the missionaries established big handloom complexes and trained a lot of workers. It was during this period that the Kerala handloom industry reached a visible level of growth. Missionaries introduced fly shuttles and frame looms, which enabled production of broader cloths.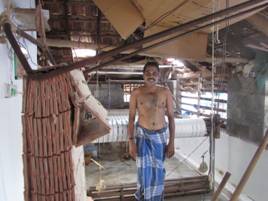 The off-white Kerala handloom was introduced to various colours with the advent of chemical dyeing. The missionaries also taught the weavers the art of embroidery. This lifted the role of women with more skills and income. The Commonwealth Handloom Weaving Factory (Comtrust), started by German missionaries from the Basel Mission in 184, only produced hand-woven cotton fabrics though it used chemical dyes and machines in some stages of production. The mission helped weavers access markets in Europe, Korea and Myanmar. Apart from apparel items, the weavers produced fine home furnishings and home linen varieties for export. Thus Kasargod, Kannur and Kozhikode gained a prestigious place in foreign markets as well.
Much earlier, the weavers themselves were the producers and sellers. They bought yarn from neighbouring cotton-producing states and sold finished products in local markets. But the Basel Mission turned weavers into employees. Weavers cooperative societies came into being after independence, offering the sector an organised face. Societies offer yarn, dyes and other accessories to the weavers and ensure the welfare of their member weavers. The state government's free school uniform scheme revived the loss-making handloom cooperative societies.
Twenty nine handloom societies in the Calicut district manufacture around 300 items, including bedsheets, spreads, shirtings, dhotis, dress materials and towels. The National Handloom Development Corporation supplies yarn, dye and chemicals to these societies. The Kerala State Handloom Weavers' Cooperative Society Ltd (HANTEX) is the apex society of weavers in the state, running 150 sales outlets. Kerala State Handloom Development Corporation (HANVEEV) is another from Kannur, the city of looms.
Traditional weaving styles have paved the way for modern ones, for example using malmal cloth or to design tops, kurtas, skirts, parallels and shawls. Even sarees and blouses have undergone attractive makeovers.
Powerlooms diminished the popularity of the handloom industry. Once busy looms are gradually getting out of business as the young generation is reluctant to follow family occupations. Low income is another reason.
About the author: Chithra Ajith is a freelance journalist based in Kozhikode.