At a time when companies are still grappling with the very idea of how to make fashion sustainable, there is an endeavour that is showing that one can be sustainable, transparent, and empower women at the grassroots level at one go. Subir Ghosh reports on ABLE, an American company that is changing the lives of women in Ethiopia and has made its factory wages public.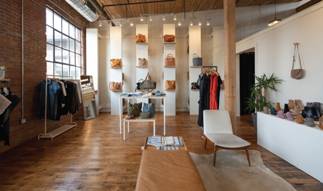 It's a story that began in the back of the beyond at the start of the millennium- somewhere in Peru. The abject poverty, that he might have only heard of till then and was only to now witness first-hand, shook the bespectacled young man to his core. That set him thinking, and travelling.
He took to a path less travelled, and is today showing the world that it can indeed be done- when the entire world of textiles-apparel-fashion is caught up in lofty theories on how to go about it.
Barely into his thirties at the time, Barrett Ward gave up his well-paying white-collar job, to spend time in Zimbabwe, Zambia, Kenya and South Africa. He started as a project coordinator for African Leadership, a Brentwood non-profit that provides relief and development for African communities, and in 2005 went on to establish the Mocha Club, an online community of people giving up the cost of a few mochas a month to fund strategic and solution-oriented relief and development projects in Africa.
And suddenly, things happened fast. His work at Mocha put him in touch with Women at Risk (WAR) (and also Rachel who he was to marry later), and with a disturbing reality-that of women being driven to prostitution due to lack of opportunities. Ward co-founded Ellilta Products, an Ethiopian scarf production company meant to provide jobs for the women with WAR. Ellilta supplied to FashionABLE, which launched in October 2010. Rechristened ABLE, Ward's initiative has added a new dimension to transparency in the fashion industry. The company publishes on its website a scorecard, that is modeled after a nutrition label, shares the lowest wage paid in a factory. But all that is cutting a long story short.
Then, the Beginning
First, the travels in Peru, and subsequently in a number of countries in Africa. How much did the searing experiences shape up the future for Ward? Being struck about issues is one thing and wanting to do something about it quite another. Was that a transition, or a giant leap forward?
Ward recollects, "My travels around the world broke me of what I thought was my life's purpose to that point. Although I had seen pictures, for me, it took meeting people living in poverty-often without opportunity-to reach a new perspective. I realised that I did not get to where I was in life based on my will, but instead based on all the opportunity I had been given. So, now what do I do with that information?" Things just happened, and as it transpires, one after the other.
"It's funny... I don't actually remember making a decision to jump in and do something. I respect people who think that way, but for me, it felt like one inevitable step after the other. I stumbled in to that trip to Peru, and from there I wanted to continue my travels around the world to see what might be next. In Africa, I felt at home. I would describe it as a spiritual home. Before I knew it, I married Rachel who then got a job offer to move to Ethiopia! And in living there, we met the brilliant women coming out of the commercial sex industry who simply needed an opportunity and asked if we could help. I would say the journey I have been on has been less about the decisions I was making, and more one of listening and being informed by the experiences and people around me. That's what led to the next inevitable step." The first of the steps, arguably, was the Mocha Club. The idea went on to be a resounding success.