At a time when companies are still grappling with the very idea of how to make fashion sustainable, there is an endeavour that is showing that one can be sustainable, transparent, and empower women at the grassroots level at one go. Subir Ghosh reports on ABLE, an American company that is changing the lives of women in Ethiopia and has made its factory wages public.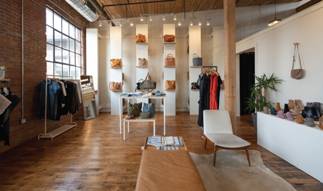 It's a story that began in the back of the beyond at the start of the millennium- somewhere in Peru. The abject poverty, that he might have only heard of till then and was only to now witness first-hand, shook the bespectacled young man to his core. That set him thinking, and travelling.
He took to a path less travelled, and is today showing the world that it can indeed be done- when the entire world of textiles-apparel-fashion is caught up in lofty theories on how to go about it.
Barely into his thirties at the time, Barrett Ward gave up his well-paying white-collar job, to spend time in Zimbabwe, Zambia, Kenya and South Africa. He started as a project coordinator for African Leadership, a Brentwood non-profit that provides relief and development for African communities, and in 2005 went on to establish the Mocha Club, an online community of people giving up the cost of a few mochas a month to fund strategic and solution-oriented relief and development projects in Africa.
And suddenly, things happened fast. His work at Mocha put him in touch with Women at Risk (WAR) (and also Rachel who he was to marry later), and with a disturbing reality-that of women being driven to prostitution due to lack of opportunities. Ward co-founded Ellilta Products, an Ethiopian scarf production company meant to provide jobs for the women with WAR. Ellilta supplied to FashionABLE, which launched in October 2010. Rechristened ABLE, Ward's initiative has added a new dimension to transparency in the fashion industry. The company publishes on its website a scorecard, that is modeled after a nutrition label, shares the lowest wage paid in a factory. But all that is cutting a long story short.
Then, the Beginning
First, the travels in Peru, and subsequently in a number of countries in Africa. How much did the searing experiences shape up the future for Ward? Being struck about issues is one thing and wanting to do something about it quite another. Was that a transition, or a giant leap forward?
Ward recollects, "My travels around the world broke me of what I thought was my life's purpose to that point. Although I had seen pictures, for me, it took meeting people living in poverty-often without opportunity-to reach a new perspective. I realised that I did not get to where I was in life based on my will, but instead based on all the opportunity I had been given. So, now what do I do with that information?" Things just happened, and as it transpires, one after the other.
"It's funny... I don't actually remember making a decision to jump in and do something. I respect people who think that way, but for me, it felt like one inevitable step after the other. I stumbled in to that trip to Peru, and from there I wanted to continue my travels around the world to see what might be next. In Africa, I felt at home. I would describe it as a spiritual home. Before I knew it, I married Rachel who then got a job offer to move to Ethiopia! And in living there, we met the brilliant women coming out of the commercial sex industry who simply needed an opportunity and asked if we could help. I would say the journey I have been on has been less about the decisions I was making, and more one of listening and being informed by the experiences and people around me. That's what led to the next inevitable step." The first of the steps, arguably, was the Mocha Club. The idea went on to be a resounding success.
But that was almost a decade and half back. Would he do it differently today, if given the chance to do it all over again? "Yes, I see Mocha Club as a success. It's still up and running today through an international community of everyday generosity that provides assistance for people in Ethiopia to have access to things we all take for granted-like clean water, shoes for students to attend school, and job training.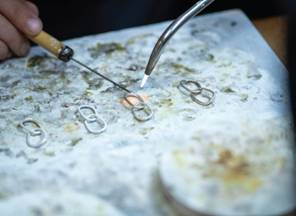 "The women we met through our work with Mocha Club inspired the idea for creating sustainable business opportunities for vulnerable women. If we were to do it all over again, we'd probably land exactly where we are. It is widely known that the empowerment of women is key to ending generational poverty, and fashion is one of the largest industrial employers of women. So, if we can help lead the industry in responsible employment, and equip consumers to demand more from the brands they love, there is an opportunity for global impact." The opportunity started in the form of scarves.
But in between starting Mocha and manufacturing scarves, were a litany of harrowing tales that Ward had to endure. The commercial sex trade in Ethiopia, which was then ruled by strongman Meles Zenawi, was widespread and gnawed away at the very roots of society. For many, resorting to prostitution was an act of deep-dyed desperation. There was, for instance, one woman who had entered the sex trade only to help care for her sister who was suffering from breast cancer. All tales of distress.
Scarving a Niche
The transition-from being disturbed to doing something about it-happened almost in a whisper. Seeing his wife purchase scarves for gifting soon gave way to a business model.
Ward provides the backdrop, "My wife and I were living in Ethiopia at the time, and as we set out to create sustainable jobs for women overcoming hardships in Ethiopia, we turned to a profession that made sense for that community: scarf weaving. Since this was considered a man's job at the time, we taught a handful of women how to make scarves and sold them under the brand fashionABLE. That holiday season, we sold 4,000 scarves and we knew we had something that resonated with people: being serious about solutions to poverty by creating jobs for women.
"In 2010, scarves were also a really popular fashion accessory. People were buying them anyway; so, when they learned they could be stylish while also providing an impact, it was an easy sell. That learning actually shaped our design strategy. We want to show consumers that shopping with a conscience doesn't have to come at the cost of style. We make beautiful products that you'd buy anyway, but when you wear ABLE you also get to share the story. The only way ethical fashion can be a sustainable business model is if you're creating things people want to wear."
All the time that the Wards were beginning to make a difference, the distinction between Ellilta Products and FashionABLE remained clear: FashionABLE was always the brand, and Ellita Products was its first partner that they made the first scarf collection with. "We chose the name FashionABLE because we're all connected by a common thread, and the jobs we were creating in fashion empowered women to be ABLE to send their children to school, pay for medical expenses, and other basic necessities."
Then, they decided to go the whole hog-from being a non-profit entity to transforming into a forprofit company. "We transitioned ABLE into its own for-profit company because in order to show the $3 trillion global fashion industry that there is a better model-one that treats workers with the dignity and respect they deserve and wages they need- we have to show other brands that it's profitable.
"Thanks to the support from our customers, we were actually threatening the charter of Mocha Club's non-profit status by generating a substantial level of commerce. With a mission to end generational poverty through sustainable, wellpaying jobs for women, we needed to evolve from a non-profit to become a social enterprise as we grew." Mocha remained, and FashionABLE took off.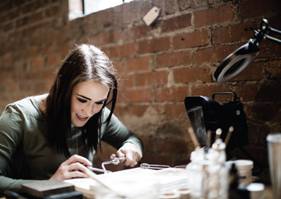 Yet, ABLE does not own the Ethiopian businesses-it believes more in empowerment than employment. The company believes that it can effect greater change if it partners with manufacturers who have potentially a greater scale in working with other brands; in the process, it is also able to empower the factory owners who know their country and people best to help make change in their own community. "Jewellery production is the only manufacturing we own. That's intentional. By partnering with local entrepreneurs around the world, we're not only supporting them, but we're also able to have a greater impact beyond our own scale. When we identify areas of workplace improvement, all the employees of that partner benefit-regardless if they're working on an ABLE garment or another brand's."
As things stand, ABLE has six manufacturing partners in Ethiopia, and "empowers" 140 people, over 70 per cent of them women. Incidentally, all the partners are located in capital Addis Ababa. There have been many who joined Ward in the journey. "WAR was the organisation we partnered with when we first began. As we've grown, we've found other partners that share our values. These partners are run by young entrepreneurs who are energised and passionate about creating economic opportunity for women within their own community, and that's really exciting to us."
ABLE products are available online at www. livefashionable.com, through wholesale at hundreds of boutiques and a handful of national retailers, as well as at its brick-and-mortar Flagship in Nashville, Tennessee. The company is also looking at opening additional retail stores in 2019 on the West Coast or Southwest. "As we've grown, so has our ability to sustain and create jobs through orders with our manufacturing partners.
Right now, we have a new shoe partner in Brazil, and we're looking into India and China next. We're always looking to extend our impact in geographies in developing economies that also have a wealth of natural resources," Ward elaborates.
Lives of Others
The blog on ABLE's website chronicles much of the change that has been happening in the lives of the women who make for the foundation of the company. Says Ward, "Just within the last year, we've seen women regain custody of their children, find permanent housing, get married, and everyday make the commitment to continue to overcome the extraordinary circumstances they face. They do that themselves, with support from a sustainable job and love from the ABLE family. I think each triumph-large and small-is a testament to their empowerment, and I can't put a measurement on that."
But what can be measured certainly is the social impact of the initiatives. Ward and his colleagues have spent the last three years developing an auditing system called ACCOUNTABLE that allows them to deeply evaluate the impact that their business is having on women. "As we've gone through that process, we saw how important it was for the way we think about our own business."
As a result of these audits, they have implemented a number of changes that have significantly improved operations. "For example, at our Nashville audit we scored poorly on safety. We found that some of our processes for making jewellery were not as safe for our workers as they needed to be; so, we made improvements by getting our team the equipment and protocols they needed. Finding that information out is exactly why we are doing ACCOUNTABLE-to uncover weaknesses in how we work with women and create the best work environment possible."Ward wants this to be emulated by others. "We want other brands to utilise the platform, too, so we're actually in the process of establishing ACCOUNTABLE as its own nonprofit. After it is confirmed, other companies will be able to use the auditing system to evaluate their supply chains. It is important to us that ACCOUNTABLE is operated as a third-party entity to ensure its neutrality."
What the supply chain in the textiles-apparelfashion industry does is touch the lives of women, which is crucial to tackling poverty. In 2014, Ward had remarked to a magazine: "If we are to be serious about solutions to poverty, we have to be creating new jobs and creating them for women." But that's from 2014. Would he rephrase it any differently today? "No. It's still our guiding principle today. Globally, women are concentrated in the lowest-paid and least secure jobs, making them particularly vulnerable to poverty. Last year, 82 per cent of all wealth created went to the top 1 per cent, while the bottom 50 per cent saw no increase at all. And women are often most affected by this growing inequality.
"But the good news is that there are proven solutions-when we invest in women, economies and communities thrive. Women invest twice as much of their income into their families than men (80 per cent vs. 30-40 per cent), which means that when they are paid wages that meet their basic needs, personal safety, overall health, and education improve for each generation. For me, investing in women is not just the right thing to do, it's the smart thing to do if we want to see real change."
Transparently Fashionable
One of the ways that Ward hopes to drive change is through leading by example-publishing the wages that ABLE itself pays. In fact, it publishes the lowest wages of the workers, and not the average. It is written starkly on the website: "Fashion has a dirty secret: the products we enjoy are most often made by women who can't meet the basic needs of themselves or their children. And that is unacceptable. So, we'll be the first company that we know of to publish our wages, but what we really want is for everyone to join us. That way, you'll have the information you need to protect the people making your products." The stated dream is that in 10 years or sooner, publishing wages will be as common as a nutritional facts label on one's food. And ABLE has started leading the way.
In many ways it was only natural that ABLE would eventually do so. "A couple of years ago, we were going through other auditing platforms and realised that none of them really evaluated the impact on women; so, we started to think about creating our own. At the same time, we had watched the True Cost documentary, and it solidified to me that the only way consumers can protect these workers is if they have concrete information about how much the lowest-paid workers are making." The company wants consumers to make that push. The website declares in as many words: "Only 2 per cent of fashion workers make a wage that meets their basic needs, but if brands absorbed the cost of bringing workers to a living wage, it would likely only cost between 1-3 per cent of the cost of the garment. When you put it that way, it doesn't feel so insurmountable, and we believe that a radical shift can happen in the fashion industry if consumer demand pushes for it."
For the company, the consumer response has been overwhelming. "We saw some of our highest engagement when we announced we are publishing wages, with people commenting 'love the idea' and 'Bravo! Wish this was a standard instead of an exception!' But we also received so many thoughtful questions that we are creating an ABLE Answers series to address them all. Their interest and support only fuel us more to push for greater transparency that protects fashion's most vulnerable workers." So, it is not just about who made your clothes, but also as much about how much they were paid for it.
The audit in question measures impact. The ACCOUNTABLE audit was created with help from Divya Kapasi and Richard Demato of GoodOps, Inc. They are supply chain management auditors with a specialty in the intersection of brand and operational innovation and have experience working for a diverse range of global companies from Fortune 100 to venture-backed startups, helping them adopt operational excellence in an accelerating landscape. The audit is a thirdparty social impact assessment completed by an independent auditor, who analyses a company's employment and manufacturing processes based on financial statements, verified documents and in-person assessments, including interviews and surveys. The audit offers unparalleled transparency and accuracy because it requires a two-step verification on all documented policies as well as anonymous surveying and interviewing of both employees and management, separately. Nothing is left to remain opaque or nebulous.
Agreed, ABLE has given a new dimension to the very concept of transparency. But then, how more transparent can one be? Ward responds, "You've asked a really important question. Is there a limit of transparency? I don't think so. If we genuinely mean what we say about the protection and empowerment of women, then total transparency is the only honest response."
The message is clear: if you want to be sustainable, you will have to factor in transparency.