Italian luxury women's shoes brand Simone Castelletti will offer customers a chance to customise footwear on the website. Cristiana Bonzi reports on the initiative that was launched this October.
Customisation will be key at Italian luxury women's shoes brand Simone Castelletti for Fall/Winter of 2018-19. The brand, founded in 2015 by the Castelletti siblings Simone, Alessandro and Marianna, launched this October a new project with the idea to involve the customer in the creative experience of shoe-making, through a special edition of the handcrafted cage sandal Grace, the brand's iconic model.
Consumers can now buy a pair of personlised Grace pair from the official website of the brand. It would be an opportunity reserved for regular online customers; in order to enhance a delivery network that in the age of omnichannel retail is difficult to maintain.
Aficionados and new customers will be able to buy their own pair of Grace sandals from a variety of 100 per cent Made in Italy textiles-from the Prince of Wales check to the pied de poule pattern or technical materials like neoprene. To match with the textiles, heels in different heights and shapes will be provided together with a wide colour palette. The final product would be a one-off shoe, handcrafted by Simone Castelletti's artisans in a numbered, limited edition: only up to 50 pairs of tailored shoes a season.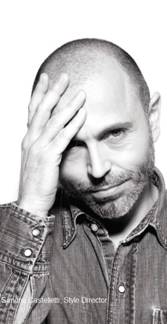 Coming from a family of fashion manufacturers, the three Castelletti siblings took their first steps in the sector when they were very young, working at the family company Italiana Manifatture, a leader in the sportswear segment first with the Pooh Jeans brand and then manufacturing and distributing Valentino Jeans, Ferre Jeans and Enrico Coveri, only to mention a few. The Simone Castelletti brand however was born much later, in 2015, with the creation of a mini-collection which included three womens' shoes models featuring a special detail: a pattern woven from overlapping mignons, made by skilled craftsmen, which is a symbol of the bond between the siblings and mark of the brand.
We are talking about Grace, the woven leather cage sandal, the Liz pumps and the ankle boot Elizabeth-three sophisticated pieces of footwear that require specific expertise and so many working hours to be made. For instance, a pair of Grace-a best-seller straight away, appreciated both by customers and celebs-takes more than five hours of work.
Today, the brand is steadily growing and can count on two showrooms-one in Milan (Italy) and the other in Dusseldorf (Germany); it is distributed in Italian top shops and expanding its presence in the Chinese and United States markets. It has a constantly growing production capacity that will enable it to open up to new markets. In the near future, these would mean Germany, Austria, Switzerland and Poland, while there would be agreements on distribution in Russia and the United Arab Emiratesv.