Annual output: 30,000 tons
Autumn is a harvest season, at which time PSF after-treatment production line with annual output 30,000 tons has passed inspection and has gone to operation in Thailand after high speed spun-laced production line was running successfully in Russia.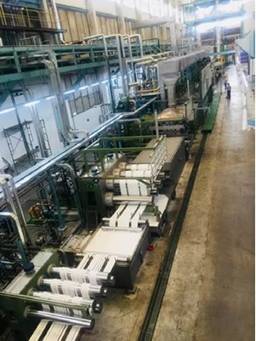 In 2004, we provided a PSF production line with capacity 20,000 tons per year for the Thailand company. It has been found that Hi-tech equipment not only has the good quality but can also offer timely effective service. So, when the customer wanted to increase investment, they first thought of Hi-tech company, and signed the purchase contract after discussing once. The supply scope is enlarged to one-stop package including equipment, engineering design and process guidance. It fully proves that we have always made customers' needs the top priority, and the effort to improve product quality and service.
Installation of the PSF aftertreatment production line in Thailand was started on March 16, with Hitech experts working meticulously under high temperature of 40oC, strictly obeying the quality standards and requirements. They finished all the supervision and commissioning work within the time stipulated in the contract.
At the customer requirement, we sent the process engineer with rich experience to assist them to produce. Under our customer guidance, PSF fibre of 1.0d, 1.2d and 1.4d, with the top quality, were produced during ten days. The equipment and services of our company were fully accepted and praised by the customer. And they signed the acceptance report with satisfaction, which marked the end of the installation task of the 30,000 tons polyester staple fibre aftertreatment production line project.
This project is the first project of Hitech company covering engineering design, equipment, production and running process in overseas market. It is a milestone in the development of our company's chemical fibre products. Through the implementation of this project, we have once again proved the strong technical strength and determination to continuously innovate, further enhancing the international competitiveness of HTHI in terms of comprehensive management, technical design, product quality and service concept.