Munich Fabric Start opens the new season twice every year with a curated portfolio of fabrics ranging from plains to haute couture as well as accessories for all apparel categories. The latest edition saw a record number of visitors, and showcased trends for 2019/20. Regina Henkel reports.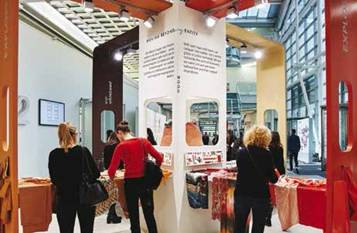 The season could not have got off to a better start. Only that the season in question- Autumn/Winter 2019/20--would materialise exactly a year from now. And the trends showcased seem as complex as they are progressive.
For, that was the focus of the 45th Munich Fabric Start, which concluded on September 6 at the Munich MOC exhibition grounds. The outcome itself has already left a mark: a new record in the number of exhibitors, and the largest Bluezone ever. In addition to fabric trends, sustainability and digitisation were seen to be playing an increasingly important role.
Munich Fabric Start showed its best side while presenting the new fabric trends for Autumn/Winter 2019/20, with all signs pointing towards uninhibited growth. This time's event registered a record number of exhibitors with around 1,050 suppliers from 38 countries and around 1,800 collections in the Fabrics, Additionals, Denim and Sportswear segments. Denim, particularly, saw renewed growth, which also as a result necessitated an expansion of the Zenith Hall at the venue. The event is, obviously, about trends that are likely to dominate a year from today. For several seasons now, the fashion industry has been looking for strong contrasts. They are sometimes brought about by colours, at time by materials and structures. Style breaks are still popular: high fashion vs no fashion, futurist vs realist, optimist vs activist. What doesn't fit together creates the greatest emotions; what doesn't seem to fit together is therefore interesting. That's what creators are all about these days. The new trends seem as complex as they are progressive.
Women: Making a difference
The new fashion, bundled into individual themes, alternates between romantic folklore looks and emphasises classical and sporty influences in the women's collections.
A lot is mixed, and folkloristic motifs can hardly be assigned to a certain region anymore. Fake furs and fleeces are trendy, as are wool fabrics. Classic cuts and fabric patterns such as checks demonstrate the rejectionof fast fashion and are being chosen as the new fashion statement.
But it's always casual, and likes to be combined with denim, which won't lose any of its importance in the winter season 2019/20. Sportiness is expressed above all through technical materials.
Calvin Klein celebrated reflector ribbons such as those worn by street workers in the collection-the designers also see the trend for 2019/20 in a similarly striking or subtle way. Fabrics such as those from workwear are regarded as a trend theme. Dark colours are being considered a trend and come in dark purple, brown, grey and petrol.
The most important colour stimuli are generated by green tones, i.e. in colour shades such as bottle or jade. Neutrals continue to be dominant. The opulence of past seasons is diminishing.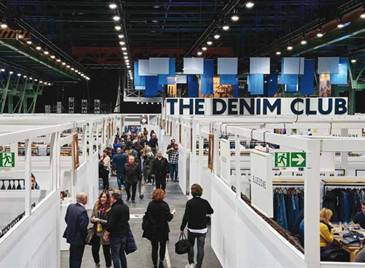 Men: Classic meets rave
As with women, it is the combinations that determine the look. Many classic fabrics such as checks, beige and brown tones play an increasingly important role in the fashion segment. Modernity is expressed, for example, by oversized repeats and 3D surfaces, technical zippers, hoodies or velcros. New lengths dominate the new men's fashion: trouser hems are moving upwards, as are the tops and anoraks. Coats, on the other hand, go over the knee. Acid jazz and the revival of the 1990s are celebrating a comeback in a sportier way. Here, there is a lot of potential in the individual item and in the meeting of strong contrasts. For men, too, denim remains important as a contrast generator and decisive accent. Important colours: brown shades, curry, olive, as well as various shades of grey and bright accents in blue or red.
Bluezone: New workwear influences
The current Bluezone was the strongest and best-occupied in its history. More than 120 internationally leading brands from denim and sportswear showed their latest seasonal fabric innovations, many of which have already been translated into trend-setting samples with innovative finishes and washings. The show stressed the comeback of workwear.
As part of the show's conference denim expert, Mohsin Sajid led a denim lesson on the history of workwear and analysed how it has influenced the evolution of jeanswear. Denim overalls were also presented in almost every booth. Alongside them there were comfy '80s roomy jeans and jackets and a strong comeback of black denim in many shades. New sustainable technologies were also presented; for instance, from Hyosung. "For 2019/20 we see sustainability and performance, along with new designs, as a key trend in the denim market,"said Mike Simko, global marketing director of Hyosung Corporation. With Creora, Hyosung is one of the world's largest elastane manufacturer. At the trade show, the textile professional presented the new Creora Fit2 with improved performance for trendy denim. Hyosung also presented the sustainable elastane line Creora eco-soft, which is manufactured at low heat, as well as the latest denim styles.
Sourcing in transition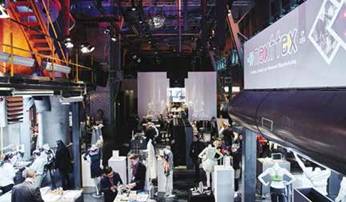 In addition to the fabrics, the fair also offered a forum for new technologies, as the seasons before. Select companies presented products and services related to manufacturing sourcing in exclusive showrooms. On the first two days of the fair, industrial partners from Central and Eastern Europe provided information on innovations and production processes. ReSource, a new metasourcing platform was presented, bringing together innovative and sustainably produced fabrics and additionals, showcasing state-ofthe-art trends from the eco and fairtrade segments.
But sourcing begins with design. The fashion industry is undergoing a technological revolution-more garments are being digitally designed with 3D software. A realistic representation of colour and materials makes it possible to significantly reduce the number of physical samples-and this in turn saves time and reduces costs. Assyst and its partner companies Color Digital, Epson, X-Rite Pantone and Peter Buedel Accessoires showed how their Vidya software attains the next level of 3D simulation through the integration of digitalised materials. "Sourcing is an immensely important topic for the industry. As a trade fair and initiator, we see a clear mandate here to provide a platform for the growing demand for sourcing opportunities in Munich. We will push and continuously expand this concept approach," said Wolfgang Klinder, managing director, Munich Fabric Start.
New sustainable technologies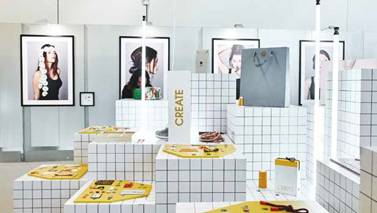 "It is our goal to constantly set new impulses, to give suggestions, and to keep the industry moving. Sustainability is a holistic concept that does not work on its own. We must therefore all pull together," remarked Frank Junker, creative director, Munich Fabric Start.
This was an appeal that was also taken up at the keyhouse of the trade fair. There, projects were presented that should encourage material professionals to think and act sustainably and motivate them to break new ground. Unconventional materials were created into new designs with environment-friendly factors. For example, new dyeing procedures with bacteria were presented, which are free of chemicals and are also water and resourcesaving. Besides, pine was presented as a new source of fabric by Latvian designer Sarmite Polakova.