Launched only in June, Italian menswear brand Sease is devoted to contemporary outerwear, and aims to combine sustainability with Italian tailoring tradition and technical innovation. Cristiana Bonzi reports.
When it comes to eco-fashion as a element of sustainability, Italian brand Sease-officially launched on the international scene last June in Florence during Pitti Immagine Uomo 94-has something to say. Born from an idea of Franco and Giacomo Loro Piana, the brand is devoted to contemporary outerwear and aims to combine sustainability with Italian tailoring tradition and technical innovation.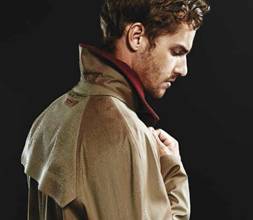 "We want to fill in a space in the menswear contemporary landscape with premium eco-friendly outerwear at the crossroad of casualwear with activewear-a wardrobe which easily moves from the city to nature", explains co-founder Franco Loro Piana.
Boasting products that are 100 per cent made in Italy, mostly from natural fabrics- wool, linen, silk and cotton, made from animal or plant-based fibres that absorb less water and require less pesticide in the growing and harvesting phases-and also bio-based polymers, the company focuses on creating awareness about issues in the community and reducing environmental impact of the supply chain without compromising on quality, style or performance. They apply a protocol of sustainability in terms of materials and resources to minimise any undesirable environmental effect of the product's lifecycle.
They are able to do this thanks to select partners such as Fulgar-with bio-based yarn Evo from castor seeds; Sinterama, with New Life fabric from recycled polyester made from post-consumer PET bottles; Italdenim, with regenerated denim and Smart Indigo no-chemical dye and Thermore, with Ecodown, the 100 per cent sustainable alternative also obtained from recycled PET bottles. "I think sustainability is a must for contractors, and my generation is the first one to be conscious about the need to save the planet, but also the last one who has the chance to do so," Loro Piana points out.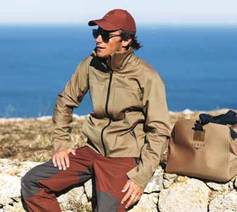 In particular, the bio-based Evo fabric made from castor seeds-a renewable resource which allows for reduction of water consumption and CO2 emission-is at the heart of Sunrise fabric, a new version of the iconic Solaro, symbol of bespoke elegance in mid-20th century. Sculpted into nautical spray tops and urban trench coats to meet modern lifestyle challenges, Sunrise is a high-performance fabric 70 per cent wool and 30 per cent bio-based nylon, waterproof, windproof and breathable, engineered by Sease using the ancient weaving technique of the wool fabric Solaro, originally designed for the British Army to be worn in tropical weather. The bright outlayer, in fact, dissipates the heat while the red backside protects from UV sunrays.
"Sease was officially born in November 2017, with the opening of the first flagship store in Milan. After leaving the family business, I felt the need to express my creative part and begin a new adventure in the sector I came from focusing on my experiences, values and passions. The starting point was to combine the cosmopolitan lifestyle with my passion for sailing, an open-air activity that allows to reconnect with nature. Then I realised that I had the intention not only to create some kits for outdoor experiences, but also translate the informal elegance that characterised our active clothing into citywear, says Loro Piana.
Targetted at men who want to blend elegance and dynamic lifestyle, Sease's collections are not seasonal, but permanent: made from heavier or lighter fabrics; the line includes three different kits dedicated to sailing, skiing and urban outdoor. The brand is currently distributed, besides the Milano store, in the second flagship store at Porto Cervo (Sardinia), as also online. "Our brand was conceived to express one's outdoors passions-that means thinking of the highest standards in terms of thermal insulation, breathability, and waterproofing. Twenty-five years ago, my father had the intuition that natural fibres could also be developed in the sports world. They could be used to make fabrics with characteristics suited to the outdoors. This has become part of our identity. We develop technical garments starting from noble materials like cashmere, cotton or linen. We create clothes to feel at ease in nature, valorising and developing natural elements to the utmost," Loro Piana concludes.