The handloom sector, in spite of many sporadic and scattered efforts, continues to be on a decline. Baqar Iftikhar Naqvi and Neha Singh look at the trends and challenges.
India is the largest contributor of handloom fabrics in the world, with over 95 per cent of the world's handwoven fabric coming from India.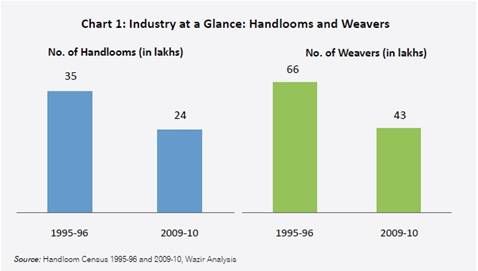 With over 43 lakh people directly and indirectly involved in production, the handloom industry is the second-largest employment provider for the rural population in India after agriculture. The handloom weavers are classified on the basis of organisation that they produce for into cooperative, master-weaver and independent weaver segments.
The industry has strong infrastructure, with about 24 lakh looms of varied designs and construction, indicating significant production capacity. However, the industry is facing challenges with declining number of weavers and looms over the years, as the next generation of weavers do not want to do weaving but engage in other economic activities.
As per the 2nd handloom census (1995-96) and 3rd handloom census (2010-11) the statistics are as follows:

The strength of the handlooms sector has been its regional focus and specialisation, their products being adapted to the local traditions, religious and cultural practices and community needs.
The handloom production in India over the years is shown in Table 1.