The Chizami Weaves initiative of the North East Network (NEN) in the Chizami village of Nagaland's Phek district has been uplifting the lives of women. Samhita Barooah reports.
When designer Rajiv Gautam came to Chizami village in Nagaland's Phek district in 2008 with his vibrant colour palette, the traditionbound women were apprehensive. Gradually, his engagement with the women weavers nudged them towards the new horizon of a thriving market. Ten years on, Gautam's initial design inputs of sizes, colour patterns and contacts for procuring cotton yarn from Delhi's Sadar Bazaar have come a long way in developing the Chizami Weaves range.
The journey of Chizami Weaves began in 2008 as part of establishing a social livelihood programme for the women weavers of Chizami. It emerged from the persistent vision of a women's organisation called North East Network (NEN). Chizami Weaves started with seven weavers; the number has scaled up to 600 weavers across three locations in Phek and Kohima districts.
As Monisha Behal, founder-CEO of NEN, puts it, "We began a process of making women confident of themselves and making sure that they can weave their futures along with the textiles."
Weaving Traditions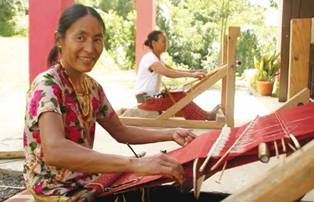 Weaving is done only by women in the predominantly Chakhesang community of Phek district. The men manufacture the loom which is specifically made out of wood and bamboo, grown locally in the community forests of the villages. The traditional loom is still used by the Nagas and other tribes of the Northeast. Portable loom gets its name from the strap pulled around the weaver's back that holds the whole structure with the required tension that in turn enables sturdy weave pattern.
Due to the nature of the loom, the width of a fabric is normally woven at one go and does not exceed more than 18-20 inches. Larger pieces of fabrics are created by stitching a number of strips together. Traditionally, women would weave for family and festival needs, but with the coming of brands like Chizami Weaves, women are now weaving for people from all over the world. The women at Chizami weave traditional motifs in local textiles and turn them into fashionable home decor items and dress materials, which fetch competitive market prices.
There is also a growing concern about the fading away of skill-sets. The weavers say in unison, "We want to preserve our traditional way of weaving. So, younger generations must learn weaving. If there is support from the government for weaving practices, then we can teach weaving to the younger generation too." There is a perceptive need all across for incorporating the traditional skills of weaving into the school curriculum of Nagaland so that the girls are not deprived of education in the process of upholding traditional values and skills of weaving. It helps both ways.
Forging Livelihoods
The weavers say that it is because of the instant cash payments that they get for their hand-woven textiles, they like to weave for Chizami Weaves. Otherwise, they would simply weave for self-use and exchange the weaves with community members during festivals. Besides, networking opportunities have strengthened their collective bargaining power in ensuring economic stability.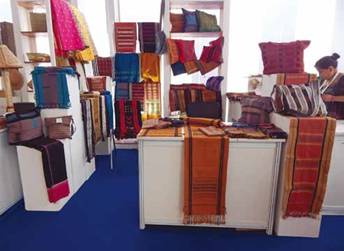 The women are paid their wages at their homes, and one can earn ?5,000-20,000 a year while working with Chizami Weaves. The wages are paid according to the piece rates of the products, and the weavers are aware of rates, volumes and basic accounting. The supervisor in Sakraba village is now able to support a family with 10 children through weaving as a source of livelihood. All her children go to school and help her at work.
Neiwulou Kezo, a single mother, takes pride in growing her own food and weaving her own clothes. She says, "There is more respect in hard work and satisfaction in one's own labour rather than saluting others."
The women of Chizami now enjoy a global exposure to ideas that cut across urban and rural areas as there is a steady inflow of designers, weavers and product developers who interact with the weavers on a regular basis through NEN. Such experiences and interactions have widened the utility, innovation and diversity of the range of products which are produced at homes and also in the weaving unit of Chizami Weaves. With increased mobility, the women have developed a sense of self-confidence and close association with other weavers in other villages where NEN works.
The women of Enhulumi village point out, "Chizami Weaves encourages diversity in design, colour combinations and patterns with smaller sizes of the woven textiles. Along with weaving wages and yarn, NEN also informs weavers about the latest schemes, policies and health benefits for weavers and encourages them to look into their social security measures. Such incentives are not available with other groups which procure weaves from other women weavers."
Markets have enabled women to travel across the state to gather their products, and at times across the country too to sell their produce. It were the Chizami Weaves products which enabled many weavers from Chizami to travel across the Northeast and elsewhere in the country to sell the weaves at exhibitions. These markets have helped the women exchange ideas and network extensively with diverse women's enterprises and weavers from across the country.
Some of the regular buyers of Chizami Weaves include the ANT Shop in Bengaluru, Kamala Shop in Delhi, People Tree in Delhi and Goa, the Maati Centre in Guwahati, Artisans Gallery in Mumbai, Nagaland Emporium, Delhi, among others. These work as collaborative platforms wherein Chizami Weaves promotes and markets the products.
These apart, the Nagaland Handloom and Handicraft Corporation, Tribal Cooperation Marketing Development Federation of India (TRIFED), North Eastern Development Finance Corporation Ltd (NEDFi), and others have also linked up with Chizami Weaves for the quality and innovation in their product range.
Chizami Weaves caters to both local and international markets. Most local communitybased institutions prefer Chizami Weaves stoles, mekhalas, jackets, runners and bags to gift to dignitaries and other guests. Even village-based authorities in the civil administration and security agencies buy their souvenirs and furnishing products from Chizami Weaves. Such grassroots acceptance of a local brand is remarkable given the limited facilities for online business and social media promotion.
Not that everything remains smooth. There are moments when the road infrastructure in the Naga Hills does create hiccups for the Chizami Weaves team.
Reviving Textiles
Project Thebvo is a collaborative initiative of Mora, the label from designer Ritika Mittal, and NEN in reviving an indigenous textile of the Chakhesang Nagas. The yarn is an extract from the stinging nettle plant which was traditionally woven into textiles meant for shawls, bedsheets and wrapping cloths for babies. The project aims at elevating this traditional skill of coarse hand-made fibres into an art form by turning them into fine fibres with the labour of the hand.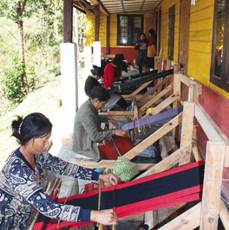 Says Mittal, "I respect the dedication and hard work of NEN women who are unconditionally supporting their community. I am inspired by their work ethic and zeal to keep improving themselves. Their proactiveness is exemplary, and I have seen the way Chizami Weaves has grown over the years. I am still in a developing stage with Thebvo weaving. It is the world's second-most durable fibre. I feel Chizami Weaves has the ability to pioneer many other natural fibres and dyes, and for that I will always be there with them."
Neitshopeu, a skilled weaver who has been involved with Project Thebvo since 2010, and Mittal have documented the processes of Thebvo production and developed a resource base of knowledge, practice and design innovation through the initiative in Lasumi and Zapami villages of Phek district. According to Mitttal, "There is a local belief that in order to have a good marriage, a woman should be like a Thebvo shawl- strong and rough enough to withstand all ups and downs of married life." She also mentions other fibres like bamboo, the Naga jute and local cotton which grow abundantly in Nagaland that have immense possibilities for product innovation. But she would like to explore other fibres only after establishing Thebvo fibre to its fullest potential.
On technological innovations that can transform the weaves, Neitshopeu remarks, "We cannot change the complete loom in the name of technological innovation. We can incorporate newer technologies which include our weaving skills. When new machines come, it is women's work that gets limited. Our products must include women's traditional skills along with new ideas."
Chizami Weaves has a no-waste model of working with their weaves, and most accessories like bags, belts, pouches, sling bags, straps for bags and coasters are made from left-over yarns, extra weaves which are not used in other products. In recent years, Chizami Weaves has also created a range of woven skirts, sarongs and ready-to-wear waist coats.
Spinning Off
Chizami Weaves has, in fact, created possibilities for many other brands to be their collaborative partners, and also brought in a newly-formed enterprise called Nenterprise which will soon manage the administrative and taxation processes of Chizami Weaves.
A sister concern of Chizami Weaves within the umbrella of NEN and Nenterprise is located in Assam; it is called Saneki Weaves. This initiative promotes cotton textiles and home decor products from various ethnic and rural communities in different districts of Assam. They focus on empowering women weavers whose domestic lives are constantly threatened by social inequality, power dynamics and incidents of violence.
Both Chizami Weaves and Saneki Weaves are in the process of conducting joint workshops on designing, quality checks, supply chain routines, GST compliance, financial literacy and market linkages for key consultants, staff members and community initiators of the brands.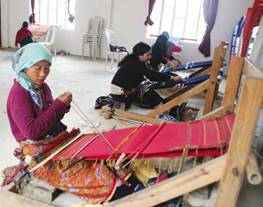 Ketaki Bardalai, the consultant heading Nenterprise, says, "Chizami Weaves has made inroads into national markets through direct sales at exhibitions like Dastkar, Tribes of India, NEDFi and other stores and boutiques across India, but much of their sales also come from local retail outlets at Kohima and Chizami within the NEN premises. It is indeed an indicator of the quality and value-for-money reputation which is recognised by the consumers within Nagaland as well."

Chizami Weaves is not confined to markets and shops; the brand has been engaging directly with fashion institutes like Indian Institute of Arts and Design (IIAD), where some commonalities are being explored at the initiative of Saumya Pande, faculty for product and design development training. Some Chizami Weaves team members have been trained in cutting at IIAD. Future initiatives include training of IIAD students by Chizami Weaves weavers. Some of the key local resource persons include Konei-u Lohe and Khrolou Nganu, master weavers from Enhulumi, and Khwepelou Naro, Neiwulou Kezo, Wetezo-u Chirhah and Aneile Kapfo, master weavers from Chizami.
As Behal concludes, "We need to create enormous possibilities for the women weavers and their families with fair wages, legal compliances, quality preferences and social consciousness to be a fashion brand with a rooted cause."