A gutsy initiative in Nagaland is trying to revive the dying loin-loom by training and empowering women. Ninglun Hanghal reports.
Diezephe is a small village on the idyllic outskirts of Dimapur. In this village, some 13 km away from the hustle and bustle of Nagaland's largest town, some 20 young women trickle in early in the day. This is a facilitation-cum training centre, and the women are here to be trained in a skill-set that lies at the core of traditional Naga society-weaving. It is an art that is slowly disappearing from what was once a village-society. The women are here to revive tradition, and thereby make a living too.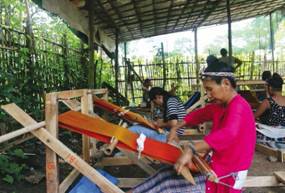 This centre is run by Exotic Echo Society, and the women are here to be trained in loin-loom weaving. Most of them are in their mid or late teens, and either did not complete or continue studies beyond the tenth class. A couple of them are graduates, and all come from in or around Dimapur district. None of them had, till they landed up at the Exotic Echo centre, engaged in any kind of economic activity or even been employed. They are here to weave on traditional loin-looms locally made from bamboo and wood, and it is their first blush with the art.
A Tata Trust project, the training imparted here is in technical skills and learning the fundamentals of marketing with use of the traditional loinloom. The underlying philosophy is 'charkha to marketing', denoting the spinning wheel, creating entrepreneurship, and linking that with the market economy.
The project's trainer Avolu Vasa who has been into weaving and designing for more than two decades now, feels training in weaving is a necessity today. Vasa herself had needed no formal training, having learnt the skills at home-from her mother and other women in her village. Yet, she too underwent training-in other related areas and skills such as dyeing, spinning and yarning.
Says Vasa, "Since many women have not continued weaving, the new generations require a lot of training, even in the basic skills. Many girls today have never known anything about weaving. Moreover, weaving is not only about making some yarn into a cloth. It involves processes and needs skills. From making yarn, spinning, wrapping, designing, then stitching." And it does not end there; it still requires marketing, and it is not merely something that one can take to the bazaar and sell.
"There is earning opportunity in weaving; the more I produce, the more I earn," says Vasa. The reason for the gap between high demand and less supply is that women cannot devote the time needed, having to factor it in between household chores. But loinloom weaving and production is time-consuming. For instance, as she points, a piece of cloth that can be made into five cushion covers takes at least four days to weave, and then there is the stitching part. A traditional shawl, on the other hand, would need nothing less than two days.
Yet, loin-loom weaving has an advantage. Women can indeed engage in it, while taking care of the household. Once a product is ready, a customer is already assured. For loin-loom weavers, certainly those associated with the Exotic Echo Society, there is never any shortage of buyers. Over 200 women weavers in Dimapur are members and associated directly or indirectly with the society. Imparting Skills Founder and key functionary of Exotic Echo Society, Sonnie Kath, says the key mission of training young women in loin-loom weaving is to mould them into successful entrepreneurs. The process starts with this first level, basic course. Upon completion of the course, that entails 15 days of intensive training, each woman is assessed and graded to take them forward to a series of higher levels of training, as per their specialisation. According to Kath, this includes among other related skills, designing, business communication, and IT tools.