A gutsy initiative in Nagaland is trying to revive the dying loin-loom by training and empowering women. Ninglun Hanghal reports.
Diezephe is a small village on the idyllic outskirts of Dimapur. In this village, some 13 km away from the hustle and bustle of Nagaland's largest town, some 20 young women trickle in early in the day. This is a facilitation-cum training centre, and the women are here to be trained in a skill-set that lies at the core of traditional Naga society-weaving. It is an art that is slowly disappearing from what was once a village-society. The women are here to revive tradition, and thereby make a living too.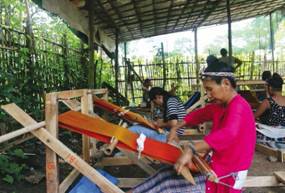 This centre is run by Exotic Echo Society, and the women are here to be trained in loin-loom weaving. Most of them are in their mid or late teens, and either did not complete or continue studies beyond the tenth class. A couple of them are graduates, and all come from in or around Dimapur district. None of them had, till they landed up at the Exotic Echo centre, engaged in any kind of economic activity or even been employed. They are here to weave on traditional loin-looms locally made from bamboo and wood, and it is their first blush with the art.
A Tata Trust project, the training imparted here is in technical skills and learning the fundamentals of marketing with use of the traditional loinloom. The underlying philosophy is 'charkha to marketing', denoting the spinning wheel, creating entrepreneurship, and linking that with the market economy.
The project's trainer Avolu Vasa who has been into weaving and designing for more than two decades now, feels training in weaving is a necessity today. Vasa herself had needed no formal training, having learnt the skills at home-from her mother and other women in her village. Yet, she too underwent training-in other related areas and skills such as dyeing, spinning and yarning.
Says Vasa, "Since many women have not continued weaving, the new generations require a lot of training, even in the basic skills. Many girls today have never known anything about weaving. Moreover, weaving is not only about making some yarn into a cloth. It involves processes and needs skills. From making yarn, spinning, wrapping, designing, then stitching." And it does not end there; it still requires marketing, and it is not merely something that one can take to the bazaar and sell.
"There is earning opportunity in weaving; the more I produce, the more I earn," says Vasa. The reason for the gap between high demand and less supply is that women cannot devote the time needed, having to factor it in between household chores. But loinloom weaving and production is time-consuming. For instance, as she points, a piece of cloth that can be made into five cushion covers takes at least four days to weave, and then there is the stitching part. A traditional shawl, on the other hand, would need nothing less than two days.
Yet, loin-loom weaving has an advantage. Women can indeed engage in it, while taking care of the household. Once a product is ready, a customer is already assured. For loin-loom weavers, certainly those associated with the Exotic Echo Society, there is never any shortage of buyers. Over 200 women weavers in Dimapur are members and associated directly or indirectly with the society. Imparting Skills Founder and key functionary of Exotic Echo Society, Sonnie Kath, says the key mission of training young women in loin-loom weaving is to mould them into successful entrepreneurs. The process starts with this first level, basic course. Upon completion of the course, that entails 15 days of intensive training, each woman is assessed and graded to take them forward to a series of higher levels of training, as per their specialisation. According to Kath, this includes among other related skills, designing, business communication, and IT tools.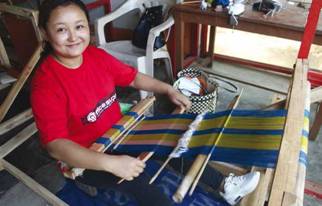 Kath clarifies that this programme of intensive training is for building weaver entrepreneurs, and not merely imparting technical skills. It focuses on aspiring weavers who dream of becoming successful entrepreneurs. Once a person is skilled in techniques and is committed, the focus is on other skills of entrepreneurship- both hard and soft skills. One person cannot be doing everything, and entrepreneurship does not involve only weaving a piece of cloth. It requires preparing raw materials to production-that too quality production-and skills in marketing. Says Kath, "It is not merely about weaving a loom; it is a whole lot of processes, and there are variety and categories of specialties-spinning, dyeing, designing, yarning and even communication skills."
This training programme is not the first or only one of its kind. Exotic Echo Society has been for years working towards promoting and preserving traditional loin-loom weaving. Registered in 2008, it has been trying to resurrect the dying loin-loom and make weaving a sustainable livelihood.
The women are trained in soft skills and the ability to convince buyers. Exotic Echo does not play the role of a middle-man as in the case of many other commercial networks. Underlines Kath, "Our objective is to connect the weavers directly with the buyers." Therefore, there is the need for intensive moulding beyond technical skills. The intent is to create a business model wherein weavers and buyers directly connect with each other. "And, no third person is involved."
But, reviving traditional loin-loom weaving is not easy. With traditions slowly withering away, many modern technologies for mass production such as the shuttle-loom have to a large extent replaced the former. Therefore, mobilising people into loinloom weaving is not an easy task. In fact, Kath had been conducting village-to-village and door-to-door campaigns and mobilising girls and women to take up the vocation. "It's not simple-convincing young girls who no longer see or experience weaving in their own homes, and who are already exposed to Western fashion."
Reviving Traditions
Weaving with loin-looms had been both a skill and occupation for women in all tribal communities in the Northeast. The skills would be passed down generations. In the olden days, all women would be engaged in weaving, apart from agriculture and household activities. The young ones would imbibe the skills from elders- mostly mothers-in the family, and no formal training would be required.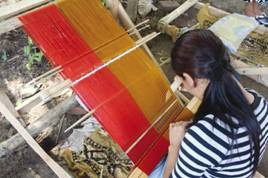 "Training" would not be needed in the literal sense, and the skills would come from lived experiences and participating in the activity from an early age, beginning with assisting the mother or any other elderly woman. Every household in a village would own a loin-loom made from bamboo and wood. The loin-loom had its economic significance in the earlier days, and remained a crucial corner-stone of the socio-culture of tribal societies in the Northeast. Loin-loom weaving was a skill-set that a woman took along when she got married. In the age-old days, every woman was expected to possess weaving skills and make clothes for all family members.
But those days are gone. Loin-looms have disappeared from most households, even in rural areas. So have the weaving skills, leaving art and tradition in their last throes.
It was in this backdrop that Exotic Echo Society took roots. Kath points out that weaving is no longer a vocation for the new generation, and even the skills and art are fading away fast. The new generation no longer has the inborn skills, nor the passion. As it is, the modern handloom has taken over cloth and apparel production, even in the Northeast. The markets are flooded with cheap ready-made garments, most of them coming from foreign countries.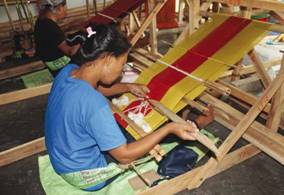 There is little opportunity or ground for the loin-loom to compete. But this does not deter Kath and her team. For them, it is about ideology and perspective. As she avers, "Our history is in our textiles. We earn respect." It is about identity, and asserting skills and knowledge.
What Kath and her team are challenging are modern technologies such as shuttle-looms that are meant for cheap and mass production. "For us, it is not about quantity production, but quality production that is sustainable and eco-friendly. Ours is sustainable fashion." It is also "slow fashion".
Moreover, the shuttle-looms are not easy to physically handle for women. Those require space, besides a lot of energy and physical input. The loin-loom has none of these problems. It can remain in a corner of the house and is virtually silent unlike the shuttle-loom. "The shuttle loom is noisy and is not very welcoming for a family and the entire neighbourhood. It creates a lot of disturbances."
The fast and cheap production of the shuttleloom also results in exploitation of workers. So, another effort of Exotic Echo is to bring about changes in wages. It works on the principle of transparency, and weavers are paid according to the work. "We practice fair wages. We pay what they deserve, and ensure that they are paid as per the value of their product."
Beyond Traditions
To compete in the market, Kath and the team at Exotic Echo Society do not limit themselves to producing only traditional tribal shawls or other traditional designs. "We go beyond tradition. That is, we produce modern fashion as per demands of customers," she says. These include modern cushion covers, fashionable apparel, and bags, among others.
Still, one needs to work on market linkages and sustain the scale. Towards this, Exotic Echo Society conducts exhibitions, festivals, and networks with well-wishers and like-minded groups and organisations. Kath is surprised that loin-loom weaving is not recognised as a "craft" by the Indian government. "In order to assert ourselves, we conduct festivals and exhibitions essentially for raising our voice for recognition," she says.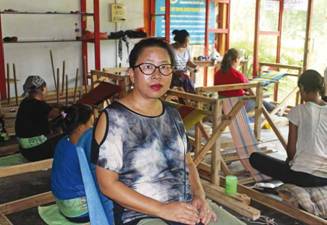 In some ways, it is already working, with the products slowly gaining currency. It may be a dying art, but it also attracts customers since it is sustainable fashion. People acknowledge the impact that it has on communities. Moreover, there is an increasing awareness and consciousness about naturally-dyed and hand-made products. Kath had even participated at a Lakme Fashion Week show.
Fortunately, many are now aware of quality loin-loom products. In fact, the demand is so high that loin-loom weavers are too few to cater to that need. The loin-loom products and other hand-made crafts are popular in European countries, and slowly but surely in India too. "Many are aware and give importance to natural fibres, natural dyes and of course respect to tradition." One of the main reasons for the demand of loin-loom products is the appreciation of the work, points out Kath.
Much as weaving is not merely about making a piece of cloth, ushering in a revolution in the economy through loin-loom weaving too requires a lot of processes-from acquiring the raw materials to marketing the finished quality products. So, Kath has now initiated the production of cotton in Yoruba village of Phek district. The idea is to ensure a full production cycle from raw material to finished product, and bringing the same to the market.
And therein, Exotic Echo Society is not only trying to revive loin-loom weaving, but towards a sustainable economy and empowerment for rural communities.