The current year 2018 has seen world apparel players witnessing store downsizings and lesser retail growth but increase in sales due to digital market presence. This effect has fuelled changes in the approach of the market players and this will continue in 2019 too with more emphasis on the growth of e- commerce, mobile shopping and meeting ever rising expectations of personalisation among customers. World over physical stores are getting a face-lift to promote specific brands. In 2019 the manufacturing sector will see more technological upgrades with factors like labour cost, arrival of new industry players in the market posing more challenges in production and distribution.
Outlook for the market: The apparel market in global arena is expected to cross the magical figure of 850 billion in 2019 based on the performance of global apparel market players in previous years. The compound growth rate of this huge market is expected to be around 4 per cent in the coming years also attributed to increase in number of potential consumers and increase in working population world over. Asia Pacific is providing an impetus to this global growth by higher consumption. On a global scale, the major factors affecting the worldwide apparel market can be categorised into individual nation's policies, consumer trends,environment, inclination of consumers towards online purchase, introduction of better technology equipped with Artificial Intelligence (AI) etc. In addition to this, the manufacturing cost, investment capability for adopting newer technologies for manufacturing, bringing transparency in production chain to enhance customer base are also going to play important role in upcoming years. Apparel manufacturing and export segments are expected to grow in forth coming year 2019: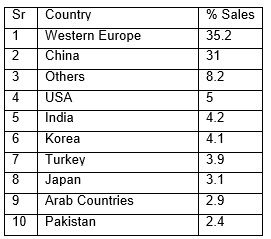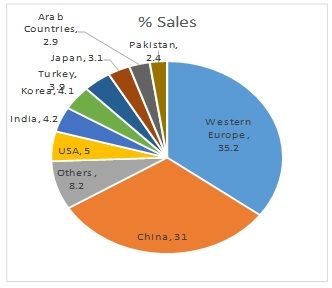 Predicted Apparel Sales for 2019: Source Textile Infomedia
From 2019-2022, the global prediction is that online platforms, like Amazon, will experience at least 5 times more revenue compared to 2018. While consumers frequent websites to compare prices and products, global online platforms are expected to expand their fashion brand partnerships and develop additional engagement methods to stay competitive in the cut-throat digital shopping space. Now the challenge is to collaborate with online platforms and boost fashion brands with strong online presence to attract more consumers.
Market Sales: Even after challenges posed by excess product stock and slow growth in retails, the global apparel industry is poised to perform better in the next coming year 2019 and on. Emerging markets are set to overtake the west in USD 2.5 trillion fashion industry, where nearly 50 per cent of apparel sales will originate from continents out of Europe and North America. Asian markets are expected to perform better as consumers owing to larger working populations using newer trends in fashion, apparels and lifestyle.
Still, as per the Euro forecast, the Chinese apparel market will see 25 per cent increase in apparel sales in 2019 as compared to only 3-4 per cent increase in the US apparel market. The apparel market in South America is expected to touch the mark of whopping 160 billion by 2019. The size of apparel market in the US alone is expected to reach $285 billion by 2025, as per the CAGR report. (Source: The Statistics Portal). The global business in apparel market is expected to reach 545 billion in 2019 and cross 600 billion in 2020 based on the growth factor indicators. At present, the US apparel market occupies 19 per cent of the global share, whereas the other developed countries account to 15 per cent after Chinese share of 24 per cent. India accounts to 4 per cent of total global share of apparel market and the remaining 38 per cent is accounted by the remaining nations.
Manufacturing segment & export share: The change in fashion inspires consumers and in turn leads companies to adapt new technologies in manufacturing, marketing and supplying the products through retail outlets. The major factors that affect manufacturing are costs of materials, labour costs, environment, trade and distribution policies. With Chinese manufacturers, in large numbers (at least 80,000), finding it difficult to adapt, due to strict environment policies imposed by the local government, the opportunity is up for grabs for foreign apparel manufacturers to take lead and keep the supplies in tune with the growing demand. In Asian countries like India, Vietnam and Mexico in South America. These countries enjoy a significant lead in terms of labour cost per hour over developed countries like the US and newly industrialised economies like Hong Kong, Taiwan, South Korea and China. As usual, the shift of consumers towards style is opening new horizons for apparel companies spread world over to explore new ideas to provide comfort, satisfaction and value for money to the buyer and lower the cost of production and establish trade-off with trade and environment policies in manufacturing country. In 2018, European exports have touched 130 billion after Chines exports touching 158 billion. There are still challenges for manufactures and suppliers because of the US-China trade war the apparel demand will look to find a new sourcing base outside of China. Here cost is not the only factor as other important factors are compliance with trade regulations and dealings with political and trade tensions among countries. Brazil and Egypt may become the biggest exporters in South America and Africa respectively from 2019 onwards.
Potential Increase in Customer base and Technological Upgrade: There is a lot of newer consumer base globally with addition of consumers from home purchase segments through online purchase i.e through e- commerce companies thereby leading to rising apparel sales. In 2019 alone, the number of new potential customers is projected to grow to 1.2 billion, and majority of these fall between 16-24 and 25-35 age group. According to the published reports, 41 per cent of the consumers' demand personalisation for their shopping experiences, as they continue to value authenticity and sustainability in their wardrobes. Apparel companies are using tools to harness the power of data to tailor personal recommendations, engage with social media influencers, and tap into the needs of each consumer by facilitating more digital experiences online and in-stores. That's where the transparency in production chain comes in picture for the consumer. This helps in sustaining their confidence and interest in apparels they purchase and spend their valuable money. With more mobile payment solutions, B2C and direct to customer options becoming available worldwide, smartphone usages globally, the consumers are shopping and paying for products from the comforts of their homes and offices. More fashion companies are expected to provide mobile transaction, including frictionless checkouts online and self-checkout in physical stores.
Newer Trends: The companies now may start using data analysis tools, big data analytics and artificial Intelligence tools and concepts to enhance their capability to sense the market and customer satisfaction levels. The apparel industry is important to global economy due to its contribution in trade, employment, revenue and investment. The coming years will see its growth in terms of technological improvement, addition of newer consumer base and wider networking affecting its growth. Yes, the factors like Brexit, economic slowdowns etc may have their own impacts in coming years, yet the ever expanding and wider consumer base will keep its rate at minimum 4-5 per cent in next coming years. The stiff competition is expected in online value chain addition and digitization of offline retails. A new era of precisely understanding user experience, choice with style quotient and driving a new aesthetic feature will come into existence. The companies will try to tap new methods of providing best value for money for customers through membership concepts, learning the preferences and activity levels of its consumers opening doors to providing exclusive products and feedbacks, style advice and rewards for their across both digital and in-store environments. With the introduction of mobile apps brands are erasing the lines between physical and digital even further. Thus, with ideal propositions, brands will fulfil fashion sensibilities and through technological innovations take apparel trade to a notch higher. The need to understand consumer expectations and using customer experiences intelligently to rethink their strategies will help in bettering the market performance of these companies. This way, they will not only be able to retain their consumer base but also improve their existing one.
Author: Sulakshna Sharma
Sulakshna Sharma is an Indian author, known for her write-ups in Textile sphere. Sharma also writes various blogs for IT Industry, website, magazines and digital article.
References
: As collected from data published and collected via Google.