The global home textiles sector is projected to become a $142 billion market in another five years. The growth rate may not look impressive, but it will remain steady, finds Subir Ghosh.
What is obvious and in plain sight often escapes attention-if you are not looking for it. Home textiles, or home fashion to put it broadly, is something like that.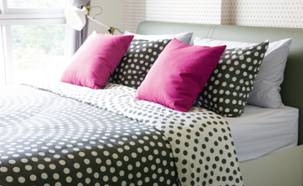 Most of what constitutes home textiles-like bed linen, kitchen linen and bath linen-are used by most people, though the amounts spent on them vary drastically and depend on the means that people have. The "fashion" element, as it were, is a relatively new angle to the concept. After all, human beings have used such textile items since around the time that they started wearing clothes. Being fashionable about it is newfangled in that.
Looking for a fashion element in home textiles is just another way of looking at things. Call it luxury or fashion, the idea is as old as the times when rulers of people became opulent and swathed themselves in luxury-from the luxuriant sheets they slept in to the lush towels that they dried themselves up with.
But going on a historical trajectory would be digressing. Let us, instead, confine ourselves to numbers.
For India, the domestic numbers are not much to brag about-just $5.2 billion in 2016, which rose to $5.64 billion the following year. These billions become insignificant when compared to China. In 2016, the domestic market size of China with a population of 1.4 billion was more than five times that of India which has a population of 1.32 billion, according to the United Nations Department of Economic and Social Affairs (UN-DESA). Comparisons would remain as pointless in the years to come.
It makes more sense for India to look at trade since this is an export-driven sector of the overall textiles-apparel-fashion industry. But even here, warnings were sounded in early 2018 when credits agency CRISIL reported that operating profit margins of home textiles exporters were falling 300 basis points (bps) from this fiscal following pressure on export realisations stemming from a shift in the dynamics of US retail, and a reduction in incentives after the implementation of the goods and services tax (GST).
The words of concern were, "This fiscal, the landscape is undergoing a sea-change. Many brick and mortar retailers in the US have pruned inventories and downsized stores to offset profitability pressures caused by the e-tail boom. In order to cushion the consequent fall in utilisation levels, Indian exporters have been enhancing their share of the business with US e-retailers, but at lower realisations.
"Domestic home textile firms have had a good run since fiscal 2012, with India's share of US imports of cotton bed sheets and terry towels increasing from 34 per cent to about 40 per cent in fiscal 2017 because of cost competitiveness compared with peers in China and Pakistan. US accounts for a third of global home textiles market worth ~$16 billion.
Almost 47 per cent of India's home textile exports of $5.3 billion last fiscal was to the US." That sent the panic buttons ringing.
In six months, much of the stormy clouds seem to have disappeared, when reports appeared in a section of the media insisting that the retail recovery in the US was resulting a better scenario for Indian exporters, particularly those into home textiles. Despite a better volume growth, earnings remained weak since the reduction in export incentives, high cotton costs and low realisations were said to have impacted performance. Matters have remained uncertain with the rupee continuing to depreciate till early October. Meanwhile, the Indian ministry of commerce announced a duty drawback increase in November in a bid to stem the export rot, particularly for the textiles industry.

Some Home Truths
The global home textiles trade stood at $79.5 billion in 2017, which has grown at a compound annual growth rate (CAGR) of 8 per cent for the last ten years-up from $54.0 billion in 2007, according to an analysis of UN Comtrade statistics carried out by Wazir Advisors.
Carpets have remained the highest traded category in the 2007-17 period, with a share of 19 per cent in overall trade in 2017, followed by made-up articles with a share of 14 per cent. Exports of carpets grew from $13.4 billion to $15.3 billion, while made-up articles jumped from $5.4 billion to $11.0 billion.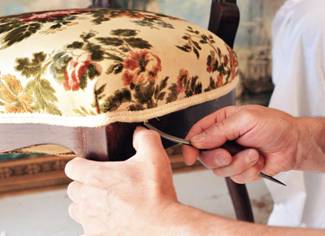 Exports of flexible intermediate bulk containers has shown the highest growth since 2007, with a CAGR of 8 per cent, while the exports of bed linen of cotton have shown no growth for the same time period. Exports of the former grew from $1.0 billion to $2.2 billion. Both made-up articles and blankets and travelling rugs (from $2.0 billion to $3.8 billion) have grown at 7 per cent. The categories of worn clothing and clothing accessories and curtains including drapes and blinds came next with a growth rate of 6 per cent during the ten-year period, according to the Wazir study.
Even though the category of carpets and other textile floor coverings remains the singlelargest, its growth rate has been rather negligible-at 1 per cent. In contrast, the growth of made-up articles has been quite impressive-almost doubling in the decade under study.
Back home, the domestic home textiles market has been growing at the same pace, but only marginally faster. India's domestic home textiles market was close to about $6 billion in 2017, which has grown at a CAGR of 9 per cent since 2009. It is expected to grow at a CAGR of 10 per cent to reach $12 billion in 2025, according to an analysis of secondary sources by Wazir Advisors.
In terms of segmentation in 2017, the Indian home textiles market seems to be brutally dominated by bed linen with an overwhelming share of 58 per cent, followed by curtains and upholstery with 14 per cent and 9 per cent, respectively. Towels come in next with 7 per cent.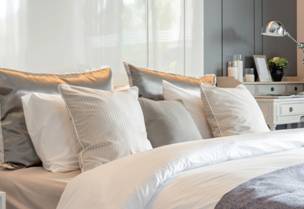 Figures of Indian home textiles exports do not show much of a contrast. The number stood at $6.7 billion in 2017; it has increased at a CAGR of 7 per cent from $3.5 billion in 2007. A cursory look at the break-up shows a lopsided dependence on a single market-the United States (US)-with a substantial share of 41 per cent. The next two biggest export markets for India are the United Kingdom (UK) and Germany with an identical share of 6 per cent. The rest are fragmented and just as minuscule.
With a share of around 25 per cent in overall exports in 2017, carpets were the largest exported category in Indian home textiles segment, followed by articles for interior furnishing with a share of 24 per cent. Sacks and bags were the most emerging category in terms of exports. This category has shown the maximum CAGR of 21 per cent since 2007, according to Wazir Advisors.
Home Alone
Export figures clearly indicate the level of manufacturing and that of the demand in countries which have been absorbing the home textiles, for varying reasons. Retail figures for home textiles, on the other hand, show the extent and growth of both the need and demand at the consumer level.
Fibre2Fashion's Market Intelligence (MI) has assessed the global home textiles market at the retail level and finds that the projected CAGR till 2023 is much less than that of exports.
The global retail market for home textiles is projected to grow from $110 billion in 2016 to $142 billion in 2023 at a CAGR of 3.7 per cent. The growth rate is going to be the highest in the Asia-Pacific region, rising from $43 billion in 2016 to $69 billion in 2023 at a CAGR of 5.6 per cent. On the other hand, Europe, which is a big importer of home textiles, will grow at only 1 per cent. The Asia-Pacific market will also retain its position as the single largest bloc. In terms of proportion too, it would become bigger-from 43 per cent of the global retail market in 2016 to 49 per cent in 2023. The share of Europe, interestingly, will go down from 26 per cent in 2016 to 21.7 per cent in 2023.
As reflected in the Indian figures, the global retail market will see the highest growth in the bed linen and bed spread category-4.5 per cent, growing from $48.6 billion in 2016 to $66.6 billion in 2023. The proportion will change only marginally-from 44.2 per cent to 46.7 per cent. Bath/toilet line will see a 3.6 per cent growth, upholstery 3.5 per cent, kitchen linen 2.3 per cent and floor textiles 2.2 per cent.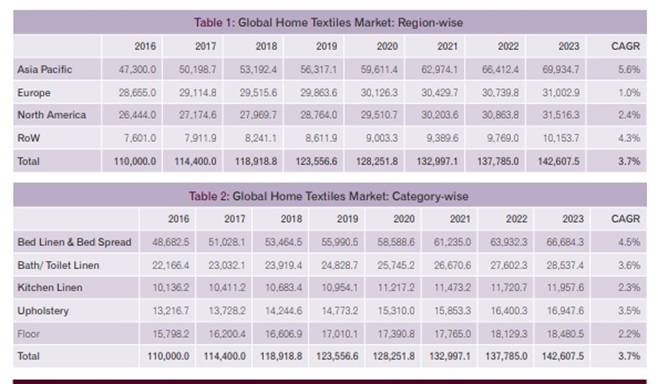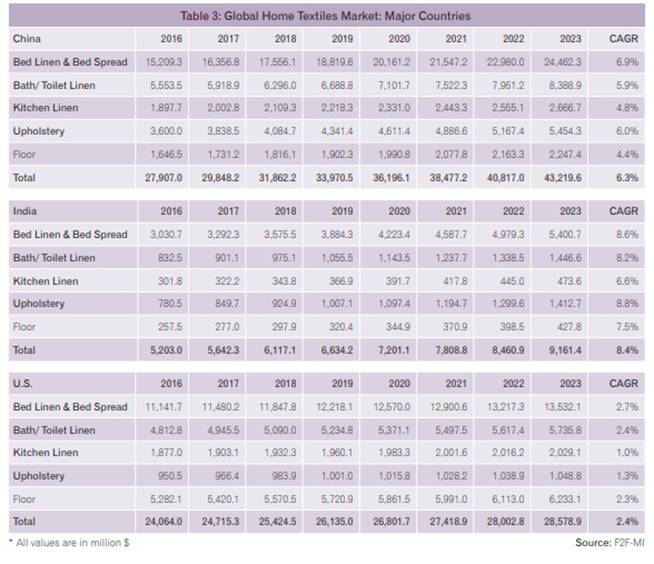 China will remain the largest domestic market, growing at 6.6 per cent from $27.9 billion in 2016 to $43.2 billion in 2023. The US comes second with $24 billion in 2016 and $28.6 billionin 2023, but growing at only 2.4 per cent. All of Europe was only $28.6 billion in 2016, and is projected to grow at only 1 per cent to $31 billion in 2023. The Indian market ($5.2 billion in 2016 and $9.16 in 2023) is small-in fact, in 2016 it was smaller than even Japan ($7.57 billion) and Germany ($5.73 billion). The domestic market in both these countries is projected to increase only marginally-0.9 per cent to $8.25 billion in Japan and 1.1 per cent to $6.25 billion in Germany-and fall back way behind India.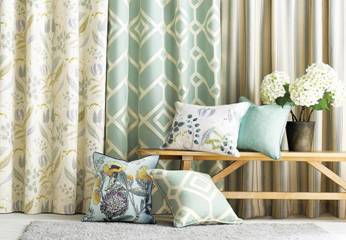 This is where it gets better-if one looks at prospects. The Indian market, which is only one-fifth of the US and China markets, is going to see the highest growth between 2016 and 2023-8.4 per cent, growing from $5.23 billion to $9.16 billion. The category-wise break-up shows that the highest growth will be in upholstery (8.8 per cent), followed by bed linen and bed spread (8.6 per cent), bath and toilet linen (8.2 per cent), floor textiles (7.5 per cent) and kitchen linen (6.6 per cent).
With the US projected to grow only marginally and the entire European market virtually stagnating, the global retail market will be driven by the domestic market in China. Even though India would be the fastest growing, its overall size would be hardly enough to steer global growth.
Need for Home-land Security
A number of political developments at the international level and the global slowdown have had a negative impact on all exports, especially the export driven textiles-apparel industry of India- all the more so with home textiles. Many economists and trade experts have been arguing for bolstering the domestic front so as to boost and sustain the manufacturing sector.
The home market needs more attention.