The global home textiles sector is projected to become a $142 billion market in another five years. The growth rate may not look impressive, but it will remain steady, finds Subir Ghosh.
What is obvious and in plain sight often escapes attention-if you are not looking for it. Home textiles, or home fashion to put it broadly, is something like that.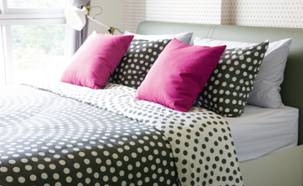 Most of what constitutes home textiles-like bed linen, kitchen linen and bath linen-are used by most people, though the amounts spent on them vary drastically and depend on the means that people have. The "fashion" element, as it were, is a relatively new angle to the concept. After all, human beings have used such textile items since around the time that they started wearing clothes. Being fashionable about it is newfangled in that.
Looking for a fashion element in home textiles is just another way of looking at things. Call it luxury or fashion, the idea is as old as the times when rulers of people became opulent and swathed themselves in luxury-from the luxuriant sheets they slept in to the lush towels that they dried themselves up with.
But going on a historical trajectory would be digressing. Let us, instead, confine ourselves to numbers.
For India, the domestic numbers are not much to brag about-just $5.2 billion in 2016, which rose to $5.64 billion the following year. These billions become insignificant when compared to China. In 2016, the domestic market size of China with a population of 1.4 billion was more than five times that of India which has a population of 1.32 billion, according to the United Nations Department of Economic and Social Affairs (UN-DESA). Comparisons would remain as pointless in the years to come.
It makes more sense for India to look at trade since this is an export-driven sector of the overall textiles-apparel-fashion industry. But even here, warnings were sounded in early 2018 when credits agency CRISIL reported that operating profit margins of home textiles exporters were falling 300 basis points (bps) from this fiscal following pressure on export realisations stemming from a shift in the dynamics of US retail, and a reduction in incentives after the implementation of the goods and services tax (GST).
The words of concern were, "This fiscal, the landscape is undergoing a sea-change. Many brick and mortar retailers in the US have pruned inventories and downsized stores to offset profitability pressures caused by the e-tail boom. In order to cushion the consequent fall in utilisation levels, Indian exporters have been enhancing their share of the business with US e-retailers, but at lower realisations.
"Domestic home textile firms have had a good run since fiscal 2012, with India's share of US imports of cotton bed sheets and terry towels increasing from 34 per cent to about 40 per cent in fiscal 2017 because of cost competitiveness compared with peers in China and Pakistan. US accounts for a third of global home textiles market worth ~$16 billion.
Almost 47 per cent of India's home textile exports of $5.3 billion last fiscal was to the US." That sent the panic buttons ringing.
In six months, much of the stormy clouds seem to have disappeared, when reports appeared in a section of the media insisting that the retail recovery in the US was resulting a better scenario for Indian exporters, particularly those into home textiles. Despite a better volume growth, earnings remained weak since the reduction in export incentives, high cotton costs and low realisations were said to have impacted performance. Matters have remained uncertain with the rupee continuing to depreciate till early October. Meanwhile, the Indian ministry of commerce announced a duty drawback increase in November in a bid to stem the export rot, particularly for the textiles industry.