The traditional handlooms of Assam can play a significant role in ensuring sustainable livelihoods. Jennifer Shaheen Hussain reports from a handloom fair.
There are many things that are a given when it comes to India's handloom sector-from playing a vital role in shaping the economy to being a source of livelihood for millions to accounting for an overwhelming bulk of the world's handwoven fabrics. It, therefore, becomes extremely important to address concerns of the sector and artisans/weavers. The issues are varied- marketing, branding, pricing, among others. What most agree about is that an integrated approach needs to be the key.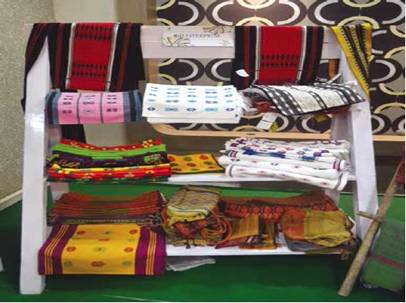 It was this integrated approach that formed the base of a fair that was organised recently in Guwahati, Assam on the occasion of the 23rd foundation day of the North Eastern Development Finance Corporation Ltd (NEDFi). This North East Craft and Organic Fair saw the participation of artisans and weavers from the handloom-handicraft sector as well as farmers, producers and organisations developed under the Mission Organic Value Chain Development for North East Region (MOVCD-NER) scheme. The five-day exhibition itself was a unique integrated approach in facilitating linkages to the crafts and organic sector of the region. The handlooms and textiles section of the exhibition saw active participation of 25 entrepreneurs from different states of the Northeast.
Organisations and brands such as the North East Network's Saneki and Chizami Weaves, Art Core and Earth Craft, Silk Culture, Ava Creations, Zomil Handloom, Onia Handloom, Prativa Brahma and others exhibited their handwovens. Traditional designs of different communities were displayed with the prime focus being on handwoven cotton and banana fabrics, silk and natural dyes.
Going Bananas
Among the ensemble of fabrics what caught attention of most was the display of banana fibre products by NEDFi. The corporation's deputy general manager Asim Kumar Das remarked about the initiative, "NEDFi has always been concerned about the sustainable survival of artisans and weavers, and if we consider adding value to the handloom sector, choosing the production of banana fibre is apt for the present handloom and textiles scenario." Das continued, "The use of banana fibre has been limited to production of craft products, but knowing the humungous sector that handloom is-especially garments-banana fibre can be explored thoroughly in producing textile products. Moreover, the banana fibre is mixed with other natural fibres, and then the final product is produced with the cost being more or less the same, besides having an enhanced quality."
The banana fibre costs roughly ₹7,500 to a kilogram. Expensive as it may seem, only a small percentage of it is used in the final product. Therefore, it minimises the cost of production and also reduces the capacity building of the weavers. As Das said, "The cost is minimised in terms of training weavers as they already know how to weave. The government or NEDFi has been investing in skill development of the weavers. For training in extraction of yarn from banana fibre hardly takes a day." For next few years, NEDFi will support weavers by providing the banana fibre, and once yarn procurement is high in quality and quantity, NEDFi will shift to natural dyeing of the fibre.
Networking the Weaves
The brands provided insights into weaver clusters and how they operate at different levels. The owners and prime facilitators of the organisations spoke about how they contribute in developing the skill-sets of these weavers and provide them with the right platform to showcase their craft.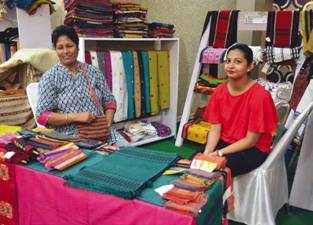 The North East Network (NEN), a women's organisation that has been extensively working with weavers in Assam and Nagaland, was one of the well-known organisations at the event. In Assam, NEN started Saneki Weaves in 2017 with around 50 weavers from Kamrup (Rural), Darrang, Udalguri and Sonitpur districts, producing different handwoven textiles. Many of these women were also survivors of domestic violence. In Nagaland, NEN has been working for eight years with women from conflict areas. Today, they are a cluster of 300 women under the brand name Chizami Weaves.
NEN consultants and field investigators work with these weavers and monitor their skill-sets and holistic development. Consultant Ruby Gogoi informed, "We provide them the yarn to weave, give regular wages for the final textile products they manufacture, train them to develop weaving aesthetics in order to conceptualise and develop the latest designs, besides bringing them to these exhibitions where they get an exposure."
Mainstreaming Livelihoods
Assam has a rich heritage of handlooms and textiles. The traditional techniques of weaving have been handed down by women down generations. As per the handloom census of 2009-10 conducted by the National Council of Applied Economic Research (NCAER), 14 lakh weavers work on 11.12 lakh looms in Assam, with as much as 99.07 per cent of the weavers being women.
But, most women weave only for the means of an additional source of income rather than as the source of livelihood. There are many obstacles that come in the way of the women pursuing a passion in weaving. Said Gogoi, "During menstruation they do not weave. Also, they stop weaving after the demise of their husbands or elderly relatives. They may not work for a month or even longer. This holds up the production for a while. Then there are deep-rooted gender biases. The women's hard-earned wages are taken away either by their spouses or immediate family members. Therefore, we at NEN deposit their wages in their respective bank accounts."
There are other logistical problems. Shubla Brahma, a weaver for the brand Prativa Brahma in Udalguri district that specialises in Bodo designerwear, said, "Transportation is a big issue for us. We are a small cluster of weavers and we have to take support of another NGO to come all the way to Guwahati and exhibit our products." She continued, "We are six women who weave for the brand, and we make around ₹6,000-10,000 a month."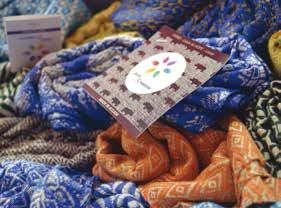 More Ventures
Weavers from Nagaland, Mizoram and Arunachal Pradesh too exhibited their traditional wear, accessories and craft items at the event. The problems and obstacles cut across states.
Zomil Handloom's Eva Lalduhawmi from Mizoram said, "Investments needed are huge in terms of cost of production, wages, accommodation, food, yarn. Besides, there are middlemen and taxes. Hence, the products become expensive." She added, "We pay weavers on the basis of design and the amount of products they produce. It might be ₹500-1,500 per design. Also, in Mizoram we have two kinds of weavers-the Mizos and the Burmese. Since the communities' craft differ, we give them the designs and they weave accordingly."
Atsung Longchar of Dimapur-based Onia Handlooms has been weaving for 20 years, but still does not have a store. "We sell through wholesale and at exhibitions. The weavers are from different Northeast states. We employ them, and provide them with necessary amenities. However, we do not train them. You do not get recognised enough to merit a place at an exhibition. Government departments, NEDFi or other organisations either invite you, or you need to initiate the process yourself. You need to create that space through the quality of your products so that they call you. Today, the present generation wants to preserve their culture and tradition and wear ethnic clothes and accessories despite they being fairly expensive. So, the market is definitely booming."
Weaving for Tomorrow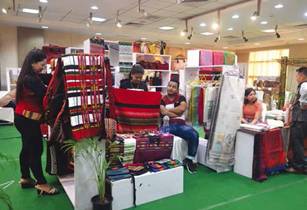 Few young brands from Assam stood out in terms of their textile products and the way they foresee the present and the future of the state's handloom and textiles industry.
Puberun Sarmah, founder of Artcore and Earth Craft which deals with natural dyes from renewable sources in order to promote conservation of nature, said, "As the production and availability of natural dyes is unorganised, we developed recipes after years of research and development which can now be replicated." His organisation has been working rigorously for almost a decade now for the commercialisation of natural dyes which can in turn enhance livelihoods. For the last three years, his enterprise has been exporting natural dye products to different parts of the country.
On sustenance of weavers, Sarmah said they work with villages in South Kamrup and near Chandubi lake where they train weavers in natural dye cultivation, extraction and production. The government too has been helping them in such initiatives. In collaboration with NEDFi, they have also initiated the cultivation of Assam Indigo whose availability is relatively rare. Moreover, to raise more awareness, Kaziranga has been home to a silk and dye festival for the last three years now.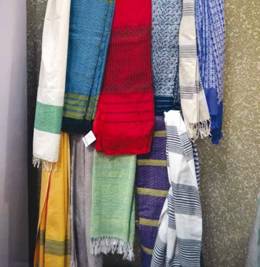 Kaustav Varun Borbora of Silk Culture had a different perspective on Assam's weavers. Trying to find the right balance between profit-making and contributing to the development of the weavers, he said, "I hire weavers from Bengal as they are faster, more skilled and efficient. I have also hired weavers from Assam. But, most weavers from Assam are hobby-based rather than professionals. So, they get an opportunity to work with experienced weavers and master the craft." This brings in a sense of healthy competition and they strive to do better. Borbora emphasised that in order to help weavers the government or other organisations need to constantly monitor and evaluate them. "Only providing them with looms and raw materials will not help them grow. There has to be an agent to monitor their growth and the output that they are giving back to the industry, or else it will be a failure for the uplift of the weavers as well as the industry."
Similarly, Ava Creations started a community weaving-cum-production centre with the help of Ava Foundation, a non-profit organisation acting as a channel for capacity building, design and development, skills training and infrastructure support on various government schemes on behalf of the producers. Some 37 women weavers have been trained in enhancing traditional skills.
This initiative is helping the weavers, who previously depended on forests for their livelihood and now have been able to get an alternative source of sustainable income. Striving to fulfill this target, Ava Creations managing director Arup Kumar Baishya said, "We are trying to create a difference in the weavers' lives and also trying to maintain an ecological and environmental balance. Previously, they were engaged in sources of livelihood from which sustainable income was difficult. Knowing that weaving is the second largest industry in Assam, we thought we could help them by associating them with an alternative source of livelihood." Passionate about making everyone wear handwoven garments and contributing to the society at large by helping weavers, Baishya added, "We are trying to sell handloom as hopeloom for the weaving community.