The readymade garments (RMG) industry of Bangladesh is bursting with self-confidence, reports Jozef de Coster from capital Dhaka.
Nobody could have predicted that the RMG (readymade garments) industry of Bangladesh, which started very small in the 1980s (exports didn't exceed $3.5 million in 1981), would in less than four decades become a world player with 4.2 million workers and an export value in the last fiscal year of $30.61 billion. And, what about the industry's future? Bangladesh does not lack fortunetellers. During the recent Fabric & Yarn Expo in Dhaka (November 15-18, 2018), many of them predicted without hesitation that by 2021, Bangladesh's RMG exports will reach the official target of $50 billion. Any worries about unexpected slowdowns, political unrest, technological disruptions, unimaginable Black Swans? Hardly. In the eyes of Bangladesh's sector observers, the RMG industry-the second in the world in terms of production and exports-is an unstoppable Armoured Division.
Some Number Ones
Even competing with two concurrent fairs-which are offering machinery, dyes and chemicals-the annual Bangladesh International Fabric & Yarn Expo in Dhaka is a trade fair of modest size. However, a number of domestic and foreign suppliers to Bangladesh's textiles and RMG industry, see the expo as a convenient occasion to show their latest products and services.
Also, at the latest edition of the expo, some regional 'Number Ones' showed up.
The Well Group, with production facilities in Chittagong, boasts being the biggest manufacturer of industrial sewing and embroidery thread in Southeast Asia. Today, the Well Group employs 18,000 people in the textiles and garment sector. Among its own garment customers are C&A, H&M, Walmart and Target.
The Shanghai Stock listed stitch machinery manufacturer Jack, which boasts being Number One in China, is also the top supplier in Bangladesh. Jack is producing some 85,000 stitching machines per month in China. More than 10,000 machines per year are destined for Bangladesh. Jack was promoting 'the Worlds's First Speaking Machine' at the Expo. The year 2018 was a good one for Jack Bangladesh Ltd., but 2019 may be more difficult. The management is expecting the closure of a number of small garment factories, due to the increase of the Bangladesh minimum salary.
Running Tiger (Bangladesh), a sister company of Chinese machinery manufacturer Jingsu Jinlong Technology Co Ltd, boasts being the Number One in the Bangladesh market of computerised flat-knitting machines. The service department of the company employs 28 engineers, most of them from Bangladesh and a few from China. Whatever technical problem may arise, without delay an engineer is sent to the customer to solve it and stay standby.
A Potential Game-changer
Most Bangladeshi RMG manufacturers who during the Fabric & Yarn Expo attended the seminar organised by Foursource, were surprised to learn that a new marketing tool exists that can give them visibility to the buyers of casual, formal, active and workwear, and that this tool is gratis for manufacturers (except if they require special services).
Foursource, a German startup founded in July 2016, allows buyers and manufacturers to create profiles describing their business, product range, countries, certifications, target groups, etc. Then, a matching algorithm pairs buyers with their ideal manufacturers, and vice versa. Users can also follow each other's updates and message each other. "In short, Foursource combines Linkedin and Match.com for the use of the apparel industry," explains Head of Marketing & PR Louise Amlie Leuchtenberger.
Foursource has global ambitions. The matching platform went live in May 2017, and has already attracted manufacturers from over 60 countries, including India, Bangladesh, China, Vietnam, Indonesia, Turkey, and some in Eastern Europe. The number of member factories is expected to reach 20,000 by the end of 2018. As for the buyers, Foursource says that this category of members has a combined retail volume of $40 billion, thanks to prominent early adopters such as Mango, Hugo Boss, S Oliver, Tom Tailor and Debenhams. In 2019, Foursource will also start focusing on US buyers.
Leuchtenberger is aware that Alibaba is an important networking tool for Chinese businesses. However, Alibaba doesn't offer the apparel sector the same matching services as Foursource does. Leuchtenberger isn't afraid of possible hackings from Chinese side, since Foursource has no servers located in China.
Applying the Right Policies
Annual export statistics reveal that Bangladesh's garment exports are too much focused on simple basic items and that the average value per item shows a downward trend. The conclusion is clear: RMG exporters who want to avoid deadly price competition should pursue "product differentiation" and "upgrading." Sheikh Mustakim, manager of integrated knitting company Cute Dress, explains how he's putting the double advice of "differentiation" and "upgrading" into practice.
Contrary to most Bangladeshi exporters, Cute Dress is not restricting its production offer to items in cotton and blends. The company is permanently trying to develop new fabrics using special fibres and blends like merino wool, cashmere, lyocell with linen, bamboo, hemp, etc. At his stand in the trade fair, Mustakim showed sweaters in fine merino wool for which his Scandinavian customers pay $41 per piece (FOB price). Cute Dress is handpicking its customers. They are high-end retailers from countries like Denmark, Sweden, Norway and Japan. Cute Dress wants to shine as a champion of social and ecological sustainability and proudly shows off its many certificates: BSCI, Oekotex, GOTS, ISO 14001. The company's new factory, some 40 km from Dhaka's international airport, is a so-called LEED building (Leadership in Energy and Environment Design).
Mustaki wants his workforce (currently 350, soon 600 and more) to be "skilled and passionate." Therefore, Cute Dress was an enthusiastic participant of the Danish 'Step Up' project that between 2016 and the end of 2018 aimed to improve the productivity and social and ecological compliance of garment factories in Bangladesh.
Universities Adore Cooperation
Several universities which are offering textiles and/or fashion education, presented themselves at the expo. Among them were BGMEA University of Fashion & Technology (BUFT), Daffodil International University and Northern University Bangladesh.
BUFT is something special. This university was established in 2012 by the Bangladesh Garment Manufacturers and Exporters Association (BGMEA). BUFT is keen on international cooperation and exchange. Its Department of Fashion Design & Technology has signed memoranda of understanding (MoUs) with several universities around the globe for academic cooperation, shared research and exchanging students. One of these universities is NIFT from India. When in September 2011 BUFT and NIFT signed an MoU, both Indian Prime Minister Manmohan Singh and Bangladesh's Prime Minister Sheikh Hasina attended the event.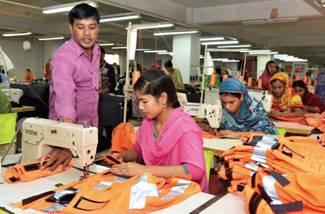 On November 13, 2018, BUFT, in cooperation with Dansk Fashion & Textile and other Danish partners, organised a high-level roundtable discussion about the future of the RMG sector of Bangladesh. The event also included the ceremonial closure of the Step Up project carried out in partnership with Denmark. This project focused on building the capacity of BUFT faculties for integration of CSR in existing BUFT curricula.
Not Afraid of the Future
According to Export Promotion Bureau figures, Bangladesh's export earnings from knitwear stood at $15.2 bn ( 10.4 per cent) in the last fiscal year, while woven products earned $15.4 bn ( 7.2 per cent). So, the apparel sector contributed more than 83 per cent to the country's total exports. As a garment exporter, Bangladesh is only preceded by China ($158 billion). It is beating Vietnam ($27 billion), India ($18 billion) and Turkey ($15 billion).
It appears that the Bangladesh RMG industry sees trade with India as a win-win activity. During a B2B-meeting in Dhaka on July 21, 2018 between Bangladesh and India, the president of BGMEA said: "India is a highly potential market for us. Thanks to the duty-free export of RMG products, export to India last year was $279 million to compare with only $96 five years ago. Moreover, we import most of our cotton, fabrics and other materials from India to produce garments here."
Mohammad Faruk Hossain of the Research & Development Cell of BKMEA (Bangladesh Knitwear Manufacturers and Exporters Association) is convinced that Bangladesh's RMG exporters will continue being successful because of following reasons (of which some may wildly over-estimate buyers' generosity) :
1. The factories which still are in business are the fit survivors of tough situations the sector faced in 2013 and afterwards, mainly due to increased compliance costs imposed by the Corrective Action Plans (CAPs) and to a 77 per cent salary increase.
2. Bangladesh is still competitive in the global clothing market in spite of successive substantial increases of the minimum salary: 167 per cent from 2010 to 2018 and 381 per cent from 2006 to 2018 (fiscal years).
3. Bangladesh's industry clusters are working hard to produce value-added garments, to enhance transparency and to ensure social and ecological sustainability in the long run. For this, they pursue extensive collaboration in the whole supply chain, especially hoping on a strong commitment from the buyers.
4. Since buyers contend that they are committed to responsible sourcing, it should be assumed that they will accept the labour minute cost in the cost sheet as a non-negotiable element, that they will negotiate a fair price allowing the factories to pay a viable living wage, and that they will accept paying some premium to off-set the use of Bangladesh's scarce resources like water, gas and electricity.
5. Bangladesh's entrepreneurs and buyers have a shared interest in convincing end-consumers that the higher consumer prices they agree to pay for garments will help workers, and especially the female workforce. Higher consumer prices are needed to finance factories' expenses for better working conditions, higher salaries and efficient and green garment production.
McKinsey Study Deserves Attention
A recent McKinsey study (October 2018) with the title 'Is apparel manufacturing coming home?' is of particular interest for the leaders of Bangladesh's RMG industry. The study discusses the possible impact, on clothing sourcing countries and on manufacturing countries, of three current trends: nearshoring, automation and sustainability.
The pursuit of sustainability, either voluntarily or imposed by buyers, is a priority for RMG manufacturers. It's less well known that some Bangladeshi companies also react effectively on the nearshoring policy of European and American apparel groups. And it's surely surprising that some Bangladeshi garment factories invest heavily in automation in a low wage country.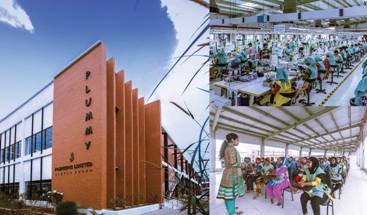 Why would DBL Industries Plc with headquarters in Dhaka invest in Ethiopia? Probably to make some of its customers happy. Ethiopia is geographically nearer to Europe than Bangladesh. The fast fashion giant H&M and other European apparel groups are gradually increasing their sourcing from Ethiopia. DBL built an integrated factory (spinning, knitting, garments) in Mekele in 2017, where it also intended opening a new printing and dyeing facility by the end of 2018. DBL wants to increase the current number of workers in Ethiopia (4,100) to 23,000 by 2022.
The Mohammadi Fashion Sweaters Ltd factory in Dhaka has 173 Germany-made machines knitting sweaters for overseas buyers like H&M, Zara and other Western brands. The owners of the factory began phasing out manual knitting in 2012 and by 2017 the process was fully automated. According to Rubana Huq, Managing Director of Mohammadi Group, her factories have replaced 500 workers with machines and she may buy more labour-saving machines. Another official, from T&M Sourcing, remarks that the increasing use of advanced machines is a double-edged sword: on the one hand, it strengthens the competitive position of Bangladesh as a garment producer and exporter; on the other, it contributes to the downward trend in job creation. The number of new jobs in the textiles and garment sector has decreased from over 300,000 annually between 2003 and 2010 to recently 60,000 a year.
Highest Number of Green Factories
Walter Streitler, Head Customer Relations Asia of Swiss company Bluesign Technologies AG, recently said that there's currently little awareness on environmental issues in Bangladesh' RMG industry, compared to other countries of the region. On October 16, a Bluesign Bangladesh office was opened.
However, most sector observers argue that not only social compliance, but also ecological compliance has dramatically increased since 2013. They refer to facts like the outstanding position of Bangladesh in the global list of 'green factories' and the success of the eco-labels promoted by Hohenstein. The German Hohenstein Institute, a founding member of the Oeko-Tex Association, is already cooperating with 1,500 companies in Bangladesh, where it has 200 employees. In 2018, the Hohenstein Institute made a 5 million investment in a 1,600 sq m laboratory in Dhaka. Md. Mayen, Manager Sales & Marketing at Hohenstein Laboratories Bangladesh wants to inform RMG manufacturers that the German retail chain Lidl wants all its textiles to show the 'Made in Green' label by 2020. Hohenstein Bangladesh has been approached by Aldi. In October 2018, it met American giant Walmart.
Industry association leaders boast that Bangladesh's RMG sector has taken the lead in green manufacturing. According to the US Green Building Council (USGBC), Bangladesh's RMG sector had 67 LEED green factories in March 2018. Indonesia was the second largest with 40 green factories, followed by India with 30 and Sri Lanka with 10.
More Import Substitution Needed
It's well known that the strong export performance of Bangladesh's RMG sector is counterbalanced by massive imports of fabrics and other textile materials. But it's less known that also some other sector-related imports weigh on the country's trade balance. This is for instance the case of cotton, of textile printing solutions, and of some kinds of textile knowhow.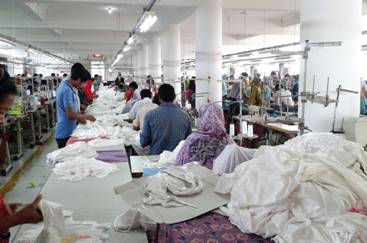 The RMG sector of Bangladesh is very dependent on imported cotton. Bangladesh is actually the world's second biggest cotton importer. In 2017, around 80,000 cotton farmers produced 73,875 tonnes of cotton on 43,000 hectare. While the current annual cotton fibre demand of Bangladesh exceeds 80 lakh bales, domestic production is only 1.56 lakh bales. But surprisingly, neither the government nor the private sector seem to be very active narrowing the huge gap between cotton production and consumption. According to a study by Mohammad Kamrul Islam, Senior Scientific Officer of the Cotton Development Board (CDB), the 2021 Vision of CDB includes a cotton cultivation area of 100,000 hectare. Taking into account Bangladesh's big cotton consumption, this is not an impressive goal. To reduce Bangladesh's import dependency, CDB wants to do more research in areas like organic cotton and cotton cultivation in low productivity areas. The organisation pleads for the development of public-private research partnerships among CDB and industrial partners.
Moreover, though being among the top exporters of knitwear, Bangladesh still lacks the technology and skilled manpower required for textile printing. The country still has to import printed cloth materials and printing solutions from China and India, the regional leaders in this industry.
Raquib Md Fakhrul, managing director of Munshi HR Solutions in Dhaka, remarks that the textiles and RMG industry often appeals to foreign secondment while proper training and skills development of local textile and apparel specialists would be a better solution.
How Will Exporters Cope with Salary Rise
Looking back at what happened after the sharp increase ( 77 per cent) of the minimum salary in 2013, Bangladeshi garment exporters expect that a similar scenario is ahead. In 2013, only a few buyers were willing to pay their suppliers a better price. Among them was H&M, which initially paid higher prices, but after 6-8 months reportedly reduced them. Due to the salary increase of 2013, many small and medium enterprises disappeared. Their more successful competitors increased productivity, partly by investing in labour-saving machinery.
After the Tazreen fire in November 2012 and the Rana Plaza collapse in April 2013, workplace safety as well as other compliance costs substantially increased in Bangladesh. Also, the Bangladeshi garment industry made an impressive effort to become greener. However, the average price of exported garments didn't increase correspondingly. On the contrary, under the pressure of buyers and brands, FOB prices went down by 10-20 per cent.
Just like the end of the export protecting Multi-Fibre Arrangement (December 31, 2004), also successive salary increases didn't refrain Bangladesh from exporting ever more garments. Looking back, it appears that until now the quote of the German philosopher Friedrich Nietzsche always did apply: "That which does not kill us, makes us stronger."
What will happen next? The monthly minimum salary will leap from 5,300 to 8,000 taka (thus from $63.7 to $96.1, or 51 per cent). Foreign buyers are not expected to provide a lifeline to struggling suppliers. Since Bangladesh has no exit policy for financially ailing companies, it must be feared that in a relatively short time several hundreds of the around 5,500 garment export factories will disappear. Maybe a nice example of Joseph Schumpeter's idea of "creative destruction," but as well a real tragedy for entrepreneurs concerned. Unlike in the US, going bankrupt is no minor career accident in Bangladesh; it creates a persistent stigma.
The big buyers are in an excellent position to predict which suppliers have the best chance to survive, since they have some kind of x-radiation tool at their disposal: the detailed "open costing sheet" they require from suppliers. This tool can be used to benchmark suppliers and give them good advice on all kinds of efficiency improvements that can be made. Buyers reportedly also use it to put price pressure on garment exporters and to threat dropping the less performing ones.
Moral Appeal, and Then?
BKMEA and BGMEA, associations of the knitwear and woven RMG industry respectvely, are well aware that there's an asymmetry of information and a systemic inequality of bargaining power between garment exporting companies and foreign buyers. They see that some brands and buyers, while mercilessly bargaining for lower prices, are playing zero-sum games to the detriment of Bangladeshi suppliers. They argue that too few buyers appear to be keen on developing win-win strategies. The current negotiations produce winners and losers. But why would buyers worry about that since they are always on the winning side. Often their excuse is that "the market will decide who'll perish and who'll flourish." Nevertheless, Hossain is wondering how buyers who declare adhering to principles of ethical trading define for themselves "a fair price" and "responsible sourcing."
Unfortunately, moral appeal on buyers doesn't seem to help much. Adam Smith explained that the economy doesn't run on benevolence, but on mutual beneficial exchange. Bangladeshi garment manufacturers and labour unions probably lose their time trying to persuade the other actors in the value chain that they should pay higher prices, since most clothing buyers and consumers see no benefit for themselves in paying more than the market demands.
Are there better solutions for getting a better price than to appeal on the moral sentiments of buyers and consumers? Yes, there are.
Undeniably, the best solutions come from Bangladeshi entrepreneurs themselves. Look at the video 'Inside Echo' (Youtube) about the activities of Echo Sourcing Ltd (fashion design in London) and Echotex Ltd (garment manufacturing in Gazipur, Dhaka). The video shows a model company that appears to earn enough money to profile itself as a social, ecological and profit-sharing pioneer.
Solutions that do not come from the entrepreneurs are more problematic. Some may be proposed by accountants, others by authorities. The slogan "Accountants will save the world" is not to be ridiculed. To get all businesses involved in solving tough problems for which the market doesn't provide good solutions, the accounting rules must be changed. For instance, a garment factory should not only be paid according to the products it makes, but also according to the so-called "social capital" it creates. But "social capital" is, just like "natural capital" not yet in the books.
Governments can have a tremendous impact on trade and working conditions. The slave trade and the slave work on cotton plantations didn't end when some sensitive people started condemning on moral grounds the transport and working conditions of the slaves. They ended when governments stepped in and abolished the whole horrible thing.
A Union Leader's Point of View
Amiral Haque Amin, the President of the National Garment Workers Federation (NGWF), who's since decades on the barricades for workers' rights, is not impressed by the alarm cries of BGMEA and BKMEA. He comments: "Factory owners have been telling us since 40 years that business is bad. But look how big the industry has become. And yes, a harsh reality is that big capital is always taking over small capital. Should that refrain garment workers and unions from fighting for better working conditions and higher pay? The coming minimum wage of 8,000 taka, this means $96 per month, is not yet a living wage. A real living wage is at least 3-4 times that amount."
Other union leaders share Amin's view. Moshrefa Mishu, president of the Garment Workers Unity Forum (GWUF), who's since long been an expert in matters like unlawful arrest, life behind bars and the pain of hungerstrike, says: "We cannot accept the declared wage of 8,000 taka for garment workers. That's why we are trying to raise a movement to realise 16,000 taka as minimum wage."
H&M, the Swedish fast fashion giant which reportedly is sourcing from more than 100 factories in Bangladesh, can't feel comfortable with Amin's and Mishu's declarations. In November 2013, H&M made the commitment to reach living wages for 850,000 garment workers by 2018 as part of its "Roadmap towards a fair living wage in the textiles industry." However, since the Swedish did not yet deliver on that promise, the Clean Clothes Campaign orchestrated, from November 23-30, 2018, street actions in more than 30 cities in Europe, the United States and Asia.
The NGWF has enough international contacts to know exactly how wages are evolving in competing countries like India and Sri Lanka, Cambodia and Myanmar. Amin wants to put the coming salary rise in perspective. He insists that the garment production cost represents only a small fraction of the final consumer price, maybe 3-5 per cent. Even if worker wages would double, the impact on consumer prices would be negligible. The employers' fear that buyers will move to other production countries is not founded, according to Amin, since buyers appreciate the excellent quality of clothing 'made in Bangladesh' and the discipline of exporters in respecting agreed delivery times. Amin adds that the industry has used the coming wage rise as an argument to extract special advantages from the government, like reduced tax and VAT rates and a lower import duty on generators.
Wrong Perceptions of Wage Rise
Amin regrets that the communication about the wage rise is often incomplete and skewed. The allegation that the wage increase amounts to 51 per cent (from 5,300 to 8,000 taka) is only true for the least paid category of factory workers, the helpers. They constitute 'category 7' which represents around 10 per cent of the garment industry workforce. As for the other categories, thus for the big majority of workers, wage increases vary from 48 per cent (category 6) to 34 per cent (category 2).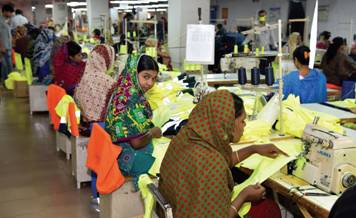 Most people also have a wrong idea of the real amount of overtime pay, Amin declares. The perception that garment workers earn a double pay when they do overtime work is false: the 100 per cent wage increase they get for overtime work is restricted to the basic salary, which does not include allowances for housing, medical care, transport, food. The sewing machine helpers, who soon will be entitled to a minimum salary of 8,000 taka won't get an overtime supplement of 100 per cent based on 8,000 taka (the gross salary), but one based on their basic salary of 4,900 taka. Amin also points out that the share of the basic salary as percentage of the gross salary has been gradually dropping: it was 68 per cent in 2006, 67 per cent in 2010, 57 per cent in 2014 and only 51 per cent in 2018.
Amin founded the federation in 1984, together with some colleagues. Today, NGWF has more than 80,000 members, a majority of them female workers, and boasts being the country's biggest and strongest trade union in the garment sector. Amin's struggle for the improvement of working conditions and better wages in the Bangladesh garment industry got him international awards, two in the US and one in Germany: the Nuremberg International Human Rights Award (2015).
Factory owners who view Amin as a formidable opponent, which he surely is, may be surprised that he sincerely shares their concerns for the industry's future. He pleads for a higher morality among buyers and clothing consumers. "If buyers would minimise their profits and if Western clothing shoppers would consider in which conditions the garments are made, the factory owners in Bangladesh could provide their workers in Bangladesh much better conditions," he argues.