Far away from the public glare in research centres and labs around the world, thousands of textile engineers, chemists and other specialists are continually inventing, testing and adapting green processes and products. Jozef De Coster writes about innovations that saw the light of the day in 2018.
Looking back on research developments in the fibre-to-fashion industry in 2018, one can vouchsafe say it was a great year. Green innovations were numerous and potentially very impactful. Let's take a look at a number of 'green' patent applications presented at the 57th Global Fiber Congress in Dornbirn, and at some winners of Green Product Awards and H&M Global Change Awards.
The silent and invisible work of researchers
British environmental and political activist George Monbiot recently remarked that humanity is a group of altruists led by psychopaths. He argued that most people are willing to cooperate in order to attain a common goal, for instance the reduction of greenhouse gas emissions. However, cooperation is not what some politicians and plutocrats want: whatever the cost for people and planet, they prefer to do what provides them the most power or wealth.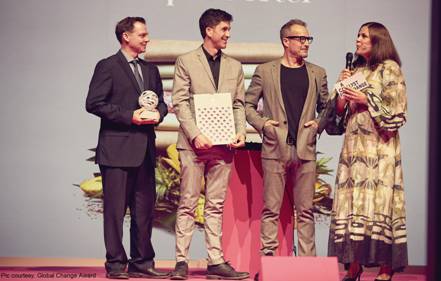 In the textiles and fashion sector, which is stigmatised as "the world's second most unsustainable industry", there's certainly a willingness to cooperate to get rid of the stigma of extreme unsustainability. Among visible signs are the numerous, even too numerous green labels. Less visible is the patient work in research centres and labs where many thousands of textile engineers, chemists and other specialists are continually inventing, testing and adapting green processes and products.
Of course, most research institutes and companies are not as generous as Sir Tim Berners-Lee, the inventor of the World Wide Web, who refused to make big money from his invention. His basic philosophy was: "This is for everyone." A more general attitude is: "We invent things, we apply for a patent on our inventions, and in accordance with a patent license, we want royalties from those who use, sell, import, our patented methods or products."
Some 'green' patent applications
It's interesting to look into the International Patent Classification to find out for which 'Climate change related technologies' (Y02) textile companies have applied for a patent. Not all of the 750 patent applications for mitigation or adaptation against climate change deserve a close examination.
It's well known that a majority of Chinese patent applications are more motivated by fiscal incentives than by scientific and commercial goals. Many 'green' textile patent applications relate to battery-separators. But, there are also interesting applications in other fields.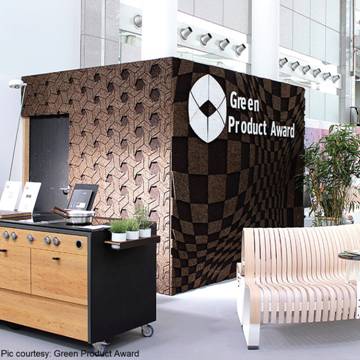 Canadian start-up Block Aid wants to obtain a worldwide patent (WO2017100642) on a 'Blockaid Lake Saver', a machine that's using technical textiles to remove invasive algae from lakes.
Sioen, the Belgian leader in technical textiles, wants a worldwide patent (WO2018007465) on a multilayer substrate for cultivating plants. The company expects that due to the necessity to combat heat peaks in the cities and to cultivate at the same time more food in the cities, there's a great future for green roofs and for green walls allowing vertical horticulture.
The John Hopkins University (Baltimore) applied for an American patent (US20170356478) on woven lattices for drag and turbulance reduction. The new technology is said to allow trucks and other objects to ride in a laminar flow by covering them with specific textiles. Also focusing on less energy consumption, American company Supracor invented a very light seat cushion for airline passengers using 3D textile structures (US9708067).
French company Carbios says it's busy reinventing the polymer lifecycle. In this context, Carbios applied for a worldwide patent on a technology to make plastics 100 per cent bio-degradable by incorporating enzymes in them (WO2017198786).
Sustainability innovations at Dornbirn
There's a reason why every year some 700 researchers and entrepreneurs attend the Global Fibre Congress in Dornbirn, Austria. It has the reputation of being an excellent idea and network generator. From September 12 to 14, over one hundred lectures of high quality from academic research and industry were offered to the participants. Sustainability was the guiding principle of the event.
The visitors went home with two different messages: first, there's no doubt that the fibre sector is making quick progress with biobased polymers, biodegradable materials, recycling and circular economy methods; on the other hand, textiles are increasingly blamed as playing a sinister role in causing the plastic soup in the oceans (some researchers think that up to one-third of the plastic soup could be caused by textile fibres).
Among polymer companies which presented successes in sustainability were Turkish group Korteks (upscaling PLAyarns), Italian group Bozzetto (with the biobased spin finish solutions Purepol and Esterol), TCKT from Germany (making PLA less brittle by adding PBS) and German giant BASF, who succeeded in significantly enhancing the compostability of its well known polymer ecoflex.
The Technical University of Dresden (Germany) declared that they have found a solution to improve the quality of recycled carbon fibres by mixing them with thermoplastic PA. The resulting hybrid yarn has 75 per cent of the strength of virgin reference yarn.
All participants were curious to learn more about the hydrothermic recycling technology that would be presented by Edwin Keh of the Hong Kong Research Institute of Textiles and Apparel (HKRITA). Some of them hoped that 'the Holy Grail' of textile recycling would be revealed. The non-profit H&M Foundation and HKRITA set up a four-year partnership to develop the required technologies to recycle blend textiles into new fabrics and yarns. What are the results?
Many participants of the Dornbirn event felt frustrated since no big secrets rolled off Edwin Keh's tongue. Anyway, the H&M Foundation and HKRITA have jointly set up two first of its kind textile recycling facilities in Hong Kong.
Textile fibres and the plastic soup
Plastic soup is a widely used term referring to pollution of surface waters, rivers and oceans by plastics in general, ranging from large fish nets to microplastics and nanoplastics that result from the breakdown or photodegradation of plastic waste.
According to the National Oceanic and Atmospheric Administration (NOAA) of the US, the decomposition times of common marine debris vary strongly. It takes only 2-4 months before a cotton t-shirt is gone. Woollen socks disappear after 1-5 years. The decomposition time of nonwoven diapers is estimated at 450 years (as long as that of the much-feared plastic bottles). Fishing lines are there for 600 years.
T-shirts, socks, fishing nets, are visible textile objects and can, if the needed efforts are done, easily be removed from the water. Together with Danish company Plastix, the Belgian company B-Token has developed and is selling a token made from old fishing nets: the Ocean Token.
More problematic are the enormous masses of microfibres which after industrial and residential washing operations end in the oceans. According to a study (Napper, Thompson, 2016), an average washing of 6kg shirts and jackets in polyester, acryl and pes/ cotton, releases around 700,000 microfibres.
Microfibres shed by synthetic textiles and blends during washing are currently in the spotlight, especially their impact on aquatic ecosystems and on the food chain. Researchers are eagerly investigating this problem and are trying to develop techniques to prevent fibres from escaping into the environment. It looks as if the textiles sector is only at the beginning of a huge prevention task.
Several kinds of green awards
The non-profit H&M Foundation initiated the Global Change Award in 2015 with the aim to promote disruptive innovations that can make the entire fashion industry circular.
With more than 8,000 applications from 151 countries received since its launch, it has been called the Nobel Prize of fashion. For any company that is active in the fibre to fashion industry it's inspiring to cast a look at the winners of the annual competition.
Among the innovative ideas that won a Global Change Award in 2018 are American company Crop-A-Porter (award of €300,000) for making sustainable bio-textiles by using leftovers from food crop harvests. Another award went to Swedish research group Swerea IVF, for successfully separating cotton and polyester blends and turning them into new textile fibre (€250,000).
Since 2013, the Green Product Award has been honouring the best innovative and sustainable products and services once a year. It is aimed at national (German) and international established companies and start-ups. The awards cover all kinds of products. When you look for green fashion award winners, you will find, among other products, the Bike2Business jacket, a natural windbreaker for cyclists, made of merino by Ben Weide (Germany). Another green product award winner is Velozip, made by Sportswear GmbH. Velozip is a second skin for racers made of recycled polyamide.
As part of the Fashion Revolution Week, in April 2018 the British Council commissioned a series of seven short films profiling the innovative stories of seven fashion designers, artists and entrepreneurs from all over the world who could be called 'fashion revolutionaries'.
One should take into account that for every celebrated winner of a green textile or fashion award, there are hundred other companies which can be considered 'potential winners'. There's no doubt that the greening of the sector is in full swing.